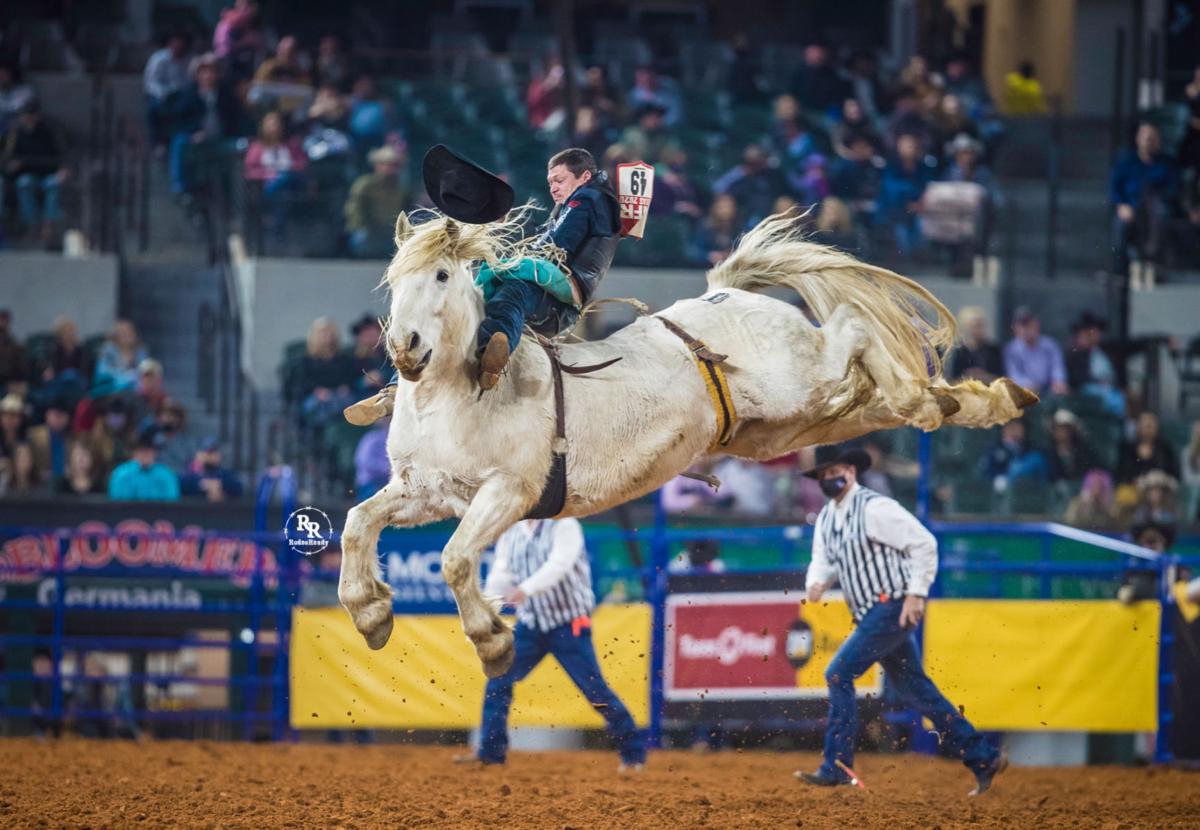 Some very special four-legged athletes are coming to Helena.
When the Last Chance Stampede and Fair kicks off Thursday, it'll feature some of the most famous bucking horses and bulls on the continent.
Virgil, a big gray bucking horse, will be in town, with one goal: to buck off cowboys, said his caretaker, Dale Kling, operations manager for C5 Rodeo Co.
The 1,700 lb. gelding has a storied resume. He's twice won the PRCA's Bareback Horse of the Year (2018-19) and has three times been runner up for the award.
The horse was sired by a Montana stud and out of a mare named Apples. He was raised on Kling's ranch near Grassy Butte, N.D. Part of the agreement for the use of the Montana stallion was that Kling would give the colt back to the stud's owner. Kling randomly chose a colt to give away, and it was Virgil, who hadn't been bucked at the time; Kling had no idea of his potential.
Virgil's new owner sold him again, to another rodeo producer. Virgil grew in strength and talent, and when he bucked at Rodeo Houston with a 91 point ride, the C5 Rodeo Co. decided to purchase him back.
Virgil has been a bareback horse for his entire career, until this spring, when he was switched to the saddle bronc riding.
"He has that championship attitude," said Kling. "He has a world-class attitude about performing."
Because he is so tall, he can hang his head over the chutes, which fans recognize, Kling said. "A lot of times the crowd recognize him, because he hangs his head over the chute prior to competing."
Virgil has been selected to buck at the Wrangler National Finals Rodeo seven times.
Another horse from the C5 string will be in Helena at the Last Chance Stampede.
Black Feathers, a twelve-year-old mare, is having "one of the best years of her life," Kling said. At rodeos this year, cowboys have scored between 87-91 points riding her, from Red Bluff, Calif., to Livingston, Mont., Cody Wyo., and the Calgary Stampede.
The horse, who is a black and white paint, circles around to the right nearly every time she bucks, Kling said, and is very gentle; she can usually be petted when she's in the corral.
Like Virgil, she's qualified for the Wrangler National Finals Rodeo twice and the Canadian Finals Rodeo.
"She's the prettiest black and white paint in the world," he said. "She's very photogenic, and she has a winning personality."
C5 Rodeo will bring a bull, Daytime Crime, to the Last Chance Stampede.
The five-year-old black bull with high horns has been ridden once in the past two years.
Formerly bucked in the PBR, Daytime Crime weighs 1,600 lbs. and is "all business," Kling said. "When (a bull rider) gets off, he needs to be taking care of himself, because he's looking for you. He's a fantastic bull."
Kling loves to watch the bucking horses and bulls. "I like to see the effort these horses and bulls put out. I root for the horses more than for the cowboys. My passion is bucking horses. When you see a horse perform that hard, it's like watching Secretariat."
Vern McDonald, who owns C5 Rodeo Co., will base his U.S. operations out of Helena; he just purchased a ranch north of town.
McDonald and Kling will have 75 horses and 25 bulls at the Last Chance Stampede.
The Stampede and Fair begins July 28 with a Night Show by Jake Owen, with special guest Lainey Wilson and opening act Earl Wear and Haywire.
Three nights of rodeo follow, July 29-31.
Night Show tickets are $60. Thurs., July 29 rodeo tickets are $5 for children and $17 for adults. Tickets for the Fri., July 30 and Sat., July 30 rodeos are $18-20 for adults; children do not receive a discounted ticket price. Ticket prices are more at the gate.
Tickets can be purchased online at LCCFairgrounds.com and at the ticket office during business hours. For more information, visit the website or call 406.457.8516.