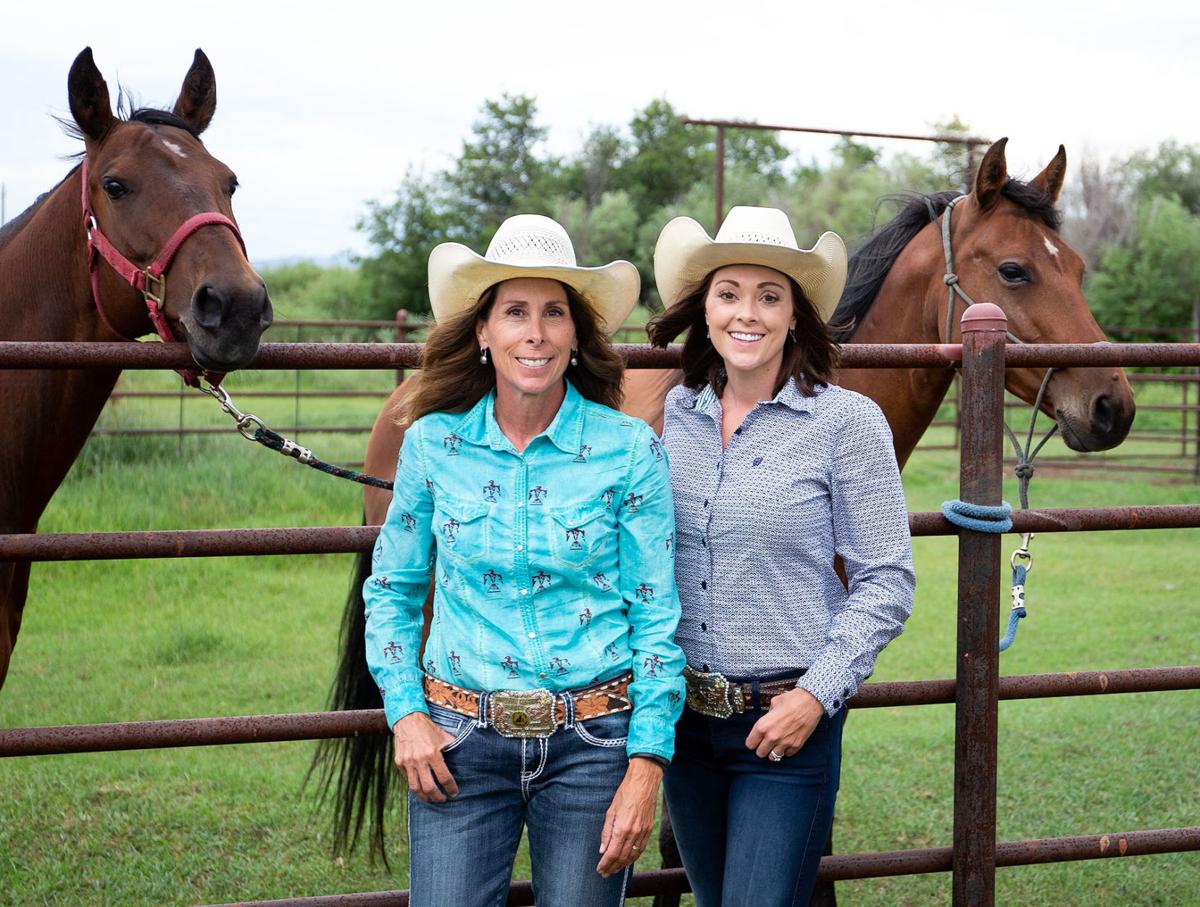 HELENA — If you sit around the Cloninger family kitchen table, there's a good chance a conversation about rodeo will pop up.
More specifically, a conversation about barrel racing.
It makes perfect sense, as Rene Cloninger and her daughter Shelby Gill have been competing in events their entire lives.
But even though the Cloningers put family first, there is always time for a little competition.
The mother-daughter team are just two of many barrel racing competitors at the 59th annual Last Chance Stampede that starts Thursday night.
And that means the pair will also be competing against each other.
"We always want to beat the fastest time. I'm just as happy when she wins," Gill said.
While Cloninger said she prefers to see her daughter bring home the bigger check, barrel racing is not really competing against a specific person but instead the clock itself.
"When you are getting ready to compete you aren't thinking about what other people have done," Cloninger said. "You are in tune with your horse and hopefully to win a check with the best run you can do.
"All barrel racers know it takes a lot of hard work and a lot of luck. If someone goes out there and beats everyone by three-tenths of a second, they will be excited for them. You are competing but, because we all know each other, you are happy for everyone, and that includes my daughter."
But that doesn't mean there won't be a quiet car ride home if one of them has a bad run.
"I've learned enough to know whether it is a bad run or not," Cloninger's husband, Sam Taylor, said with a smile. "But sometimes, there are really good car rides home, too."
Growing up with rodeo
Cloninger grew up in Helena, and it didn't take long for her to get in the saddle.
"We did it as a family," said Cloninger, who graduated from Helena Capital. "When I was (around 10 years old), my sisters and I started doing moxies and drill teams, and then we eventually started barrel racing."
By age 16, she earned her Women's Professional Rodeo Association card.
"The rule now is that you have to be 18 so I competed at a higher level at a very young age," Cloninger said.
Cloninger has competed regularly during the summers and finished fourth in the 2018 Montana Circuit standings, earning $10,689.
But while a 17-second run can be a rush and make her some money, Cloninger said 95 percent of barrel racing is all about preparing for the run.
"There's a lot of front-end work," she said. "The conditioning of your horse, the feeding program, veterinary and chiropracting. A lot is involved. Your horse has to be at the top of its game, and you tune into the animal. It's not horse and rider; you are one unit."
That advice is similar to what she told Shelby soon after she became interested in barrel racing.
"It wasn't a goal of mine for Shelby to be a successful barrel racer," Cloninger said.
But the apple didn't fall far from the tree.
Though Gill went away from the sport during middle school to pursue other athletic opportunities such as basketball, once high school came around she got back up on her horse.
"I've always been very competitive," Gill said. "I've gotten to travel places I never thought I would ever go. The rodeo community is a little family."
After competing in Nevada, Gill once again calls Montana home. She finished the 2018 Montana Circuit season ranked seventh, winning $5,324 and this year currently ranks 12th, winning 1,611.
Returning home
Over the last few months, both Cloninger and Gill have had top-eight finishes but now they look forward to competing in front of the hometown crowd.
Even if that means they won't run until close to midnight during Thursday's slack.
"It's special," Cloninger said. "Especially when you are competing in the performances."
No matter what happens this weekend, Cloninger and Gill know family always comes first.
"We are a team," Cloninger said. "We always will be."
Barrels always come second.
Be the first to know
Get local news delivered to your inbox!