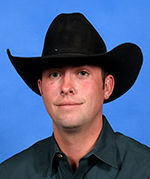 HELENA — For the first time in local history, three former Helena Rodeo Club members finished in the top 9 of the world standings during the recent Wrangler National Finals Rodeo.
The trio of Chase Tryan and Ty Erickson of Helena, and Belgrade's Chase Brooks, actually made history twice in Las Vegas, with all three becoming the first local cowboys to capture Gold Buckles — winning a Finals average go-round — in the same WNFR.
Tryan, a team roper, and Erickson, a steer wrestler, placed sixth and seventh in their respective PRCA year-end standings. Tryan pocketed a total of $174,251, while Erickson earned $170,879.
Brooks collected $168,641 to finish ninth overall in saddle bronc riding.
The trio's careers are intertwined in multiple facets. Erickson and Tryan both attended Capital High, and the trio also each rodeoed collegiately for Montana State University.
Tryan and Erickson are both former Independent Record Athletes of the Year, as well.
Chase Tryan
Tryan, 30, went to Capital through his sophomore year in 2006, before switching to home school. As a team roper (heeler) with the Helena Rodeo Club, he and partner Cody Tew of Belgrade won the state championship before placing fourth at the National High School Finals Rodeo.
After two years at MSU, Tryan left college in 2009 to pursue his dream in professional rodeo. Three years later, he qualified for his first WNFR, where he finished runner-up in the average and fourth in the year-end standings.
He was then awarded the 2012 IR Male Athlete of the Year honor.
Over the next five years, Tryan's best placings were 19th in 2013, missing the NFR cut of top-15 by four notches, and a finish of 23rd in 2017.
But this year, Tryan entered the WNFR as the No. 9 ranked heeler in the world with earnings of $68,284. He captured four PRCA titles during the season, three with Brenton Hall (Lewiston, Idaho; Innisfail, Alberta; and Bigfork) and one with Dustin Bird (Montana Pro Circuit Finals, Great Falls).
At the WNFR in the Thomas & Mack Center, with Bubba Backaloo (Madill, Oklahoma) doing the heading, Tryan cashed in six of the 10 rounds, highlighted by their eighth-round victory. The tandem posted a time of 3.6 seconds for the Gold Buckle performance, earning $26,230 apiece on the night.
Their other top-6 placings for cash were second in Rounds 1 (tie) and 6; third in Round 2 (tie); and fourth in Rounds 9 and 10 (tie).
Tryan, who spends time between Bozeman and Helena, placed fifth in the average with earnings of $105,967.
You have free articles remaining.
Ty Erickson
Erickson, 28, graduated from Capital in 2009 and garnered two high school all-around state crowns with the Helena Rodeo Club. For the Bobcats, he qualified for four College National Finals Rodeos, while compiling seven Big Sky Region championships before graduating from Montana State in 2013.
Since Erickson began competing in the PRCA tour full time in 2014, he has qualified for the WNFR every year. His official rookie season he placed runner-up in the Finals average, seventh in the world overall standings, and was named the IR's Male Athlete of the Year.
Last year, Erickson set the PRCA steer wrestling's regular season record of $163,152, and placed second in the year-end standings with a total of $263,267, just $2,190 shy of the world title winner.
He entered this year's Finals in seventh-place, having garnered $79,662 during the season. Erickson's five 2018 triumphs consisted of Redding (California), Brighton Field Day (Okeechobee, Florida), Coleman (Texas), and Montana's Bridger and White Sulphur Springs rodeos.
In Vegas, riding "Scooter" — which is co-owned by Erickson's hazer Tyler Pearson — the Capital City bulldogger placed in five go-rounds. The 6-foot-5, 245-pounder earned his Gold Buckle in Round 9 with a throw of 3.5 seconds, pocketing $26,230 for his efforts.
His other cashes included second in Rounds 3 and 10 (tie), and sixth in Rounds 1 and 4. He wound up seventh in the average, collecting $91,217 at his fifth "World Series of Rodeo."
Erickson is the newest member of the PRCA's Million Dollar Club, having amassed career earnings of $1,000,703.
Chase Brooks
Brooks, who attended Powell County High in Deer Lodge but rodeoed for the Helena Club, was the 2012 state saddle bronc champion.
Among his biggest professional wins before this year was the 2017 Montana Pro Rodeo Circuit Finals in Great Falls.
But Brooks, 24, broke out in a huge way this past season for his first NFR qualification by capturing nine outright PRCA rodeo crowns. Those victories included Hermiston (Oregon), Prescott (Arizona), St. Paul (Oregon), Heber City (Utah), Bell Fourche (South Dakota), Immokalee (Florida), Eagle (Idaho), and Montana's Bozeman and Plains.
He gathered $76,141 in prize monies for the season, while entering the Average Finals ranked No. 11 in the standings.
Brooks posted back-to-back 90 point rides, to share the top score in both Rounds 7 and 8, while earning $23,490 each night. He also cashed in Rounds 3 and 6 (third), and Round 5 (sixth).
Brooks, who splits time between Belgrade and Deer Lodge, earned $92,500 in Las Vegas.
Junior buckers
Helena's Sam Petersen, 14, led the local contingent at the Junior National Finals Rodeo in Las Vegas, placing fourth in the bareback overall, capped off by an 82-point ride in the short go. Ty Owens of Townsend placed eighth overall, while Helena's Leighton LaFromboise also qualified for the short go.