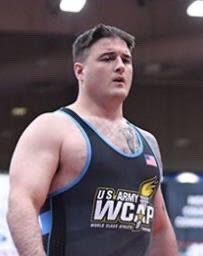 East Helena's Toby Erickson will be making his third attempt to qualify for the U.S. Olympic wrestling team, as he partakes in the Olympic Trials on Friday in Fort Worth, Texas.
A member of the U.S. Army World Class Athlete Program, First Lieutenant Erickson is competing in the heavyweight class (130K) of the Greco Roman tournament. He became the first Helena area native to qualify for the Olympic Mat Trials in 2012, where he placed fourth, and then moved up a notch to third-place at the 2016 Trials.
A Helena High alum, Erickson was a two-time (2008-09) State heavyweight champion, compiling a sparkling 71-1 record his final two seasons, with 55 pins and 10 forfeits.
He earned a wrestling scholarship to Boise State, then transferred to Northern Michigan's U.S. Olympic Education Center, and later competed for the New York Athletic Club. In 2016, Erickson was the co-recipient of Montana's AAU Little Sullivan Award.
He owns numerous national championships, with some of his bigger victories including the 2012 ASICS University National crown, 2014 University Junior National championship, the 2016 Dave Shultz Memorial International title and the 2017 US Senior Open National Wrestling Tournament.
A former 3-time Army heavyweight Greco Roman titlist, the 6-foot-2, 265-pound Erickson qualified for the 2020 Trials with a third-place showing at the 2019 U.S. Senior Nationals. But after first the Trials, and then the Tokyo Olympics were cancelled, he was forced to train at home before being able to resume training with his teammates.
"I have been dreaming about being an Olympian for 25 of my 29 years of life, and for the third time in the last 11 years, I get the chance to make it a reality," Erickson, who enters as the tourney's No. 4 seed, wrote on social media recently. "The biggest thing I have learned is that you never know what you're capable of until you push and dare yourself to live out those dreams.
"I have dreamt big, but I have also been rewarded big with the journey thus far. I'm excited to roll the dice and get after it. Here's to living the dream."
The tournament's finals will take place on Sunday.