HELENA -- Three athletes from Helena Athletic Club will compete at the Region 2 Gymnastics Championships in Tacoma, Washington, this weekend. At stake is a berth in the USA Gymnastics National Championships in May in Cincinnati. Region 2 consists of Idaho, Washington, Oregon, Montana, Alaska and Hawaii.
The HAC trio is led by Level 9 competitor Audrey Bloomquist, who qualified for nationals last year. Teammates Chloe Mendenhall and Gabi Baucus, who compete at Level 8, round out the regional squad.
"All three gymnasts have qualified for the event multiple times and they look forward to a solid meet," Coach Laura Snellman related. "They each have also been balancing training for the competition, along with demanding track and field schedules, since qualifying at the State Championships in March."
Bloomquist and Baucus are members of Capital High's track team, while Mendenhall is a Clancy Middle School trackster.
Bloomquist, a Capital junior, has been competing at gymnastics for 12 years, and will be taking part in her sixth regional competition. Among her regional highlights are participating on two Level 8 State All-Star teams, and last year's national qualification in Boise, Idaho, when she posted a sixth-place showing in the all-around with 34.50 points. She also captured the 2017 regional Level 9 Senior 6 balance beam championship, scoring an 8.95.
On the track last year, then 5-foot-5 Bloomquist was a member of the CHS Lady Bruins' state runner-up (and school record-setting) 400-meter relay quartet. She finished fifth in the 100 dash, as well.
This gymnastics season, she placed fourth all-around at State, with a score of 35.275, while finishing in the top-3 in all four events. But she said her standout event occurred earlier at the Mizmo Magical Meet.
"My best meet this season was Missoula, when I scored 35.925 in all-around there," Bloomquist related. She also captured gold on the vault.
But at State in Billings, she shined in her favored principle, winning the balance beam title.
"My favorite event is the beam, where I do a back handspring layout as my series," related Bloomquist, describing her most difficult move on the 4-inch surface.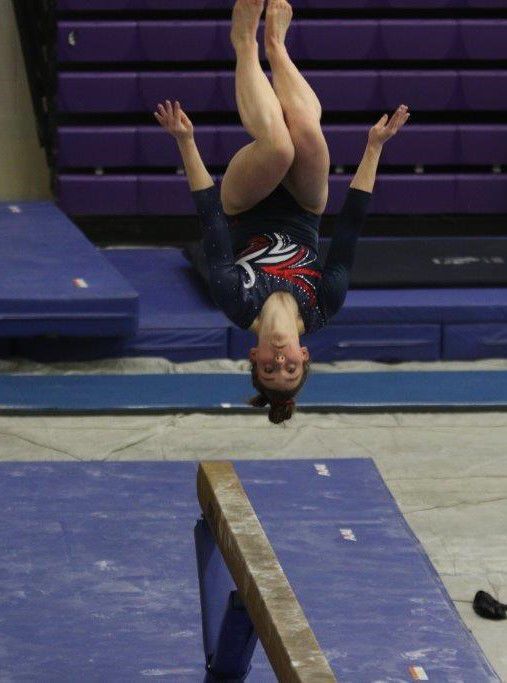 Bloomquist, at 17, is the oldest of the HAC threesome. Baucus is a sophomore at Capital, while Mendenhall is in eighth grade.
"It can be difficult and draining to have solid workouts while balancing two sports, especially when training at a high level of gymnastics," coach Snellman said. "But we all look forward to the meet. They'll be competing at the Greater Tacoma Convention, where the entire team took part in the Charity Choice Invitational this season, so it'll be a familiar site for the gymnasts."