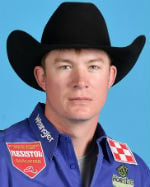 HELENA -- This week, Sidelines takes a glance at the world leader in the professional steer wrestling standings, Helena's Ty Erickson, along with several recent local athletes undergoing training in the U.S. Armed Forces.
Rodeo
Erickson sits atop the PRCA's leaderboard, with earnings of $133,094. A five-time WNFR qualifier, he holds a $38,613 lead over the No. 2 ranked 'dogger, Scott Guenthner (Provost, Alberta), at $94,481.
He recently placed third at the Bozeman Stampede (4.4 seconds), pocketing $1,370, and finished fifth at Missoula's Stampede (4.2) for $964.
Another Capital City cowboy, Walt Anseth, recently tied for the steer wrestling championship at the Fallon County County Fair & Rodeo in Baker, with a run of 3.7. Anseth collected $3,194 for his efforts.
Military
You have free articles remaining.
Keaton Horne, a former Helena High football player, followed his father Kelly's footsteps into the U.S. Marine Corps after graduating this past spring.
Horne was an honorable mention inside linebacker for the Helena High Bengals last fall. He is currently in the 11th full week of training at Marine boot camp in San Diego, California, and has earned the title of squad leader of his platoon.
Former Capital High softball great Kamrin Rosling recently "Slayed the Beast" after six weeks of training at the U.S. Army West Point Military Academy.
Rosling was a three-time Independent Record shortstop of the year (2016-18), averaging .363 over her final three seasons, with a high of .394 as a junior. She scored 65 runs during that time, while averaging a .450 on base percentage.
Rosling, assigned to E Company, 3rd Regiment, also took part in West Point's "Acceptance Day Parade" of USMA Class of 2023.
Rob McCarvel, also attending West Point, was part of the color guard for the national anthem at Yankee Stadium, on March 28, when New York hosted the Atlanta Braves.
McCarvel played football for Capital High, and Legion baseball with the Helena Senators. He is with Bravo Company, 3rd Regiment, USMA first class.
Taylor Sullivan, former CHS Lady Bruin hoopster, is at West Point as well, while Shamus Bartmess, who gridded and wrestled for Capital, is attending the Virginia Military Institute.