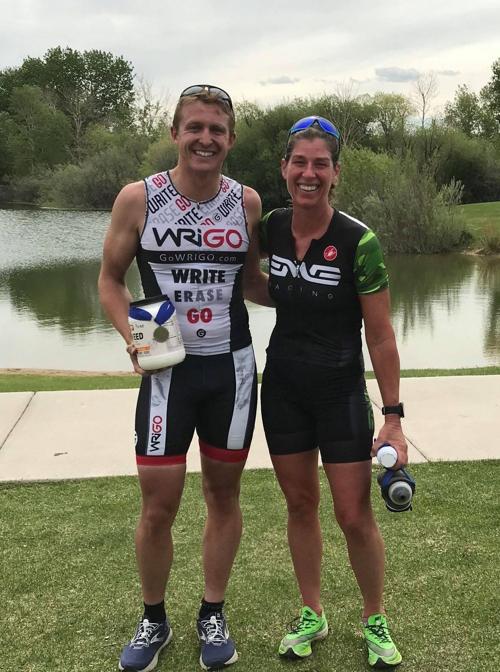 HELENA -- Bozeman athletes swept the return of the annual Spring Meadow Triathlon Olympic distance races on Sunday. Renee Swinson retained her SMT women's title, clocking a time of 2 hours, 16 minutes, 32 seconds, while John Kaiser captured the men's race in 2:06:20.
The sprint races were claimed by a pair of Helena triathletes, as Julie Ackerlund won her second-straight SMT, at 1:14:58, and Peter Sunden claimed his division in 1:18:54.
Swinson, 46, who finished third overall behind men's runner-up Ignacio Mendez-Nunez of Tucson, Arizona, at 2:11:13, lowered her winning time from 2019 (the SMT was not held last year due to COVID) by over two minutes.
"I must've started the swim out too quick, because I began to feel kind of weird, so I slowed it down," related Swinson, a two-time Ironman qualifier. "Then I just tried to stay with the second guy (Mendez-Nunez), but couldn't quite keep up so I just maintained the best pace I could."
She said that she's been participating at triathlons for 13 years, and will compete at both Kona and a Half Ironman this year.
Jessica Tapp of Missoula placed second, while Helena's Marisa Hardy and Sibyl Govan finished third and fourth.
Kaiser, 33, a five-time Ironman qualifier, recently moved to Montana, and said he almost got distracted by the Big Sky's beautiful scenery.
"The bike ride was fun, because of the grade it was nice to be able to cruise downhill for a while," he recounted. "But there's one part where you're suddenly awestruck by this fantastic view of the mountains, and I had to remind myself, are you racing or sightseeing?"
Kaiser, who was a collegiate swimmer, built an insurmountable lead in the swim portion, by 5 ½ minutes over Mendez-Nunez.
Missoula's Keegan Witt placed third (fourth overall), ahead of Shawn Pennartz of Helena.
Ackerlund, 55, was actually the sprint's overall champion, finishing four minutes in front of Sunden, and 7 ½ minutes ahead of women's runner-up Lizzy Klinker of Fairfield. Helena's Amanda McGowan took third (fifth overall).
"I had a good start in the swim, and even though Mandy passed me, I caught her in the first transition and then led the rest of the way," Ackerlund said. "It was a very fun race, well organized and the weather was beautiful."
Steve L'Heurex of Great Falls placed runner-up in the men's, third overall. There were 20 triathletes in the Olympic race, and 15 in the sprint distance.
The Kid's Triathlon was claimed by 12-year-old Luke Wendt of Helena.