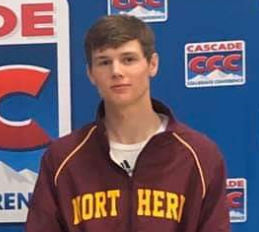 Kunz, Schrull qualify for NAIA mat tourney
Two former local AA wrestlers recently qualified for the National NAIA Championships, at the Cascade Conference Tournament in Atherton, California.
Nick Kunz, a Montana State University-Northern junior and 125-pounder, placed third at the conference tourney at Menlo College. Capital High's all-time wins leader, this is Kunz's third national qualification.
Providence University's Hayden Schrull finished fifth at 182 to earn his first national berth.
Landon Bailey, MSU-N senior at 133, also took fifth, but did not automatically reach nationals due to the qualifying format. Schrull (twice) and Bailey were both State champions for Helena High.
Great Divide Ski Team competes in Red Lodge and Great Divide
The Great Divide Ski Team competed in U16-and-older Slalom qualifying competitions last weekend, while U14 athletes competed in Giant Slalom qualifiers at Red Lodge Mountain ski area. There were also U14-and-younger competitors who skied at Great Divide Ski Area in Parallel Giant Slalom and Technical Kombi races.
The Red Lodge events are scheduled Northern Division qualifying competitions for U14, U16, U19 and Senior athletes. The Great Divide competition, also a scheduled event but not a qualifier, also had U14, U12, U10 and U8 skiers. There were 90-plus competing at Red Lodge and more than 130 skiers competing at Great Divide.
The Dual/Parallel races were the first of this format to compete in the Northern Division, as two racers skied side by side. The Technical Kombi race was another new format held at Great Divide. Similar to the competitions held at Red Lodge with both Slalom and Giant Slalom events, the Technical Kombi race held at Great Divide had Slalom and Giant Slalom gates along with small "stubbie" type training gates set within a single race course.
The Great Divide team skiers had a strong showing in Red Lodge, with men and women placing in the top ten. Team skiers earned medals at Great Divide in the U14, U12 and U10 categories.
Some notable finishes were:
Red Lodge Slaloms: 2/20: WOMEN; U16; Morgan Hayes-6th. Sydney Emmons-16th. MEN; Senior; Witt Williams-1st. U19; McKoy Gebhardt-2nd. 2/21: MEN; Senior; Witt Williams-1st; U19; McKoy Gebhardt-3rd.
Red Lodge U14 Giant Slaloms: 2/22: MEN; U14; Garrett Hinderman-8th. Avery Casne-9th. 2/23: MEN; U14; Garrett Hinderman-10th; Avery Casne-13th.
Great Divide Parallel: 2/22: WOMEN: U14; Maybelle Osborne-2nd. U12; Maren Fox-3rd; Kelia Gomes-9th; Cassie Wosoba-11th; Jessica Fellenz-19th; Adeline Osborne-23rd. U10; Quinn Dekiep-18th. MEN: U14; Bryn Anderson-2nd. U12; Everett Dekiep-17th. U10; Zephyr Gomes-8th.
Great Divide Tech Kombi: 2/23: WOMEN: U14; Marybelle Osborne-2nd. U12; Maren Fox-5th; Kelia Gomes-10th; Cassie Wosoba-12th; Jessica Fellenz-14th. U10; Eliza MacLean-16th. MEN: U12; Coen MacLean-21st. U10; Zephyr Gomes-6th.
Helena Wrestling Club participated in several tournaments the past weekend. For the Cyclops tournament in Butte there were several placers and the team ended the weekend in 4th place. Here are the placers: 
Ryatt Sheridan - 5th place
Payton Kelley - 3rd place
Emma Gunderson - 3rd place
Spencer Haines - 2nd place
Nolan McDonnell - 4th place
Kaylee O'Shea - 3rd place
Lauren Gunderson - 2nd place
Zachary Wyant - 6th place
Taylor Lay - 1st in girls, 5th in boys
For the Mining City Middle School Tournament in Butte the placers were:
Some als competed in the Southwest Montana Little Guy Tournament in Townsend. The placers were:
Get in the game with our Prep Sports Newsletter
Sent weekly directly to your inbox!