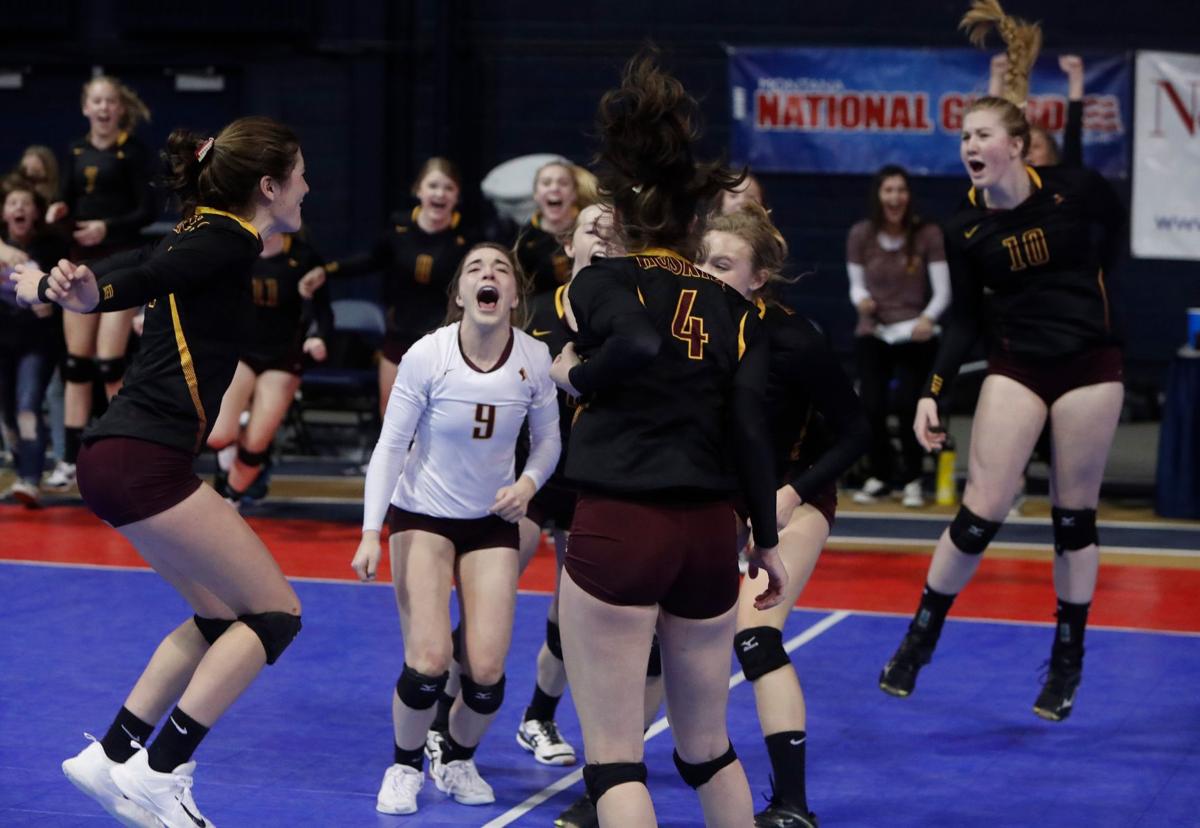 BOZEMAN — There would be no Hollywood ending.
Belt rallied from a 2-0 deficit in the second championship match to defeat Bridger on Saturday for its second Class C state volleyball title in three years.
The Scouts, who played 12 sets Saturday, won the first championship match 25-19, 25-18, 19-25, 25-16 to force a second championship match against the Huskies at Brick Breeden Fieldhouse.
Belt prevailed in the last match of the season, 14-25, 21-25, 25-22, 25-17, 15-12.
"I'm gassed," said Huskies' setter Kolby Pimperton, who quickly added. "I'm so excited."
"It hit me for a minute," Moorman said, while being greeted by a steady flow of well-wishers, including current and former players. "Then I pushed it back. I'm done."
The Scouts played seven matches across three days, including a win over defending state champ Ennis.
Bridger advanced to the title game with a 25-13, 25-21, 25-16 sweep of Simms in the third-place match.
"We passed well, we set well and we hit well," Moorman said of the Scouts' play to reach the title match and force a second.
Belt was playing in its fourth consecutive title match. The Huskies lost to Ennis last year.
"Saturday night. That's what we said, we wanted to get back to Saturday night and have another shot at this," Pimperton said. "We said it at practices, games, even when we were down. We wanted to get back here."
Having trouble against Bridger's rock-solid defense, Belt found itself down 2-0 and time running out.
"Holy cow, what happened at the beginning?" Pimperton said. "Their defense is really good. They pick up a lot of balls.
"We had to stay aggressive. We started moving the ball faster against their defense. After the third set, we were, 'We can do this.' " 
Pimperton dished out a tournament-high 50 assists, with Kyelie Marquis finishing with 23 kills, Morgan Cooper 16 and Abby Gliko 11. Pimperton also had four aces.
Desire Jones Scott led the Scouts with 15 kills, and Jessica Adkins and Emily Adkins each had 11. Jessica Adkins also had 13 digs and two aces, and Kyra Kroll had a team-high 21 digs. Sami Fusco and Emily Adkins combined for 37 assists.
"They were fatigued. Not enough gas in the tank," Moorman said.
In the first championship match, Jenna Kallevig led Bridger with 12 kills and Jessica Adkins had 11. Emily Adkins finished with 21 assists and 12 digs, and Fusco had 18 assists and Kroll 19 digs.
Pimperton handed out 35 assists, with Gliko putting down 13 kills and Marquis 12.
Pimperton becomes the second member of her family to win a state title. Older sister Kerstyn was the setter on the 2016 title team.
"Heck yeah," replied the young Pimperton about earning equal bragging rights at the dinner table. "She teases me once in a while but not too much. We're pretty close."
Bridger 3, Simms 0
Jessica Adkins, Emily Adkins and Jenna Kallevig each had eight kills for Bridger, which gained a measure of revenge on Simms.
The Scouts swept the Tigers 25-13, 25-21, 25-15.
Simms defeated Bridger in the first round Thursday.
Lissy Willekes had eight kills and five blocks for Simms. Maddi Bloom had 18 assists.
Get in the game with our Prep Sports Newsletter
Sent weekly directly to your inbox!