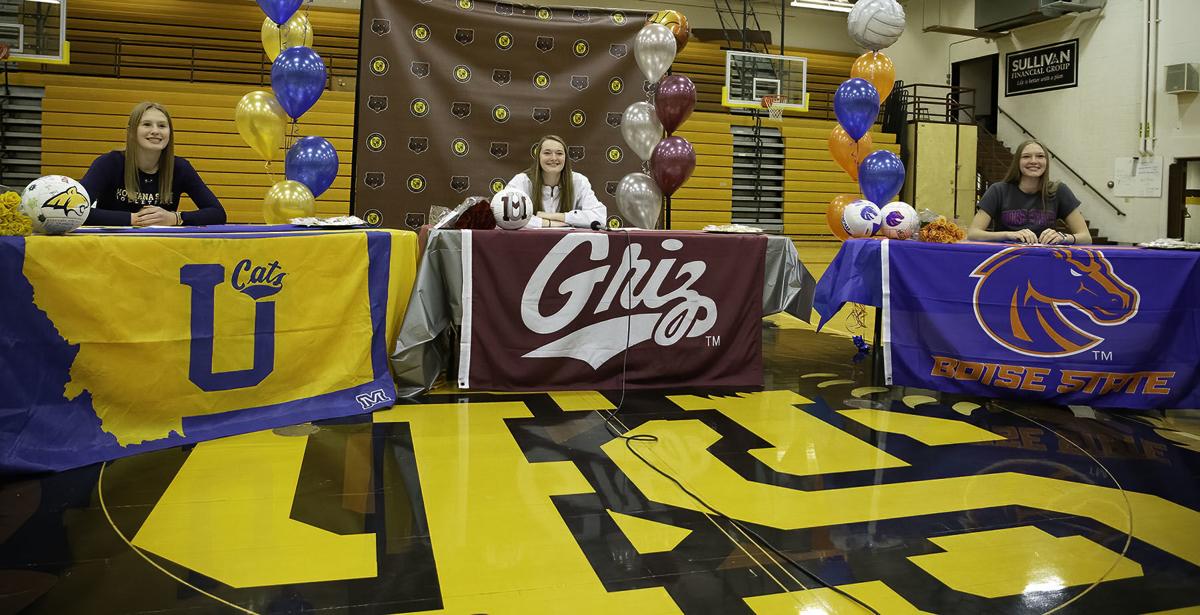 HELENA — Being a Division I college athlete is something many dream about, but few actually achieve. 
Yet, on Wednesday at Helena Capital, three of school's athletes made that dream an official reality, as Audrey Hofer, Paige Bartsch and Dani Bartsch all signed their NCAA letter of intent.
Hofer signed with Montana State University, where she has been committed for more than a year. Her teammate, Paige Bartsch signed with Boise State and her twin sister, Dani Bartsch, also signed to play hoops for the Lady Griz.
"It means a lot to be able to sign with them," Dani Bartsch said. "At first, I thought I was going to have to sign on the 14th, so I was glad we could do it together. We have been playing sports since the sixth grade and we have grown really close, so doing this together means a lot."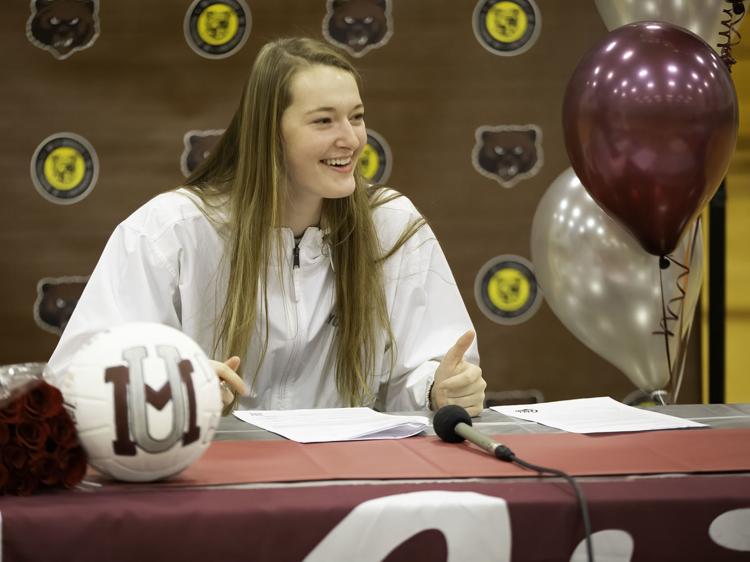 Dani Bartsch isn't playing college volleyball, but all three individuals are teammates, not only on the Capital volleyball team, which is gunning for a third straight state title Saturday, but on the CHS hoops team as well.
"Being able to coach all of them for the past three years has been a blessing," Capital head volleyball coach Rebecca Cleveland said. "They are all great teammates. They have really strong IQ's and they are very versatile."
It's hard to find two athletes more versatile than Paige and Dani Bartsch, who have both earned Class AA all-state honors in both volleyball and basketball.
While Dani will play basketball in Missoula for the Lady Griz, her sister Paige had multiple Mountain West offers to consider. She chose Boise State over Colorado State.
"Boise (State) was just a perfect fit for me," Bartsch said. "It's close to home and I don't have to get on a plane if I want come back. And just when I got on campus for my visit, I knew it was the right place."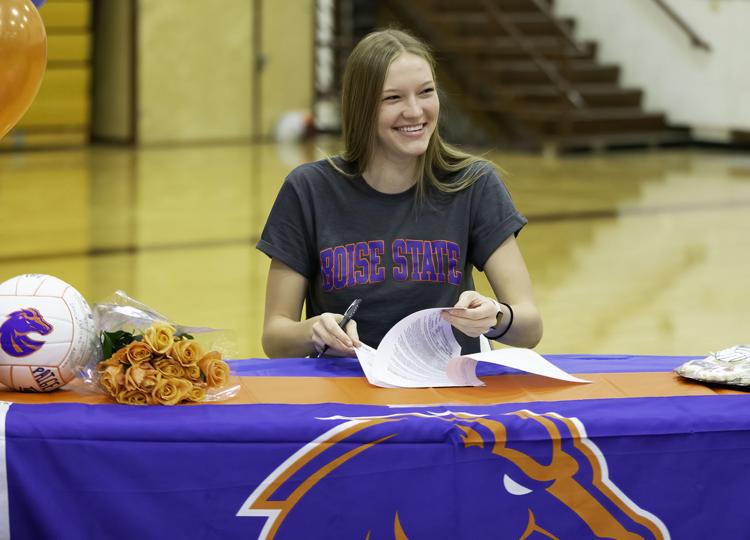 In Bartsch, the Broncos are getting a dynamic 6-foot-4 athlete who excels as a blocker and a hitter. Last year, she was Montana's Gatorade Player of the Year and has been an essential cog in the Bruins 70-match win streak.
Yet, as good as the Bartsch twins are, Hofer is exceptional in her own right as a setter and earlier this week, that point was driven home by her selection as a First-Team Under Armour All-American.
"It's incredible," Hofer said of the All-American honors. "At first, when I found out I didn't really know what it was and I thought, that's cool. But then I talked to my coaches at Montana State and they told me what a big deal it is and I'm just so proud."
Even though Hofer was selected for the All-American game, it was canceled due to COVID-19, which means the Capital setter won't get the trip to Orlando. 
"I read the email and it said something about a game in Florida," Hofer said. "Then, in the next paragraph, it said canceled. So that stung a little, but I am still still really excited."
The Capital senior and future Bobcat was also excited to share the stage.
"It's really nice to do it with Dani and Paige," Hofer said. "Because they have been with me the whole time and it's really special to me that they were by my side."
In addition to being a former Gatorade Player of the Year (2018) Hofer is also a two-time all-state performer. 
Dani Bartsch is also an all-state volleyball player, but she excels even more on the basketball court.
Last season, all three players were part of the Bruins co-state championship team, but Dani, who averaged 11.7 points, 7.3 rebounds and three assists, was the only girls Class AA basketball player in the state to rank in the top 12 in points, rebounds, steals, assists and blocked shots. 
"I think they (Lady Griz) are getting a player with a lot of untapped potential," Capital girls basketball head coach Kaitie Garcin-Forba said. "She continues to grow and mature physically. She is getting that killer instinct and she has a ton of versatility. They are also getting someone who is very coachable and has high character. I think they are getting a good one."
Dani committed to the Lady Griz under previous head coach Shannon Schweyen, but remained a priority for interim head coach Mike Petrino.
"He was really great about it," she said. "There was really good communication with the staff and I am really excited no matter who the head coach is, but Mike is a great guy and the staff is amazing, so I'm really excited for the opportunity."
Before the three athletes go their separate ways in college, they will attempt to win their third consecutive Class AA state volleyball championship on Saturday against CMR.
Then, in the winter, they will try to come together for another state basketball title too, adding even more to their already impressive resumes. 
"They are just phenomenal human beings," Garcin-Forba said. "Whether it's on the court or in the classroom, I think they set the tone and give the younger girls some inspiration about what they want to be."
Chris is the sports editor and lead preps reporter for the Independent Record and 406mtsports.com. Follow him on Twitter @cmpetey406
Get in the game with our Prep Sports Newsletter
Sent weekly directly to your inbox!