HELENA — As CMR head coach Patrick Hiller walked off the court Saturday, he said to Helena Capital's Dani Bartsch, "I'll miss you guys, but I won't miss playing you."
And after Bartsch's Capital Bruins won a third consecutive state championship, following a dramatic five-set victory over Great Falls CMR (20-25 25-22, 25-21, 21-25 and 15-8) in the Class AA state volleyball state championship match, Hiller won't be the only one glad to see the Bruins and players like Paige Bartsch, who finished with 28 kills and three blocks, move on. 
"There's a lot going through my mind right now," Paige Bartsch said after her team finished its 3-peat. "I was really nervous and that was a crazy match. There were a lot of ups and downs. CMR is a great team and right now, I'm very excited, but for a lot of that match, I was very nervous." 
Even though the Bruins finished the season 17-0 and with a Class AA record 71 straight wins, it was the fourth time they were pushed to five sets this season after not going to five once in 2019.
"It was more nerve-racking to say the least," Bartsch said. "We knew we had to work a little harder and that CMR was a great team, but it made it more fun, the games were more interesting."
Hiller and his Rustlers made sure of that, especially as they took the floor in the winner-take-all state championship and proceeded to build a 20-10 lead en route to a 25-21 victory in the first set. 
"We don't have the 6-footers like this Capital team," Hiller said. "And when people watch us warm up, they can't quite figure it out, but this group just never stops. That's really what it comes down to and if Capital felt comfortable before that 14th point in the fifth, it shouldn't have because this group just never quits."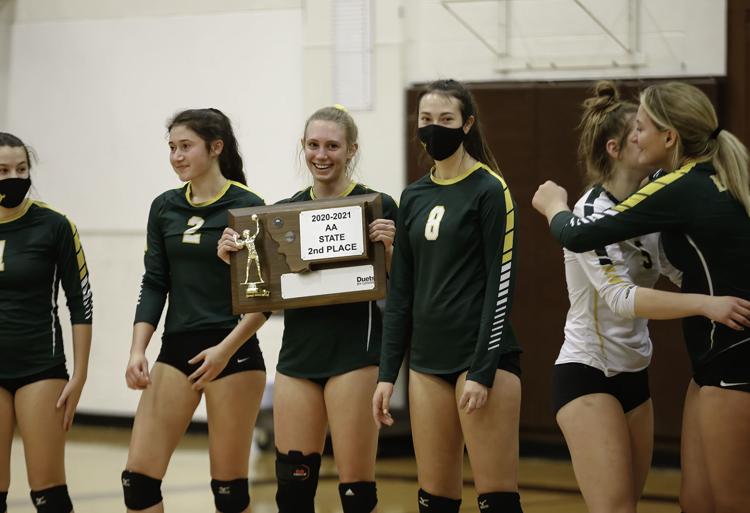 CMR doesn't have a pair of 6-foot hitters like Capital, which has Dani (6-foot-1) and Paige Bartsch (6-foot-4). Yet, Lauren Lindseth stood tall throughout the match and was a huge part of the Rustlers building a 1-0 advantage.
But in the second, things started to go Capital's way and a lot of it turned on the play of the Bruins big three. 
The score was tied 9-9, when the Bruins ripped off a 6-0 run sparked by Audrey Hofer and the Bartsch twins as Capital was able to even things up at 1-1. 
"I think we felt the momentum switch when our passing got a little better," Paige Bartsch said. "We started feeling things a little more and were able to relax a little bit." 
In the third, though, the Rustlers again grabbed a lead at 12-6. But the Bartsch twins had the answer, peppering home kills and eventually evening the score at 17-17 before closing on an 8-4 run to take the set, 25-21.
"It's a great feeling," Capital head coach Rebecca Cleveland said of the 3-peat. "But I had full confidence in them throughout the journey. Some teams would probably sweat it going into the fifth set, but when we have been tied up and when we have had to close strong, this team has shown the ability to do that and I couldn't be more proud of them. Every single teammate brought their best and it was awesome."
While the match did go five sets, it didn't look like it would when Capital built a 4-point lead in the fourth, but CMR scored 12 of the last 17 points to win the fourth and suddenly, the title match was a race to 15. 
"We just wanted to have another set together," Hofer joked about the fifth set. "I was pretty confident though and I was really proud with how we were able to finish it."
Two quick kills from Hofer in the fifth helped the Bruins build a 7-2 lead, then a kill by Dani Bartsch made it 14-8, before a CMR hitting error ended it, giving the Bruins the third consecutive state title. 
"It feels incredible," Dani Bartsch said. "There is no other team I would rather do it with. CMR certainly made us work for it, but it was a super fun match. I love playing CMR. They are great girls and they are a tough team."
Dani finished with a team-high 18 digs in the win, while Hofer contributed with 47 assists and 14 digs. On the CMR side of things, Lindseth finished with 23 kills and 21 digs; Tennion Hiller also managed 40 assists in a valiant effort for the second-place Rustlers.
"Our team took shot after shot from this Capital team," Hiller said. "And we just kept coming back. That team (Capital) is 71-0 for a reason. They find ways to win and they have some big parts and I will miss the chance to try and beat them in the future, but I don't know if I will miss if that much."
It's exactly the opposite of how Cleveland feels about her team, as the tears were noticeable in her eyes as Capital scored championship point.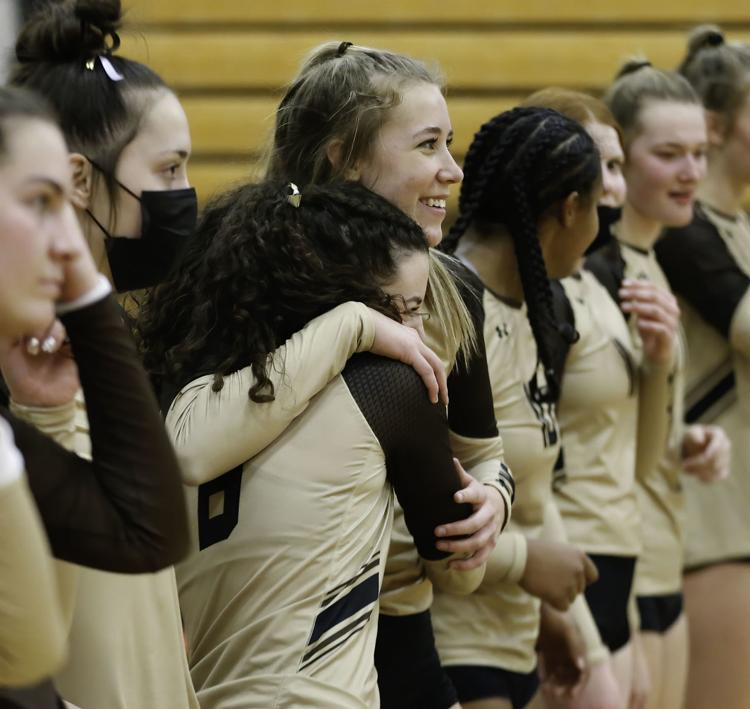 "It's been a blessing to coach this team," she said. "You get to know them outside the court and each of them have so much to offer. It's been an honor and they have left their legacy here." 
In terms of what that legacy means, it's still hard to say, but for Paige Bartsch, winning three straight titles also meant getting even with crosstown rival Helena High.
"They did it in basketball," she said. "So I really wanted to be able to match them and at least get three in a row in volleyball."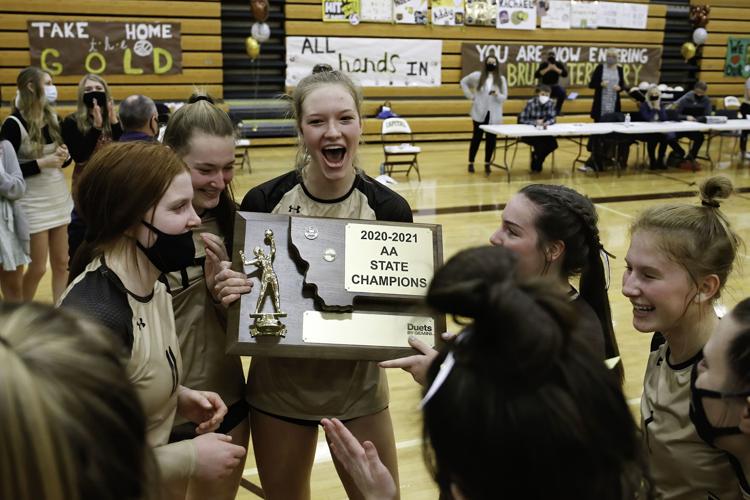 For the Bruins, who became just the third Class AA volleyball program to ever win three in a row — it's mission accomplished. 
Chris is the sports editor and lead preps reporter for the Independent Record and 406mtsports.com. Follow him on Twitter @cmpetey406
Get in the game with our Prep Sports Newsletter
Sent weekly directly to your inbox!