GREAT FALLS – When the Ennis Mustangs 4x100 relay dropped the baton in their district meet, many thought their streak as state champions would come to an end.
Twin brothers Corbin and Tanner Wood had other plans. And on Saturday afternoon, they ended their high school track careers with their fourth-straight championships as the only competitors Ennis sent to the meet.
The brothers edged out Scobey with 59 points to the Spartans 57. Seeley-Swan placed third with 44.
As they ran across the finish line in first and second place in the 200 meters, they shared a fist pump knowing they were getting close, but that it would come down to one or two points.
"That was the plan," Tanner said. "If we wanted a chance at winning state, we knew I had to get second."
The last event in their combined program was the high jump, but the brothers had to wait an hour and a half counting points while they were left sitting watching the long relay while Scobey ran with a chance to gain.
"Three years in a row since freshman year and then just the two of us this year? It'd be legendary," said Tanner before the outcome was determined.
"It was nerve wracking. After I high jumped I just knew. That helped out a ton and had it in the bag pretty much so just had to wait and hear what the results were," Corbin said.
They both competed in the 100 and 200 and Corbin added the 400, long jump and high jump. Corbin won the 100 (11.11 seconds), 200 (22.94), long jump (a school record 22 feet), placed second in the 400 (50.32) and tied for second in high jump (6-02). Tanner placed second in the 200 (23.18) and third in the 100 (11.38).
"I still can't believe it. It's crazy," Tanner said.
"They're big athletes and they stepped it up. For two kids to do that is pretty amazing," said Ennis coach Wendy McKittrick.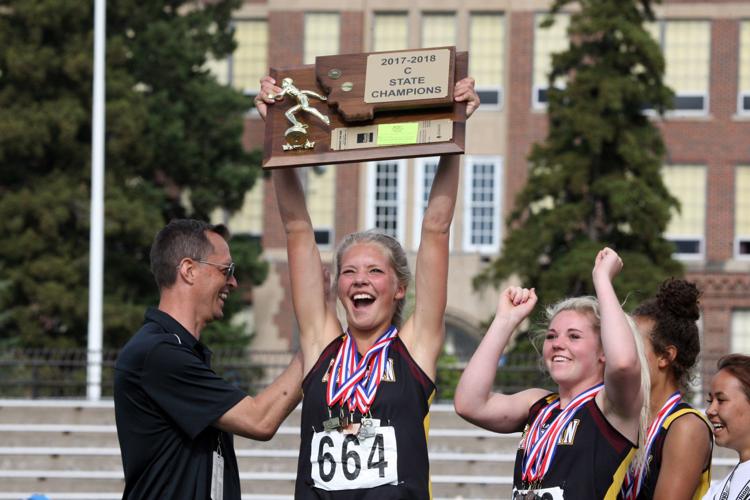 On the girls side, Manhattan Christian won the team race with 58 points to unseat defending champions Fort Benton who finished second with 54.5 points. Twin Bridges was third with 48.
"At the beginning season, we didn't really know where we were going to be at and we came up with this amazing 4x400 team, obviously we had some great athletes like Alex Veltkamp and Faith Shepard, Bridget Kelly and Shelby Walls who have all just contributed in every way possible for us. It was just kind of cool to see all that come together," said Manhattan Christian girls coach Erika Kimm.
It was the first girls track and field championship for the Eagles in 26 years. They finished runner-up last season, but will finally get to take that fire truck ride this week.
Relay Sweeps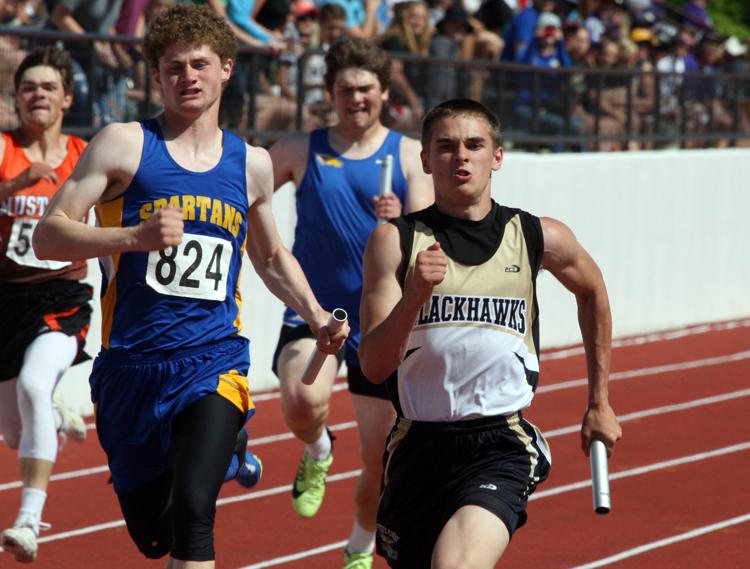 It was a good day for the Fort Benton Longhorns and Seeley-Swan Blackhawks as both started and finished their day with wins in the 4x100 and 4x400 relays.
The Longhorn girls won the short relay in 50.21 seconds and the long relay in 4:08.59.
The Blackhawk boys won their short relay in 44.24 and the long in 3:29.92 with three of the same team members doubling in each.
Multi-event champions
Drummond's Morgan Radtke doubled back after her long jump win the day before to win the triple jump with a jump of 37 feet.
"I was pretty excited about the long jump because that was a huge PR, and then high jump was a little bit disappointing for me, but it happens," Radtke said. "And then triple (jump), it was just my second time over 37 so that's pretty exciting for me."
Pretty good for the University of Montana bound jumper whose previous best finish in any event at state was second in high jump and fourth in triple.
"It's pretty special. I hadn't gotten a state championship in track," said Radtke.
After winning the 3,200 Friday, West Yellowstone's Averi Parker doubled back in the 1,600 to win in 5:30.80.
Winnett-Grass Range's Zoe Delaney won the 100 in 12.7 after winning the 400 Friday.
Turner's Eddie Harmon won the 400 Friday and the 800 in 1:57.48 Saturday.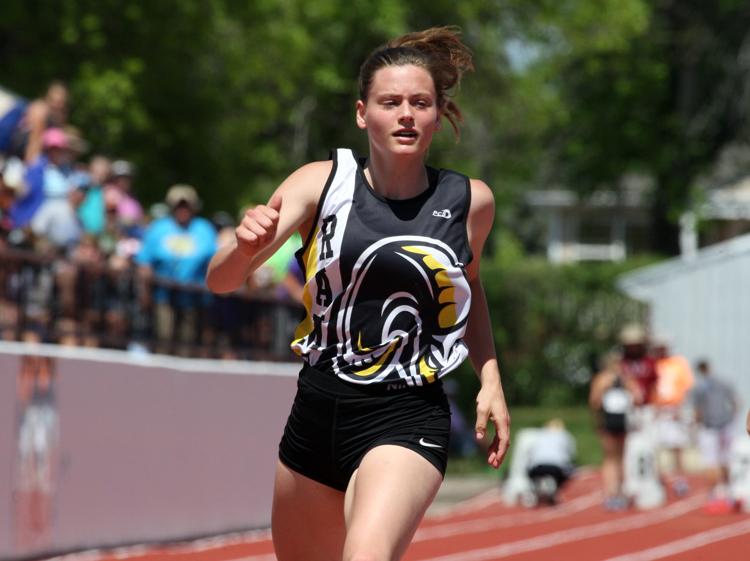 Ending on a high note
As high jump champion Allexander Kosel (Roberts) stepped off the track of the 4x400, emotion covered his face and he hugged his teammates.
"We graduated last week and nobody cried, this was really the graduation because this was the last time we're ever going to be together and on the same team," Kosel said.
And the Eastern Oregon bound jumper went out on a high note earning his second-consecutive state high jump title after making some adjustments after the long jump. He was the only Class C jumper to clear 6-04.
"It's a good thing to end on," said Kosel
Two-time 100 hurdles champion Kailee Oliverson was most proud of leaving her name all over the Twin Bridges record books. Oliverson won Saturday's race in 15.36.
"I think I did pretty good. I got faster and faster every year," Oliverson said. "I critiqued the things I needed to work on so I'm pretty proud of my high school record."
Oliverson will leave this summer to join the University of Nevada Wolfpack women's basketball.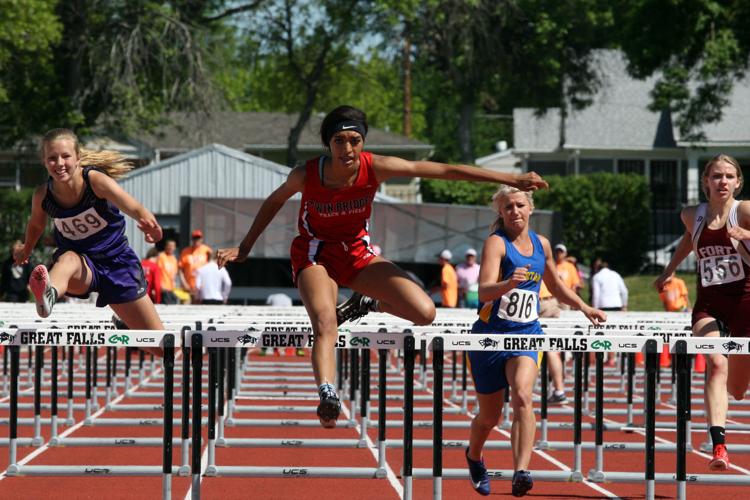 In the 200, Manhattan Christian's Veltkamp won in 26 seconds by a photo finish.
"It was a great career. There was a couple low points, but there was also a ton of high points. I've had great teammates, great coaches and a lot of people helped me along the way," Veltkamp said. "It's been a great career.
"It's kind of bittersweet, the last high school race," said the Montana State track commit. "It's a good note to end on.
Other winners
Valley Christian junior Benjamin Tuinstra won the 110 hurdles (15.54), Turner's Cody Welsch won the boys 300 hurdles (48.7), Darby's Casey Ehmann won the girls 300 hurdles (46.46), Manhattan Christian's Riley Schott won the 3,200 (10:07.07), Great Falls Central senior Noah Ambhuel won the shot put (49-08 1/4), Noxon junior Levi Brubaker won the triple jump (44-03), Plentywood's Brenna Osksa won the high jump (5-04), Wibaux's Toni Schieffer won the javelin (133-09) and Plains Jessica Thompson won shot put (40-09 1/4).
Editor's note: A correction has been made to include Darby's Casey Ehmann's win in the girls 300 hurdles.