HELENA — As the saying goes, it's hard to stop a train, and Helena High's quest to repeat as girls Class AA track and field team champions may prove to be equally difficult to knock off the rails.
The graduation of Odessa Zentz, Sydney Mattfeldt, Kylie Hartnett and others didn't slow a Bengals team that captured its second straight Western AA Divisional title last week at Vigilante Stadium.
Eleven state qualifiers and four alternates make the trip to Butte to defend the Bengals' title.
If they're successful, it would be the Helena High girls' third consecutive time bringing home second-place or better hardware.
So what makes the Bengals so tough?
Well, raw talent helps, and Zentz's high school track and field career was one for the history books.
This year is shaping up to be a banner one for the Todorovich sisters after Logan won two state titles and Madi finished fourth or better in five events a year ago.
To get the best out of a super talented group, though, requires empowering athletes and inspiring confidence – finding and celebrating those little victories in practice that'll translate to meet day.
For Jesse Zentz's group, empowerment is found through daily quotes – often from successful female athletes – and confidence begins with a supportive atmosphere the Bengals create in practice.
"It's the vibe they show up with to practice," Jesse said. "Are they excited about this sport? Are they excited to get out there and compete? It's that climate you live in every day…
"All these kids, when they're here for track and field, it's about track and field…They want to be the best they can be in this sport. I think the culture [the athletes] have created has built that vibe."
Three virtues have grounded the Bengals this season: excellence, unity and curiosity.
They don't plan to do anything different this week at the state tournament, because with those pillars guiding them and that strong culture – that vibe – the Bengals have been tough to stop.
'Doing your best in that moment with what you have'
Excellence has followed the Bengals around this season like a bright ray of sunshine.
They won five events at divisionals, and thanks to the Todorovich sisters, own the second-best Class AA times in the 100-, 200- and 400-meter dashes entering state.
Makenzie Jackson and Birdie Heuiser combined with them to sweep the top-four spots in the high jump at divisionals, and collectively, they're all inside the top-six in the state and are planning to take their brooms to Butte.
"I think it'd be pretty cool and very exciting because we've all worked so hard and I think all of us deserve it," Madi Todorovich of the prospect of sweeping the top spots at state.
Jesse said the way jump coach Andrew Mozer guides that group in practice is the exact vibe he's talking about when speaking of creating exciting practices.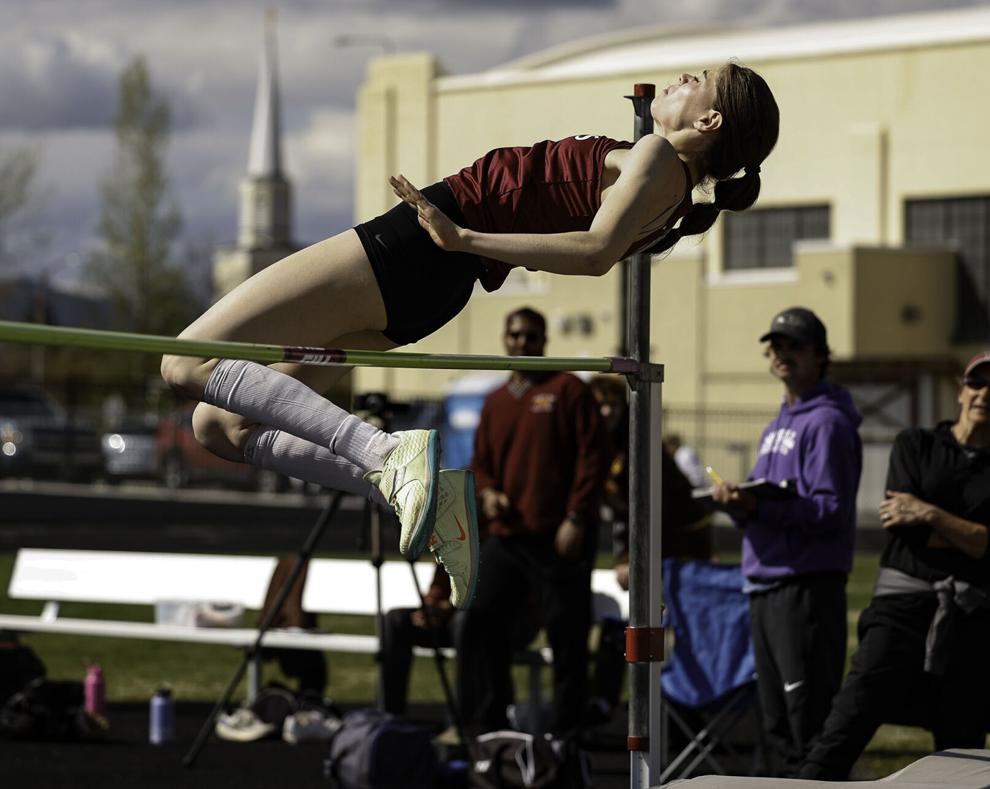 Senior Kim Feller, who placed top-three in the discus and javelin at divisionals, is the lone female athlete from a Class AA program that will compete in all three throwing events at state.
She enters the state meet fifth in Class AA in the discus (116 feet, 7 inches) and top-10 in both the shot put and javelin.
More than simply performing well, for the Bengals, excellence means getting the best out of a bad day – pushing through the "down" parts of the ups and downs associated with a long season.
'We' versus the 'me'
Jesse took inspiration from legendary NBA head coach Gregg Popovich for the "we versus me" quote he presented the team ahead of Tuesday's practice.
Ahead of the state tournament, Jesse wanted his group focused on lifting each other up and having the type of energy that others can feed upon.
It's the Bengals' team unity that plays a role in the excellence enjoyed.
"I've never [been on] a team that's so inclusive and supportive of each other," Madi said. "They're always cheering and we're always happy for each other…
"Clearing a height in high jump, for example, my teammates are always there to support me afterwards and say, 'good job,' or give me a hug."
Jesse pointed to the Todorovich sisters as two of the biggest "energy givers" on the team.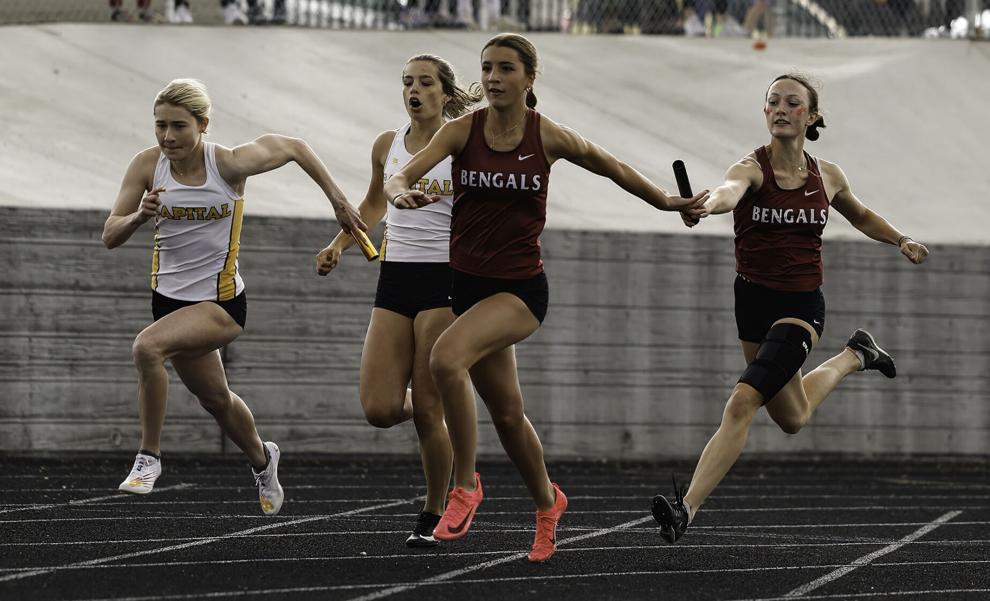 "It's super important for me to help my teammates, because they're helping me get better," Logan said.
"It's a team thing and we need to be there for each other and support each other in everything we do."
Reghan Skogen, a junior who will be competing in the pole vault, long jump, 100, 200, 4x100 and 4x400 for the Bengals at state, outlined a really tough day she was having before a meet this season.
She added that, with her teammates' help, she persevered and ended up setting a half-foot personal record in the pole vault.
"We all really focus on supporting each other and being there for each other, even if we've had a bad day," Skogen said. "Just making sure to uplift everyone else because it really is a team effort…
"Really committing and pushing each other and really trying our hardest in practice to motivate each other."
Being curious about your own abilities
Skogen was already a really solid pole vaulter and long jumper, but heading into her junior season, she really leaned into the team's thoughts on curiosity – the notion that there is something more for an athlete if they work a little harder.
Skogen added the short sprints and relays to her repertoire – reviving the skills she learned in those events as a freshman – placing third in the 100-meter dash at divisionals while maintaining third and fourth place in the pole vault and long jump, respectively.
"We knew she was a great pole vaulter and we knew she could long jump, but this year, she really went for it in the sprints and she's a big contributor on both relays," Jesse said.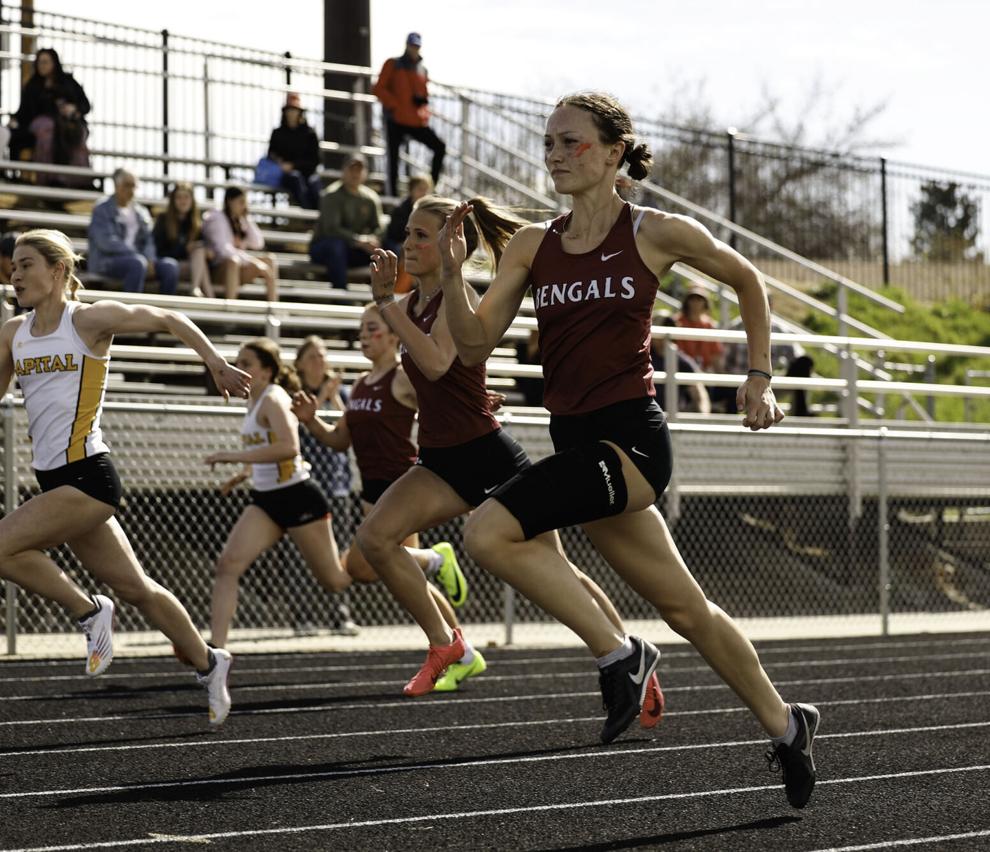 "The way she competes, I wouldn't want to run against her – she is feisty and fearless."
She PRed in both the pole vault (10 feet, 6 inches) and long jump (17 feet, 6.75 inches) during the regular-season, and for the first time, she has a full slate of events to compete in at the state meet.
"I'm a little nervous because I have never done this many events at one time in a track meet," Skogen said. "It'll definitely be a learning curve, but I'm really excited to see how it goes and see how I can recover and better myself for next year."
Each of the four times she's competed in the 4x100 relay, her, the Todorovich sisters and Hazel Bishop have taken first place. They ran a season-best time of 48.93 seconds on April 25, which, if replicated at state, puts the Bengals solidly in the mix for a championship in the event.
"In my opinion, doing more events puts a lot less stress on a very specific event. Last year, I stressed a lot about long jump and pole vault because those were the only events I did."
"Now that I have more events to put my effort and mind into, it lessens the stress for each singular event."
Bishop, a freshman, finished right behind Madi in the 400-meter dash at divisionals and will compete in both relays along with the 200-meter dash at state.
Jesse described Bishop as a "breath of fresh air" with how much she enjoys track and the competitive nature she possesses.
Helena High has leaned on those three pillars all season, culminating in their favorable position to repeat as girls team champion.
The Bengals' competition would love to knock them off course, but Helena High isn't considering anything outside of their control as the state meet kicks off in earnest on Friday in Butte.
Junior Annika Nehring, who enters with Class AA's top pole vault height (11 feet, 3.5 inches) will be one of the first Bengals to compete on Friday morning.