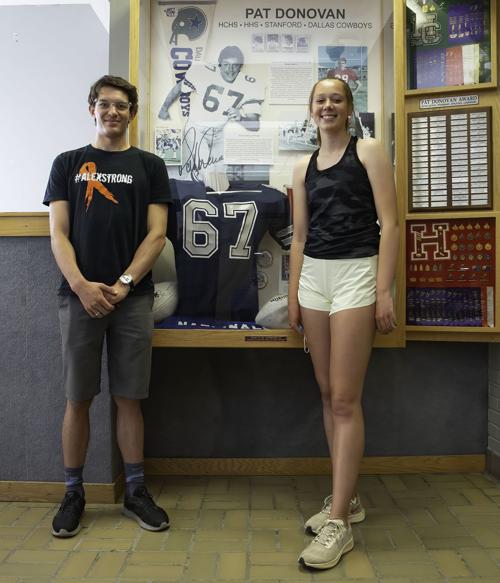 When Helena High's Liz Heuiser was told to come to the gym Thursday morning, she wasn't sure what to expect. She thought might be in trouble.
"They did the senior prank last night," Heuiser said. "And they told me they had a bunch of my stuff, and 'I was like, I was not part of it. I promise.' I was not expecting to come down and see my family waiting."
Heuiser found her family and the family of Robert Wagner waiting as he joined her in receiving the Pat Donovan Award for the 2020-21 school year
The awards are presented annually to Helena's top senior male and female scholar-athletes. Honorees must have participated in two or more sports all four years while exhibiting stellar attributes in athletics, academics, character, attendance, sportsmanship, leadership and citizenship.
Wagner, for his part, was just as surprised as Heuiser. 
"It's a great honor," he said. "I had no idea that this was happening."
Wagner didn't expect it but after winning multiple state championships in swimming and setting a state record, maybe he should have.
During the 2021 Class AA state swim meet, Wagner won a state championship in the 100 butterfly and set a state and school record in the process (51.35). He also won the state title in the 50 freestyle in 2021 and was part of Helena High's 200-meter freestyle relay team, which also won state and set a school record with a time of 1:30.34.
The future swimmer at St. Francis, a Division-I program in New York, was part of eight-career state championship (six individual, two relays), as well as finishing as medalist (top-6) 14 times. Wagner also earned all-state honors in state cross country this past season and was a three-sport athlete, competing in track and field too.
Wagner was also named the All-Area Male Cross Country Runner of the Year by the Independent Record in 2020, as well as winning the All-Area Swimmer of the Year award three times. 
"It's such a great honor," Wagner said. "I totally thought someone else would get it. I didn't expect it all, honestly."
Heuiser, who took home the girls award, also competed in three sports at Helena High and did most of her damage on the volleyball court where she was a two-time Class AA All-State selection. She also made the All-Area volleyball team three times, as well as making the All-Area basketball team in 2021.
The senior also competed in track and qualified for state in the triple jump. It was her second time reaching the state track meet.
Heuiser will play volleyball at Carroll College starting next year and finished her Helena high career with 782 kills and 215 blocks. 
Chris is the sports editor and lead preps reporter for the Independent Record and 406mtsports.com. Follow him on Twitter @cmpetey406