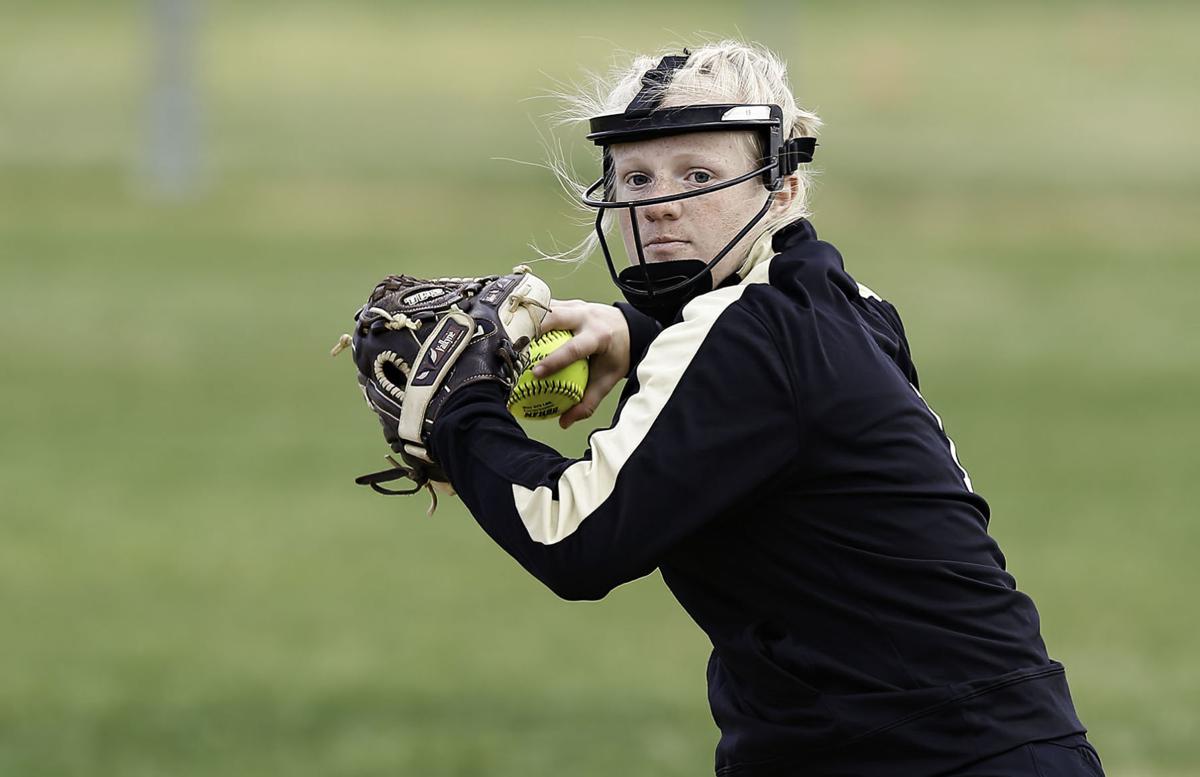 HELENA — A resilient day from Helena Capital's softball team allowed the Bruins to capture both ends of Tuesday's doubleheader against Butte at Northwest Park. After a big lead in game No. 1, Capital fended off a Bulldogs comeback, winning 8-7, just to turn around and be the team to pull off a comeback in the second game, winning it 4-2.
"It was good games for us," Bruins head coach Mike Miller said. "We figured that Butte is right about the same spot we are, they do some good things and we knew it was going to be a battle. I was excited that we came through."
Capital broke a scoreless tie in the third inning of game No. 1 with a five-run frame, and extended its advantage to 8-0 by the end of the fifth inning of play. Mackenzie Siegers and Lexi McNew both notched multi-RBI games in the front-end of Tuesday's doubleheader, but it was Kathryn Emmert's work in the circle that kept Butte off the board.
Through five innings, Emmert had tossed up five zeros, but faded in a sixth inning that saw Butte score seven times. Run-scoring hits by Madison Skeel and Jaycee Burke helped the Bulldogs cash in on a bases loaded situation as four different Butte players came through with RBI in the sixth inning.
An inning later, Butte moved a runner into scoring position, but with two outs, Bruins reliever Nyeala Herndon struck out MacKenzie Tutty to seal a Capital victory.
"I thought we should've hit a little bit earlier, but we didn't and they didn't give up," Butte head coach Ryan Stosich said. "They gave us a shot to get a win, but we didn't get it done today."
That ended up being Herndon's lone strikeout in 1.1 innings pitched in game No. 1, but added to Emmert's six, and the Bruins pitching staff struck out seven against just one walk during the front-end of the doubleheader.
Rian Ferriter was solid in the circle for Butte, but after two scoreless innings to start the game, allowed eight runs (four earned runs) in 4.1 innings of work.
"That's the first time we've pitched Kathryn very much, she's had a little knee trouble, so we haven't thrown her very much, but I thought she was excellent," Miller said. "May have gotten a little bit tired. Then I thought Nyeala pitched awfully good the second game. Our pitchers were a little bit better. The Butte girl, McCaul McCarthy, she's had some knee trouble, and that's the first time she's pitched [in the second game]. She's tough, she'll be tough to handle down the road, she throws the ball hard."
While Butte could not complete its comeback in game No. 1, Capital notched what will go down as a come-from-behind win in game No. 2 after getting behind 2-1 in the fourth. In a game that was delayed 15 or so minutes at the beginning while officials worked through which team would act as the home team, there were plenty of early-game fireworks.
Not happy about having to assume away team status for both games of the doubleheader on Tuesday, Butte's head coach did not have the opportunity to participate much in game No. 2 after being tossed in the first inning for arguing a play at the plate.
According to Stosich, that was his first time getting tossed in 16 years of coaching. Nevertheless, the play he was arguing stood as a first-inning Capital run and RBI for Taylor Sayers as she would finish the contest 2-for-3.
Butte grabbed the lead back in the fourth inning thanks to a Dylan Duffy home run and run-scoring wild pitch. Just one frame later, however, Capital rattled off three-straight hits, two singles and a double, to snatch the advantage right back. Anna Cockhill delivered what would end up being the game-winning extra-base hit, a two-RBI double that was laced into the left field corner.
"She's just tough, obviously," Miller said of Cockhill. "It actually started a little bit before [the hit], they took their girl out and we jumped right on it. A lotta times, it's hard to make that adjustment. Lexi starts it out, then we get a hit from Jaedyn, too, and then Anna hits a real shot. I thought Anna's hitting was good, but I thought her defense at shortstop was much better. She made just about every play. Jenna Priddy made a couple really nice plays behind first, so our defense, other a couple simple mis-ques, was really good, I thought."
Jenna Priddy capped off a three-run inning for the Bruins with an RBI base knock, ensuring she would have yet another multi-hit game with a 2-for-3 effort and a run scored.
"We haven't necessarily done that with a super hard team yet, so it felt really good and I think we really stuck together through all the ups and downs today," Priddy said of the wins postgame.
Herndon, who got the last four outs of game No. 1, tossed a 93-pitch complete game in the back-end. Despite allowing eight hits and four walks, Herndon gave up just two earned runs while throwing better than 62 pitches of her pitches for strikes.
Sayers joined Priddy in the multi-hit department for game No. 2 as six different Bruins collected a base knock in the second win on Tuesday.
"We definitely are a team that picks it up late in the game, so I'm glad we got it started to begin with and kept up with it...It was a good experience for us today," Priddy said.
Aurbee Cocoran finished the game 2-for-4 for Butte, while Tutty went 2-for-2 with a walk and run scored. Duffy was credited with the Bulldogs' lone RBI in game No. 2 and went 1-for-2 with her home run and a walk.
Similar to the first game, Butte formulated something of a rally in the seventh inning with back-to-back base hits. With one out, however, the Bulldogs grounded into a double play, ending the game in a Capital victory.
"It was a good team we were playing," Stosich said. "We knew they were solid coming in, but we competed with them. The more we get outside, the better we're getting, so hopefully we'll see them down the road."
Capital moves to 10-5 overall with the wins on Tuesday, while Butte drops to 4-11 on the season. The Bruins will be back in action on Thursday when they travel to Missoula to play Big Sky and Sentinel with first pitches at 3 and 5 p.m., respectively.
Butte also returns to the field on Thursday at home against Bozeman with a 4 p.m. first pitch.