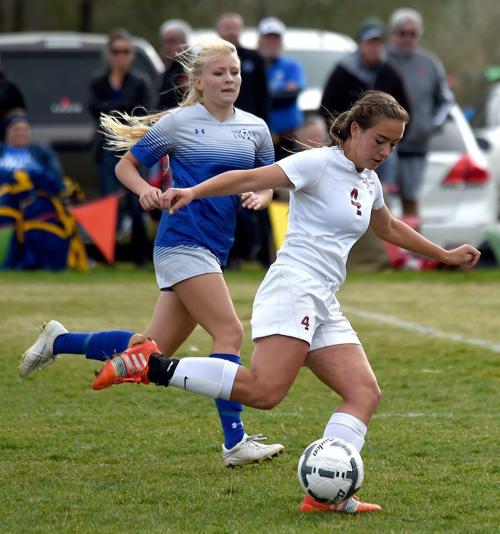 Aine Lawlor's dream is coming true.
A three-year mainstay for the Helena High girls soccer team, Lawlor will be continuing her athletic and academic career at Bowdoin College, in Brunswick, Maine. The Polar Bears compete at the NCAA Division III level in the New England Small College Athletic Conference.
"I'm super excited. Super relieved, too," Lawlor said. "It's really nice to have it figured out, now.
"I think I had always pictured myself going to school in New England. All of our family lives back there, and the quality and location of the school really enticed me."
The Polar Bears -- so named in recognition of the discover of the North Pole in 1909 by Bowdoin graduate Admiral Robert E. Peary -- finished this past season at 9-6-1, falling in the NESCAC semifinals. The program routinely averages 10-plus wins per season, and is consistently ranked among the top teams in the region.
That success was certainly a draw for Lawlor, but there were other things to consider as well. While she wants to continue to play soccer, and do well, she also wants to enjoy her college years. That means other extracurricular activities, and an emphasis on academics as well.
For that reason, a D-III school made the most sense.
"I really focused my search in New England," Lawlor said. "I had a few offers from a few different schools in the same region. I was really impressed with the academic rigor and top-tier education I would be getting (at Bowdoin). And I couldn't be happier going to Maine. The outdoor opportunities and the activities that are available in Maine, just nothing else compared."
Among those activities is Nordic skiing -- a sport in which Lawlor may also represent the Bears.
If she commits to skiing, there's little doubt she will be successful. Her athleticism and work ethic made her a three-time All-State midfielder for Helena High. Her breakout year came as a sophomore, when she became only the third Lady Bengal (joining Whitney Haseman and Callie Kanthack) selected to the All-State team. The 2014 IR Girls Soccer Super Team Player of the year, Lawlor piped 10 goals and passed for five assists to lead the red and white and the Western AA.
Her junior season saw the Bengals claim the State AA championship, and despite missing significant time to injury she finished as the second-leading scorer during the regular season with five goals and five assists.
In her senior year, again hampered by injuries, Lawlor recorded 12 goals and five assists, finishing as the Western AA's No. 3 scorer.
Lawlor said that while the State championship is certainly something she will long remember, it was her sophomore season that she will always look back on with a smile.
"That's when I was able to come out and make a big difference on the team, get a lot of time and see our team play really well," she said. "Honestly, I have been looking at schools and visiting schools since my fresh year really intensely. It's exciting to be able to be done with that. I really enjoyed playing for the Bengals, but it's kind of a dream come true for me to be going and playing in Maine."
Follow IR sports editor Troy Shockley on Twitter @IR_TroyShockley.