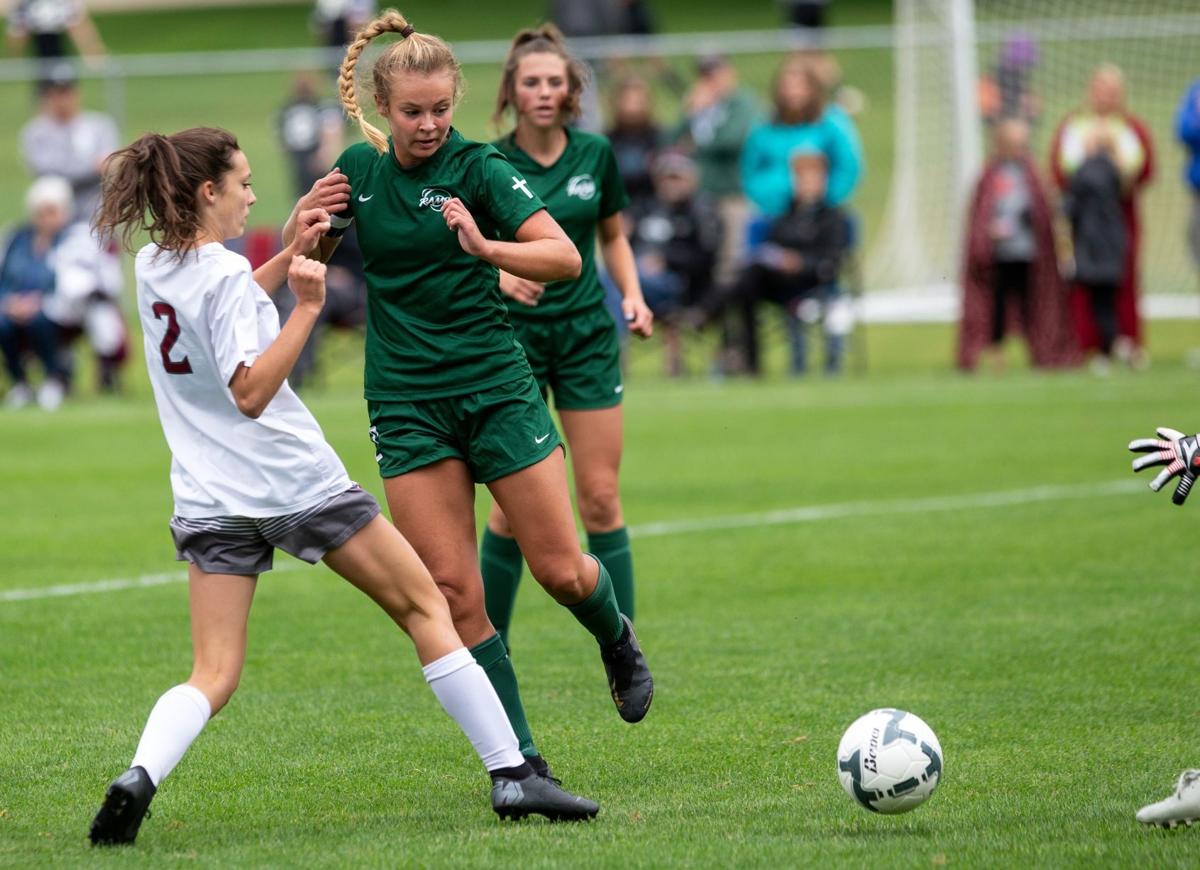 Football
• Bryce Birgenheier accounted for six touchdowns in Geraldine-Highwood's 60-20 win over Box Elder. Birgenheier scored on rushes of 23, 9 and 7 yards, threw for TDs of 18 yards (to Ian Moline) and 29 yards (to Ian Schabarker), and returned a punt 50 yards for six points. Moline rushed for touchdowns of 23, 30 and 70 yards. Box Elder's Kaydn Duran threw two touchdown passes to Tyrus LaMere and another to King Ragged Robe. 
• Gavin Nelson scored four touchdowns, Wyatt Davis added three and defending state champion Wibaux pulled off another big win by routing Bainville 70-0. Quarterback Tel Lunde ran for two TDs and threw for another for the Longhorns, who led 51-0 at halftime. Despite losing three key seniors to graduation, Wibaux has outscored its first two opponents 131-6.
• Rod Zentner scord four touchdowns, and Jake Kallevig and Zach Althoff added two apiece as Bridger rebounded from its troncing by Wibaux a week ago to throttle Fromberg 71-0. Zentner scored from 25, 31, 25 and 10 yards out, and Kallevig also tossed a TD pass. 
• Elijah Byrd scored the first eight TDs of the game -- five on runs, one on a kick return, one on a punt return and another on an interception return -- as Gardiner crushed Plenty Coups 76-6. Byrd had five rushing TDs in the first quarter as the Bruins bolted to a 40-0 lead. Evan Guengrich also scored twice for Gardiner. 
• Edward Murnion scored the game's final four touchdowns and cousin Keenan Murnion also had one as Jordan, last season's state runnerup, whitewashed Froid-Lake 40-0.
Volleyball
• Bella Bryan had 13 kills and 15 digs and Talle Ketchum had 20 assists and five aces to help Billings Skyview defeat Belgrade 26-24, 17-25, 25-19, 25-20. Amber Heiser had 20 digs for the Falcons, who had 11 blocks, five by Hayden Baumberger. Tessa Lamb had nine kills and Hazel Eaton 21 digs to lead Belgrade.
• Thunder Basin (Wyoming) lost the first set but rebounded to beat Billings West 22-25, 25-17, 25-19 in bracket play of the Gillette Invitational. Shauna Stene had six kills and six blocks to lead West, which also received 14 digs from Kaitlin Grossman and 17 assists from Taylor Graham. Later in the day, West downed Buffalo (Wyoming) 29-27, 25-15 as Megan Benton had 10 kills and Graham added 29 assists. The Golden Bears also topped Campbell County (Wyoming) 25-17, 25-16 behind six kills from Grossman and Graham's 13 assists and 12 digs.
• Billings Central was crowned the Border Wars champion for the third year in a row by going undefeated at the two-day event. Olivia Moten-Schell had 18 kills, Cindy Gray three blocks, Maria Stewart 38 assists and Grace Zeier had 23 digs in a 25-19, 16-25, 25-11, 24-26, 16-14 win over Lander, Wyoming. Earlier in the day, Central defeated Powell, Wyoming, 25-15, 25-18, 25-11 behind nine kills and four blocks from Moten-Schell, 22 assists for Stewart and nine digs from Zeier. Ainsley Hauk had three aces.
• Polson defeated Libby in four sets as Misty Tenas had 13 kills and three blocks for the Pirates. Grace Quinones had four aces and Berkley Ellis added 15 assists. 
• Jessa Chvilicek had 13 kills and five blocks to power Havre over Browning 25-13, 24-26, 25-12, 25-17. Gianna Vickers led the Indians with eight kills. 
• Meghan Eiselein had 11 of Roundup's 22 kills and Blythe Sealey had 18 of the team's 20 assists in a 25-18, 25-19, 25-20 win over Red Lodge. Emmalia Sager led the Rams with four kills and sister Isabelle Sager had two of the team's thre blocks.
• Emily Poole had 11 kills and six aces as Huntley Project swept Class A Lewistown 25-13, 25-7, 25-10. The Red Devils, the defending state champions, ran their win streak to 71 matches. Sara Sumner added 17 digs, Addy Hultgren 29 assists and Alana Graves had three blocks. Kylie Zimmer had six kills for the Eagles and Macy Mangold had 11 assists.
• Joelle Luoma led with 13 kills and Shayla Webber provided 11 kills, 18 assists and 10 digs to lead Joliet to a 25-18, 26-24, 25-20 sweep of Colstrip. Kya Egan had six kills and nine assists for the Fillies.
• Florence swept Bigfork 25-6, 25-15, 25-17 as the Falcons racked up 32 kills, 12 of which came from Jacklyn Balford. Halle Christopherson added six aces. Josie Howlett had four kills and one ace to lead Bigfork. 
• Scarlette Schwindt had 16 kills and 19 digs to lead Thompson Falls past Missoula Loyola in a marathon, 23-25, 25-15, 11-25, 25-14, 15-12. Riley Wilson had 25 assists and two aces for the Blue Hawks. Sam Clevenger had 16 kills and four blocks for Loyola. 
• Ella Owen and Kenzie Tookie supplied seven kills apiece as Ekalaka swept past visiting Jordan 25-23, 25-15, 25-15. Owen also notched 12 digs. Teammate Heather LaBree provided five aces. Grace McDonald had 29 digs for Jordan.
• Dyauni Boyce's nine kills and 15 digs helped Roy-Winifred sweep Denton-Geyser-Stanford 25-12, 25-8, 25-9. Teammate Cassie Smith chipped in with 31 assists and four aces. Sydney Von Bergen had five kills and Keonna Cunningham collected 16 digs for D-G-S.
• Kylee Altmiller had three kills and three of her team's five blocks as Plains toppled Noxon 25-19, 25-22, 25-21. Riley Richter had 15 assists and 13 digs for Noxon.
• Carlee Fryberger had six kills, 10 digs and three blocks to carry Charlo past St. Regis 25-15, 25-17, 25-10. Connor Fryberger had all 11 of the Vikings' assists. Baylee Pruitt stood out for St. Regis, getting all 35 of her team's asists and nine digs.
• Makayla Harper's 13 kills and Alexis Goldy's 12 digs helped Park City rally to beat visiting Fromberg 21-25, 25-19, 25-16, 25-23. Hayley Story provided the victors with seven aces. Hunter Holstein and Dacey Robertson had six kills apiece for Fromberg.
• Liv Wangerin had four of Plentywood's 13 kills in a 25-9, 25-23, 25-8 sweep of Lustre Christian. Donn Langan served nine aces for the Wildcats. Alexa Reddig led Lustre with four kills and Tiara Whitmus had three aces.
• Ryann Moline had 10 kills and seven digs, and Alexis Moline had all 11 assists in Circle's 24-26, 25-16, 25-22, 25-15 victory over Broadus. Jadyn Traub's 12 kills and 15 digs led Broadus.
• Karli Lane led with seven kills, five digs and three aces for Harlowton in a 25-12, 25-23, 25-17 sweep of Shields Valley. The Rebels got five blocks from Terry Dominick.
Soccer
• Caleb Hoxie scored on a penalty kick and Ryan Quinn added another goal on an assist from Aiden Adamek as Helena Capital earned its first win over Helena in nine years, topping the Bengals 3-0. The Bruins scored first on an own goal before Hoxie's boot make it 2-0. 
• Jan Mollemier and Camden Capser scored on each side of halftime to help the Billings Central boys topple Hamilton 2-0. Matheus Penha and Sam Dull recorded assists for the Rams. 
• Dalani Brayton scored a late goal and Belgrade also had an own goal as the Panthers became the school's first program to claim a Class AA by blanking Great Falls 2-0. The own goal came in the 49th minute and Brayton's was in the 75th. 
• Morgan Ferestad had a hat trick to become Montana's career goal-scoring leader and help Billings Central defeat Hamilton 9-0. Ferestad, a senior, has 102 goals, topping Elizabeth Pitman of Whitefish, who scored 101 times from 1998-2001. Zoie Althoff also had a hat trick, Solei Elletson scored twice and Sophia Bohl added a goal for the defending champion Rams, who improved to 4-0-0. 
• Mya Maack scored three times to help Laurel defeat Missoula Loyola 7-0. Morgan Maack, Maeson Cotter, Madi Peaton and Allison Shovar also scored for the Locomotives, who led 5-0 at the half.
Cross Country
• Billings Senior's Owen Smith won the individual title and Billings West won the boys title at the Belgrade Invitational. Smith's winning time was 16:09.57, while Manhattan Christian's Ben Morrison was second in a school-record (16:15.24). West had 60 points, followed by Helena (75) and Manhattan Christian (88). Helena's Kylie Hartnett (18:30.86) won the girls race to help Helena take the team title with 37 points. West (73) followed in second. Senior's Elena Vandersloot was runner-up with an 18:56.25 time.
• Hardin's boys and girls teams took first at the Hardin Invitational. Lewistown's boys came in second, one point shy of first, led by first-place Sam Fulbright's time 17:14. Haley Burns of Colstrip paced all girls runners with a time 20:23.
Get in the game with our Prep Sports Newsletter
Sent weekly directly to your inbox!