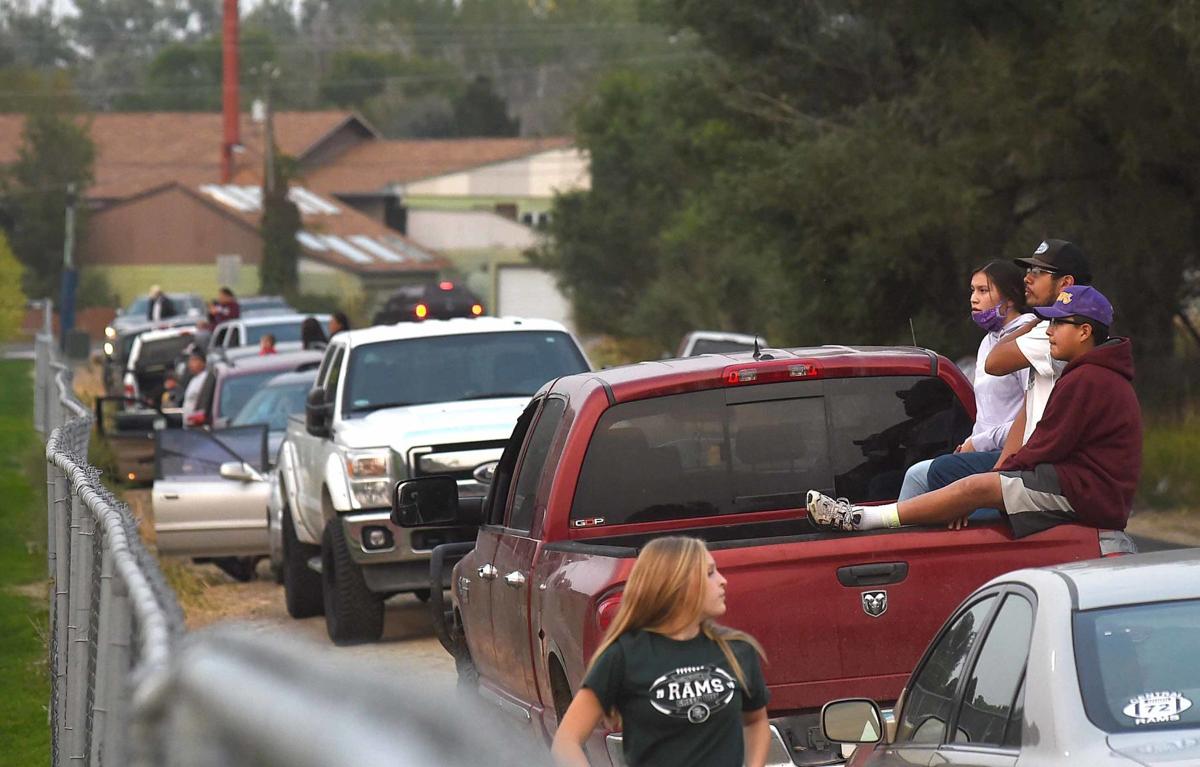 Editor's note: Will be updated as we receive results.
Football
• Jace Klucewich ran for first-quarter touchdowns from 10 and 12 yards out, and Dayton Bay tossed two touchdown passes to lift No. 1 Missoula Sentinel past Helena Capital 35-0. The Spartans led 21-0 after one quarter and cruised from there. Peyton Stevens caught a 9-yard scoring pass and Joe Weida closed the scoring with a 20-yarder. Camdin Dirnberger was 5-for-5 on extra points. The Spartans limited the Bruins to 109 yards and five first downs.
• Missoula Hellgate posted a 28-20 decision at Kalispell Flathead when Brayden Terzo's interception with 35 seconds left sealed the outcome. Ian Finch's 14-yard TD catch from Dante Maiuru put Hellgate up for good, 21-14, with 3:01 left in the third quarter. Leo Filardi kicked the all-important extra point. Late in the first half, Maiuru hit Finch for a 41-yard TD pass and then the two connected on a pass again for the two-point conversion to put Hellgate on top, 14-0. Terzo scored the Knights' first TD on a pass from Maiuri.
• Jake Rendina scored four touchdowns and No. 5 Kalispell Glacier bolted to a 20-point first-quarter lead and held off Butte 33-17. Rendina scored from 3 and 6 yards away to start the scoring. Jake Turner caught a 14-yard pass from JT Allen and Rendina ran from 8 yards for a 26-6 halftime lead. Rendina closed the Wolfpack scoring with a 7-yard fourth-quarter ramble. The Bulldogs were limited to Casey Kautzman's 33-yard field goal until Aiden Lee ran from 2 yards out and Jake Olson caught a 1-yarder from Blake Drakos in the fourth quarter. 
• Junior Bergen had touchdown runs of 3 and 18 yards and threw scoring passes to Jacksen Burckley to lead No. 3 Billings Senior over Great Falls 28-14. Ryan Krahe started the scoring by racing 23 yards in the first quarter for the Bison, who trailed 28-7 at halftime. Reed Harris' 68-yard pass to Bridger Polk in the third quarter brought Great Falls within two scores, but neither team dented the scoreboard in the fourth quarter. 
• Kaden Huot threw a school-record-tying five touchdown passes -- three to Dexter Tedesco -- and No. 2 Helena scored 42 points in the first half en route to trouncing Missoula Big Sky 48-7. Tedesco's receptions came from 17, 3 and 5 yards out.
• Jess Wattenbarger scored from 2 yards out on a fourth-down play late in the first half and Bozeman hit stride in the second half for a 45-6 win over Billings Skyview. Quarterback Jordan Jones tossed two TD passes for the Hawks, one to Jase Applebee from 30 yards and the second to Bryson Zanto from the 7-yard line. A 75-yard interception return by Tucker Macbeth sealed the deal for Bozeman. The Falcons' only score came on a 59-yard pass from Dylan Goodall to Payton Sanders in the first quarter. 
• Isaiah Claunch tossed three TD passes to Neil Daily, and Michael Deleon ran for two more scores as No. 4 Billings West pounded Great Falls CMR 41-0. 
• Ben Tack and one rushing touchdown and Ben Rooney had two as No. 1 Hamilton outlasted No. 3 Dillon 37-14. The Broncs led 16-7 at halftime. A two-yard Rooney touchdown and 27-yard Austin Drake field goal gave the Broncs 9-0 lead in the first quarter. Hamilton quarterback Tyson Rostad then found Tristan Lewis on a 34-yard score to make it 16-0, but Dillon answered with a long pass from Montana State commit Jace Fitzgerald to Cole Truman. The Beavers closed the gap to 16-14 on a 1-yard run from Kale Konen early in the third quarter, but Tack found paydirt from 16 yards out to give the Broncs a two-possession lead. Rostad scored with 8:35 left in the fourth quarter to help close out the game following a failed Dillon conversation on 4th-and-5.
• Marcus Wittman accounted for four touchdowns in the Billings Central football team's 42-0 Eastern A win over Hardin at Lockwood Stadium. Wittman rushed for two 1-yard touchdowns and one from 3 yards out. The senior also completed a 19-yard TD pass to Clay Oven. Thomas Hubbard returned an interception 97 yards for a score, and Max Studer rushed for a 9-yard TD. The Rams improved to 2-0; it was the season opener for Hardin.
• Quarterback Carson Hunter passed for two touchdowns and ran for another as No. 2 Miles City won at Lewistown 22-7. Hunter passed 20 yards and 13 yards to Ben Glasscock for a pair of first-quarter scores. He ran two yards for another TD during the fourth quarter. The reigning state-champion Cowboys led 14-7 heading into the final period. They tallied their eight points with a safety and Hunter's short run. Lewistown's second-quarter score came on a five-yard run by Ashton Grover. 
• Peyton Hicks scored three touchdowns, including the game's first two scores, and Frenchtown coasted past host Stevensville 40-0. Hicks' first two runs were from 26 and 21 yards, and he added another score after halftime. Tel Arthur also scored two TDs for the Broncs. 
• Mason Peters threw two touchdown passes, both to Cade Morgan, and Columbia Falls built a big early lead and fended off Jay Beagle and No. 5 Libby 35-33. Taylor Bryan brought back the second-half kickoff 80 yards to give the Wildcats a 28-6 lead, but Beagle ran for a score and threw for two more -- to Ryder Davis and Tucker Masters -- to bring the Loggers within two points with a minute remaining in the game. Isaiah Roth and Rowdy White scored rushing TDs for C-Falls. Beagle also had an early 7-yard scoring run and Davis caught two TD passes.  
• Jarrett Wilson piled up 559 yards of total offense and six touchdowns as Polson rolled past Ronan 52-34 to create a three-way tie with Columbia Falls and Libby in Northwestern A action. Wilson was 25-for-46 passing for 439 yards and five TDs. He also ran for 120 yards and a score. A sophomore, Wilson has thrown for 1,409 yards and 13 TDs in four games. Xavier Fisher and Colton Graham each caught two of Wilson's TD passes. For Ronan, Daniel Kelsch threw for three scores and ran for another, and Trapper McCallister scored on a run and pass. 
• In a game moved to Thursday due to a referee shortage, Whitefish pounded Browning 58-6 in Northwestern A play.
• Jay Jetmore tran for two touchdowns and caught a third, Rizon Berndt rushed for two long scores, Trey Allen tossed a TD pass and Skyler Quenzer ran an interception back 28 yards for a score to lead No. 8 Red Lodge over Baker 47-14. Jetmore scored the Rams' first three TDs and Quenzer finished a 27-0 first quarter with the interception. 
• Eureka rolled to a 40-7 win at Anaconda behind three rushing touchdowns by Caleb Utter, who also had two passing TDs. Utter had 172 yards passing and 51 rushing. The Copperheads failed to score until the 1:56 mark in the fourth quarter when Kyler DeWitt caught a 26-yard TD pass from Braedon Sawyer.
• Florence posted a big 33-14 win at Bigfork as quarterback Pat Duchien Jr. threw for 322 yards and four touchdowns. Tristan Pyette ran for 73 yards an one touchdown for the Falcons. Florence had 474 yards of total offense and Bigfork had 318. Levi Posey caught six passes for 151 yards and two scores for the Falcons.
• Caden Holgate threw for three touchdowns and ran for a fourth, and Toby Veltkamp ran for two and caught another as No. 2 Manhattan overwhelmed Missoula Loyola 52-7. Holgate's passes went for 42 yards to Corban Johnson, 43 to Michael Swan and 30 to Veltkamp, who also had 24- and 27-yard scoring runs. Isaac Richardson did his part for the Tigers with a 91-yard kick return for a TD and 32-yard run. Nolan Iverson accounted for Loyola's only score with an 89-yard kick return.
• Keegan Nelson, Erik Field and Adian Harbin each scored two touchdowns to power No. 7 Westby-Grenora to a 48-14 thumping of Forsyth. The Thunder led 36-0 at halftime. Nelson caught 10- and 12-yard TD passes from Darian Holecek, and Field had scoring runs of 1 and 24 yards for the Thunder in the first half. Harbin closed the scoring in the half with a 35-yard reception from Field. Mon-Dak led 48-0 before the Dogies scored. 
• Tucker Johnstone scored three touchdowns in the first quarter -- two on interception returns -- and added a fourth in the third quarter to carry Park City over Lone Peak 56-30. Johnstone began the scoring with a 24-yard pass from Jacob Gauthier and then fashioned pick-sixes fro 25 and 30 yards for a 22-0 lead after one quarter. Gauthier also threw a 54-yard scoring strike to Taetin Kindsfather.and Garrett Zimdars had TD runs of 5 and 6 yards. Isaiah Holst threw three scoring passes, two to Pierce Farr. Julek Simpson added a 78-yard kick return for the Big Horns. 
Volleyball
• Whitley Maher was tops with six kills, Gracee Lekvold added four aces and Ryleigh Backman contributed three blocks in Scobey's 25-11, 25-9, 25-18 sweep of Bainville. Gianna Boyd had two kills, Brecklyn Pippenger two blocks and Kaitlyn Adkins four assists for the Bulldogs.
• Callie Kaiser had 25 kills and three blocks, Lexie Stockett provided 18 assists and three blocks, and Fran Pollorena helped with 18 digs and four aces in Twin Bridges' 25-17, 25-18, 25-20 loss to Harrison-Willow Creek. No individual details were reported for Harrison-Willow Creek.
• Ryann Moline pounded nine kills and Jalyn Curtiss supplied six aces as visiting Circle scored a 25-4, 25-19, 25-8 sweep at Wibaux. Kayli Haynie contributed seven digs in the victory. Reggie Nelson came away with four kills and three digs for Wibaux.
• Zeason Schaffer led the way with nine kills, Lauryn Billing added 18 assists and five aces, and Oliveah Schaffer chipped in with five aces and four kills in leading Broadus over Terry 25-9, 25-15, 25-13. The Terriers received eight digs and three aces from Olivia Chaska, and seven digs and an ace from Rachel Ehinger. 
• Jaylin Lewenight had seven kills, six aces and three blocks, and Jessica Zarske contributed four kills, five assists and five aces as Lincoln fell to Victor 25-18, 20-25, 23-25, 25-7, 15-10. Jenna Templeton added eight assists, three kills and two aces for the Lynx. No individual details were reported for Victor.
• Kodiann Lynn filled up the boxscore with seven kills, five digs, four aces and two blocks as Simms downed visiting Sunburst 25-12, 25-21, 25-16. Lilly Woodhouse added six kills for the victors. Jeena Alborano helped keep Sunburst close with four kills, 19 digs, four blocks and three aces.
• Gracie Bravo was all over the court with 10 kills, four blocks and two aces to power Lima past Sheridan 18-25, 26-24, 25-20, 25-16. Kara Mayer had 18 assists and Taryn Martinell four digs for the Bears. 
• The Chinook Sugarbeeters defeated Chester-Joplin-Inverness 20-25, 25-13, 25-18, 25-15. Delaney Kellum had 22 kills and four blocks, and teammate Lily Stuber had 14 digs with four aces. Tatum Hull had 10 kills, 34 digs and 17 blocks, and teammate Abby Fraser contributed 27 assists, 17 digs, and two kills for the Hawks.
• Shani Browning had six kills and Shelby Schweers added three kills and 20 digs in Grass Range-Winnett's 25-27, 25-16, 25-20, 26-24 loss to Fromberg. 
Soccer
• Daniel Camp scored three goals and had an assist, and Zane Elliott chipped in with two goals as Kalispell Glacier blanked Butte 7-0. 
• Seth D'Ambrosia punched home three goals and added two assists, and Jackson Stapleton had two goals and an assist to lead Billings Senior past Great Falls CMR 7-0. Trey Draayer and Simon Rolfson scored the Broncs' other goals. 
• Madison Becker scored three goals and had two assists, and Reagan Brisendine added two goals and two assists to lift Kalispell Glacier to an 8-0 whitewashing of winless Butte. Taylor Brisendine also contributed a goal and three assists for the Wolfpack.
Cross Country
• Bozeman High's Stirling Marshall-Pryde and Natalie Nicholas each made it three-for-three on the season at the Billings Public Schools meet at Amend Park. Marshall-Pryde, a senior, won the boys race in 16:38.87, and Nicholas, a freshman, prevailed in the girls competition in 19:15.86. Both have won all three of their meets. The Hawks also won both meets, with the boys edging Billings West and individual runner-up Caleb Hornung (16:46.17). Samuel Nash of Belgrade was third (16:48). For the girls, Bozeman had 17 points to out-distance Bozeman Gallatin (71) and Billings Skyview (81). The Hawks' Natalie McCormick finished second (19:25.03) and teammate Hayley Burns was third (19:35.14).  
Golf
• Laurel's Haylee and Hannah Adams placed 1-2 to help the Locomotives win the girls team title at the Laurel Invitational. Haylee Adams led the pack with a score of 79. Hannah Adams fired an 84. Laurel also won the title on the boys side, with help from Carson Hackman (72) and Landen Gradwohl (74) placing second and third. Billings Central's Nick Pasquarello won medalist honors with a score of 70.
Get in the game with our Prep Sports Newsletter
Sent weekly directly to your inbox!