HELENA -- Players and coaches may want to say that crosstown football between Helena High and Helena Capital is just another game, but it's not.
No other regular season game generates the hype, excitement or pressure that the crosstown rivalry game does, no matter how much both teams try to act like it's business as usual.
"As far as us right now, this is a big game because if we win this one we are going to be seeded third," Helena High head coach Scott Evans said. "It has added significance but the significance in town is that you are able to walk around with some added pride and that's big for the kids."
"As a football coach, I have won a lot of games and lost a lot of games," he added. "But this is about Helena and the Helena community gathers together and that's a great event in its own right."
As Evans indicated, the Bengals will wrap up the third seed in the Western AA with a win. Yet, the same goes for Helena Capital, which can finish no worse than fourth and is guaranteed to host at least one playoff game.
With everything at stake, Capital head coach Kyle Mihelish said it was important to treat crosstown like another game.
"We try to keep things the same," Mihelish said. "Obviously, it's crosstown and there is extra excitement around and the families are excited. But our goal is to just treat it like another football game."
It's another game in the sense that it's the ninth game on the schedule for each team, but there is a lot more on the line than playoff seeding.
It's about bragging rights and after three consecutive losses, Helena Capital hasn't had those in a while.
"I have played with a lot of the guys in travel ball," Capital wide receiver Parker Johnston said of his Helena High counterparts. "And we are tired of losing to them. That's something that we (seniors) have talked about. We want to play our best game and beat them."
Johnston said that even though some of the Helena and Capital players are friends, that won't be the case Friday night at Vigilante Stadium.
"It's intense," Johnston said of crosstown. "We hang out with those guys (Helena High) throughout the year and we are friends, but this week, we aren't even going to talk to them."
The 2019 meeting will be the 47th consecutive season that the Bruins and Bengals have played since initiating their rivalry in 1973.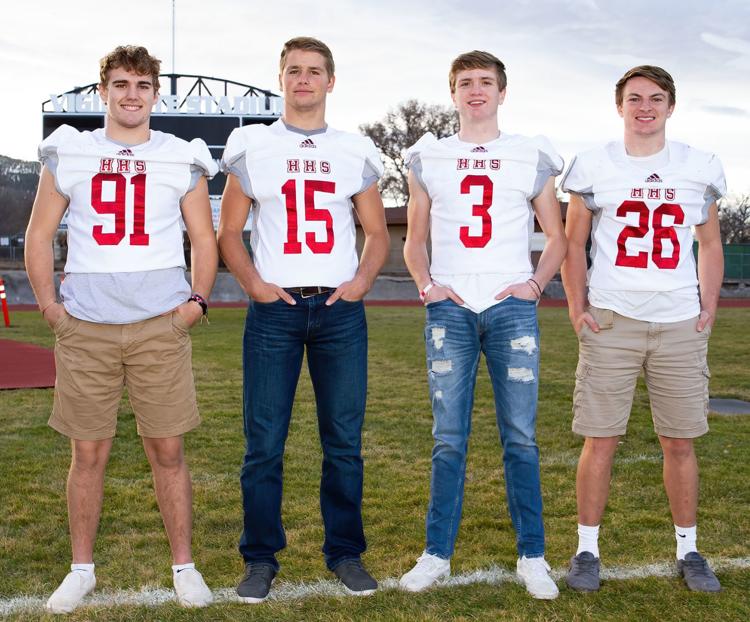 At one point, Capital won 14 straight games over its crosstown rival, however, things have shifted a bit, with the Bengals winning three straight, including a state semifinal in 2017.
"You have to be careful about streaks," Evans said. "I was part of losing 14 in a row. So you can't think about what happened last year. It's a new game and none of what happened in the past matters."
It may not matter in terms of the outcome, but extending the three-game winning streak will surely be a motivating factor for the Bengals.
"You always want to win against Helena Capital," Helena High's Hayden Ferguson said. "And since we have that win streak, if you can call it that, we want to keep that going and try to extend it for one more year."
You have free articles remaining.
One difference between this season and last season, is that the rivalry game is now the last game of the regular season, which offers each a team a chance to springboard into the playoffs.
"This is the next step," Ferguson said. "Winning the city of Helena, in a sense, gets you one step closer to winning the state. It's a stepping stone and it's like winning a playoff game."
With both teams in the playoffs, along with everyone else from Class AA, seeding is at stake, but it still takes a backseat to beating a rival.
"Beating Helena High is probably the top goal outside of winning a championship," Capital defensive back Anthony Guccione said. "It's been on the calendar all year. I want to win so I can remember that."
That is a lot of pressure to put on one game, so the key is keeping that energy reigned in to be able to execute.
"You have to try not to think about it," Logan Brown, a Helena High running back said. "But it's hard. It's a big game and it's important to everybody. So you just have to try and think about your job and treat it like another game."
Last season, the two teams waged a tight battle. Helena Capital led most of the way, but a late touchdown gave the Bengals a 20-17 win.
Now, the Bruins are hoping to turn the tide and having a veteran quarterback like Bridger Grovom, who started the crosstown game last season, certainly can't hurt.
"Anytime you have a quarterback with 19 starts or whatever it is," Mihelish said. "That's a good thing. We feel good about having Bridger."
Grovom, who's father played quarterback for Helena Capital, is determined to close out his career with a win over the Bengals.
"It's definitely different than a normal game," Grovom said. "The whole town is there and we have grown up knowing these guys and we just want to beat them."
For the Bruins, beating the Bengals will mean getting past a stingy defense, one led by Ferguson and a deep defensive line that includes senior Booker Perkins.
"Everything about it is fun," Perkins said of crosstown. "I love the competition. It's intense. It's a fast game and it would be great to go out with a win."
A player that will have a big say over what happens Friday is Helena High wide receiver Kyler Tesch, who is the top target of Bengals quarterback Kaden Huot.
"It means a lot," Tesch said. "We treat it like another game and go out and do what we do, but it's definitely a fun week to go out and play football."
Johnston, who will be trying to catch passes, as well as defend them for the Bruins, still has just one thing in mind: winning. At least before his time at Helena Capital runs out.
"We are tired of hearing that they are the best team in Helena," Johnston said.  "So we want to go out and change that."