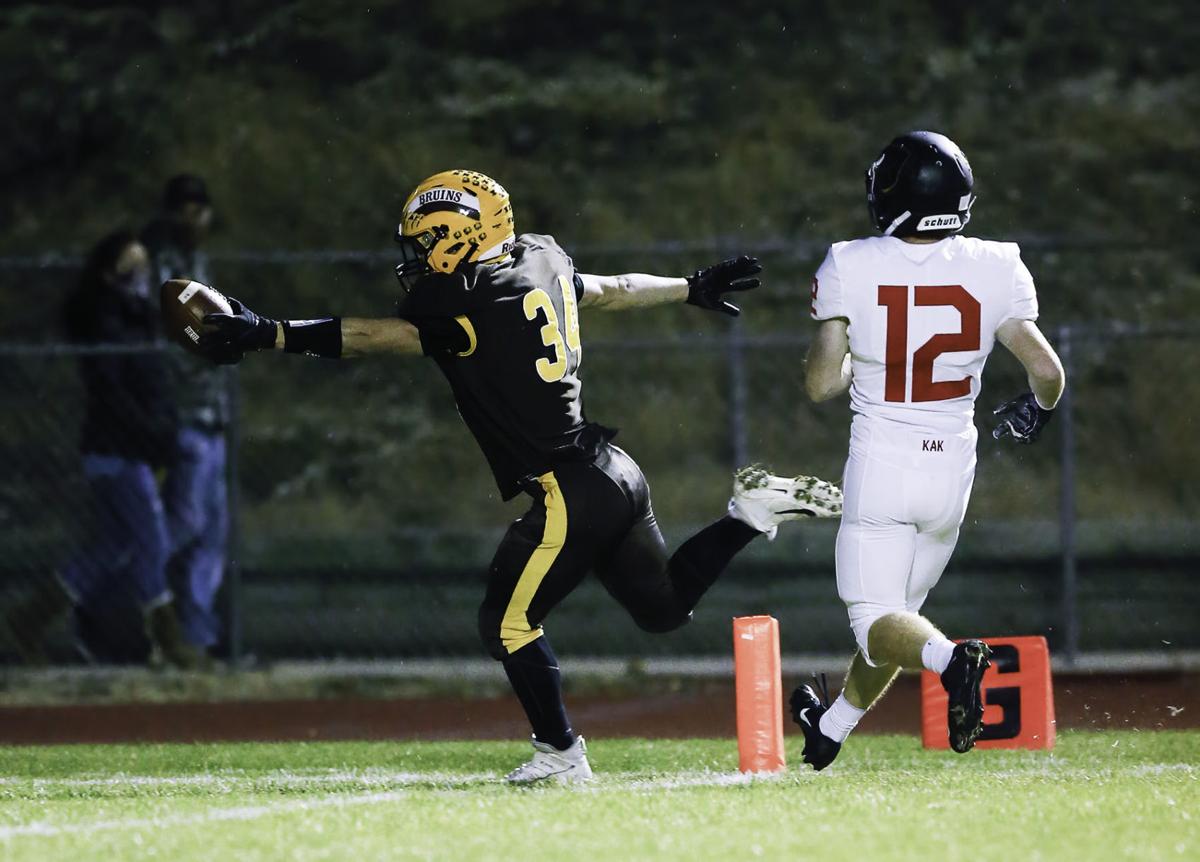 HELENA — For a short time Friday night, Helena Capital likely had some deja vu from a loss earlier in the season to Butte.
In that game, the Bruins jumped out an early 13-point lead but weren't able to hold onto it. This time, they did something similar, going up 14-0, before allowing Missoula Hellgate to get back into things with 12 straight points.
However, unlike the loss to the Bulldogs, Capital made the game-changing play at Vigilante Stadium as Mason Greene intercepted a pass and returned it 10 yards for a score late in the second quarter.
Following the defensive touchdown, the Bruins didn't look back and added four rushing touchdowns in the final 31 minutes to win going away 53-26.
"This feels incredible," Capital senior Tyler Little said after. "The difference between tonight and Butte, was that tonight, we were the team that ended up making the big plays and that was the difference."
Speaking of Greene's interception, "That lifted our spirits greatly," Little said. "They (Hellgate) were kind of coming back and he gets that and does this twirl into the end zone, that was awesome." 
The win improves Capital's record to 3-3 on the season and also clinched a playoff berth for the Bruins ahead of next week's crosstown matchup with Helena High. 
While Hellgate responded to the pick six with a touchdown pass from Dante Maiuri to Brayden Terzo, which was Mairui's third touchdown pass of the first half, making it 21-20, the deficit wasn't one point for long.
In the final two minutes of the opening half, the Bruins used a long completion to Derrick Kirkland and a 30-yard run from Dylan Graham, to set up a three-yard touchdown run by Tiegan Cozzie, which sent the Bruins into the break leading 27-20.
It was the second score of the opening half for Cozzie, who scampered 27 yards for six on the first play from scrimmage for the Bruins offensively. 
"I just had fun all around," Cozzie said. "That first play touchdown. That felt great, that was an amazing feeling. We knew what we had to do and we executed."
In the second half, Hellgate was still within striking distance, but over the final 30 minutes, the Capital offense would ground and pound the Knights into submission.
First though, wide receiver Tom Carter, who scored a rushing touchdown in the first half, broke the game open with a 45-yard touchdown catch from Matt Burton that made it a two-score game. 
Leading 34-20, the Bruins quickly got the ball back after Little notched sacks on consecutive plays to end the Hellgate drive.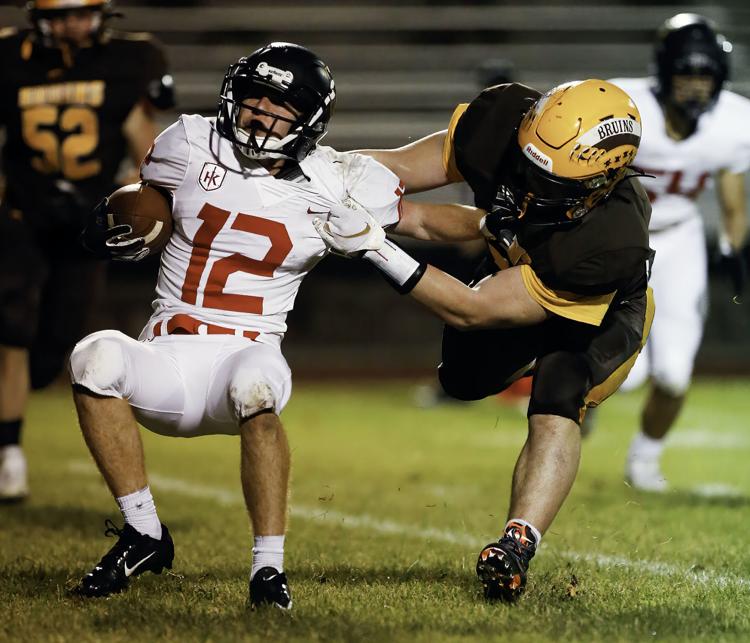 "I got close on a bunch of pass rushes tonight," Said Little, who finished with three sacks total. "The coaches just hyped me up and I just went and I got him, back-to-back, it was sick. I've never done that and it feels great."
Soon after the consecutive sacks, Carter struck again, breaking off a 21-yard touchdown run and pushing the CHS lead to 40-20 with 5:21 left in the third.
"They say you have to get your athletes the ball," Capital head coach Kyle Mihelish said. "And that's what we wanted to do with Tom Carter and he made some big plays for us."
As impressive as the Capital run game was though, the Bruins were far from finished.
After a six-play, 70-yard drive that featured all runs, Alex Brisco notched an interception for the Bruins and a few plays later, Graham electrified the crowd with a 48-yard touchdown run that made it 47-20, giving Capital three straight scoring drives to start the third.
"It was impressive," Mihelish said of the ground attack. "When we can move the chains and get first downs, that's big and especially with an offense like Hellgate, but you saw tonight that their quarterback is a good football player. They have good receivers and they can score points."
Hellgate continued to fight in the fourth quarter as Ryan Woldstad tossed his first touchdown of the game, connecting with Leo Filardi, who caught his second score to make 47-26.
However, the ray of hope for Hellgate didn't last long, as Cozzie ripped off two runs to get CHS back inside the 10. Then, Graham finished off the drive with his second rushing touchdown of the night and the sixth total for Capital in the 27-point win.
When it was all said and done, the Bruins racked up 323 yards on 31 attempts for an average of more than 10 yards per rush. 
Cozzie finished with a game-high 137 yards on 13 carries and two touchdowns on senior night. Graham was also spectacular with 102 yards and two scores on only seven attempts.
Throwing the ball, Burton was 9 of 13 for 132 yards and a touchdown for the Bruins, as well as zero interceptions. 
Maiuri completed just 11 of 33 attempts for 140 yards for Hellgate. He finished with three touchdowns and two interceptions. Woldstad connected on 6 of 11 throws for 154 yards and a score, as well as rushing for 68 yards on 17 attempts.
Ian Finch also had a stellar night for Hellgate in defeat with seven receptions for 146 yards and a touchdown. Filardi caught four for 99 and two scores as well for the Knights (1-6).
Hellgate will try to keep its playoff hopes alive with a win next week against Butte. The Bruins, meanwhile, will look to improve their playoff seeding with a win against crosstown rival Helena and some help from Hellgate against Butte.
"We will enjoy this one tonight and tomorrow," Mihelish said. "Then we will get back at Helena High on Sunday. We are looking forward to it. Crosstown is always a fun week."
Chris is the sports editor and lead preps reporter for the Independent Record and 406mtsports.com. Follow him on Twitter @cmpetey406
Get in the game with our Prep Sports Newsletter
Sent weekly directly to your inbox!