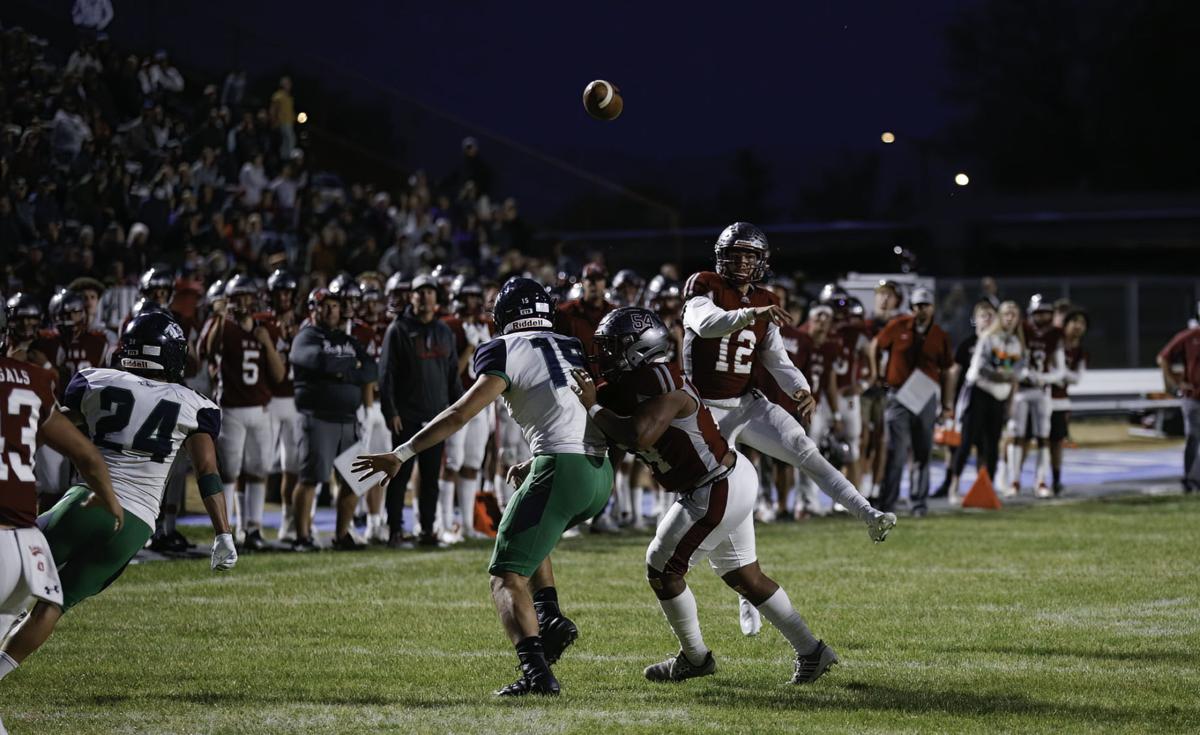 HELENA — It was full speed ahead for Helena High's offense on Friday night. A week removed from a six-point performance against Missoula Sentinel, the Bengals scored seven touchdowns, including six by the offense, in a 48-24 win over Kalispell Glacier.
"We definitely had a chip on our shoulder from last week," Bengals quarterback Kaden Huot said. "We needed to execute plays, which we did. We just had fun. Coaches were calling great plays. Everybody was doing their job and that's why we scored that much. I'm really proud of my offense."
It took Huot just a handful of plays to break the seal on what would be an offensive masterpiece for Helena. On a quarterback power play, Huot took the football 71 yards to the house, his first of three rushing scores in the victory.
"That was fun. Great experience with the boys," Huot said of the run. "Getting that touchdown, that first touchdown, lotta momentum."
Huot ended the night with 149 yards rushing, part of a bigger 255-yard effort by Helena. He also threw for 170 yards and another three touchdowns, giving him six total scores on Friday night.
"We had to get in a flow and get things going," Bengals head coach Scott Evans said. "Our kids did a good job of getting themselves ready to roll and did a good job practicing this week and preparing themselves for a victory. I love what our kids did during the week and our coaches did a great job of preparing the guys."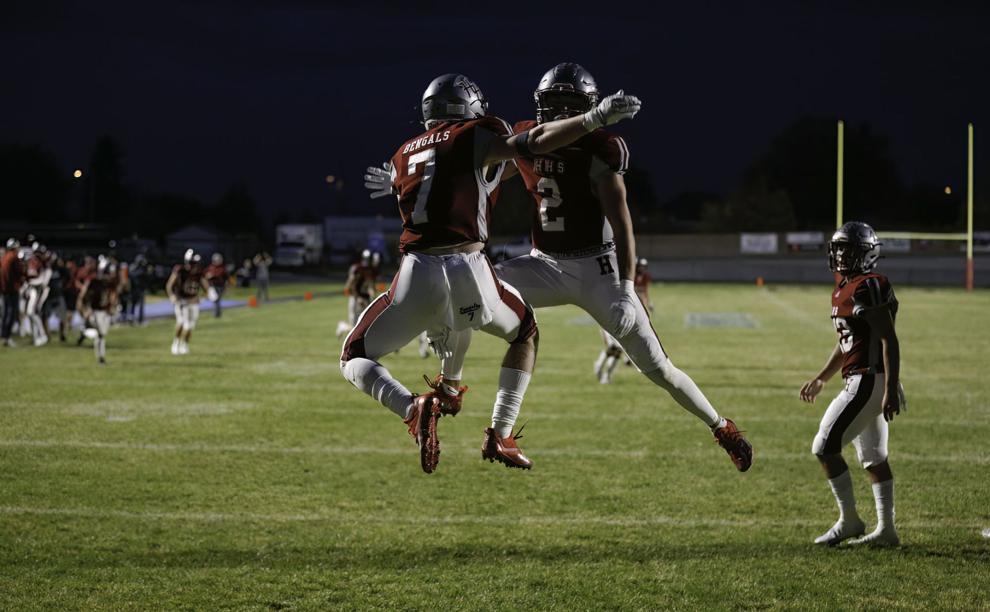 The momentum changer came early for Helena. Up 14-7, Colter Petre picked off a Gage Sliter pass. Helena turned that change of possession into points just a few minutes later on a six-yard touchdown from the right arm of Huot to Kade Schlepp that put the Bengals up 21-7.
"Huge momentum. That set the game right there and we just had fun after that," Huot said of the interception.
To open the second half, the Bengals' defense once again came up with a turnover, this time a fumble, one that was capitalized upon with a two-yard rushing score by Huot.
That gave the Bengals a 21-point advantage less than five minutes out of the halftime break and they never looked back.
"I feel like when our defense makes turnovers or stops, I feel like our offense performs better after that," lineman Forrest Suero said. "Instead of being pinned back at our own 20 [yard line], we're on our 40 or 50 and we're going with more momentum forward."
Late in the third quarter, and in response to a Glacier touchdown by Jake Turner, Chase McGurran caught the kick off, slipped through a couple holes, and rumbled at least 90 yards for a touchdown. McGurran added that to his 19-yard touchdown catch in the first quarter and his six total receptions, including a 30- and 27-yarder.
Glacier running back Jake Rendina entered Friday night as the leading rusher in Class AA with 614 yards and 13 touchdowns. While the Wolfpack fed him a steady diet all night long, Rendina could not find much running room as Helena's defensive line closed the lanes.
"We just talked about focusing up," Suero said. "Don't let big plays impact our game. Every play is a new play, so might as well just keep our heads and go crazy every play."
On 18 carries, Rendina picked up just 39 yards as Glacier was held under 50 total yards on the ground Friday night.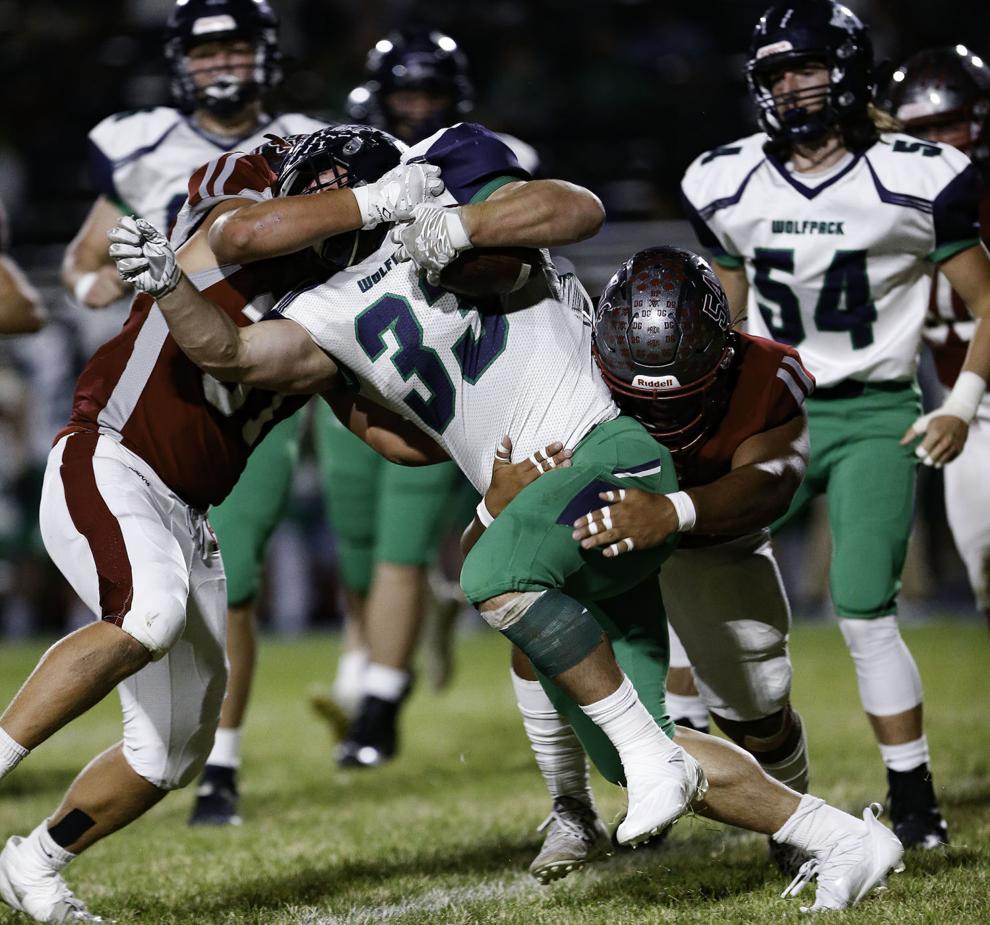 "Basically just to get after it and tackle him with a bunch of guys," Evans said of the mindset of his defense. "That guy is a big fella and we needed to get a bunch of guys on him. That's what we did. We took care of business. It was gang tackling, I saw five or six guys on the ball every time. Our defensive staff did a great job of preparing our men."
Wolfpack senior Jake Turner caught two touchdowns -- 20 yards and 52 yards -- in the loss, while also scoring another on an end-around in the third quarter. Sliter completed 17 passes for 255 yards and two scores. He was also picked off twice.
Evans credited his offensive line for his team's effort running the football on Friday night. He also praised Huot's patience in running the ball. In addition to Huot's effort, junior Cade Holland added 69 yards on the ground in the win, including a 28-yarder down to the one-yard line that set up Helena's final score of the game.
"Our guys did a good job of stepping up," Evans said. "This is a good football team, the Wolfpack, and our guys stepped up to it and it was a challenge. I just love how we competed tonight."
The Bengals improve to 4-2 on the season and draw even at 2-2 in conference play. Glacier falls to 4-2 and 2-2 in league action with the loss.
"They were going to find themselves and they finally found themselves tonight," Evans said of his team. "I'm so excited for them as a group just to be in a situation where they're battling and they're playing and they love each other. That's better than anything."
Helena will hit the road to play Kalispell Flathead next Friday, while Glacier gets Butte on the road.