Five longtime teammates took the next step in their football careers at the Butte Central Rotunda Wednesday.
The group of Thomas McGree, Trevor Neumann, Guido Ossello, Matt Simkins and Aaron Richards officially signed with their respective schools on National Signing Day, signaling the end of an era for the teammates, but the start of their next step on the gridiron.
As classmates, friends and family tightly squeezed into the school's Rotunda for the various signing ceremonies, just about every player summed up the situation by describing what they'll miss most about being Maroons:
The shared sentiment both sums up the tight-knit group, who have known and played sports with each other since the days of Little Guy, as well as the overall culture that Central attempts to create.
Maroons head football coach Don Peoples Jr. said that they are the prime example of what the school looks for in their student-athletes.
"First thing that comes to mind," Peoples said. "Is that they're just a great group of kids. They all work really hard in anything they're participating in, great school leaders in our community. We're just really proud of them. They worked hard on the field, in the classroom and are the kind of kids that we're proud to represent [Butte Central.]"
Now, the five standouts from the football program are now representing in both the Mining City and elsewhere.
Central principal J.P. Williams explained that the group is the latest to become role models, and praised the Maroons for their dedication on and off the field.
"These boys handled business," Williams said. "In the classroom first, which allowed them to be successful on the field. We're proud."
Thomas McGree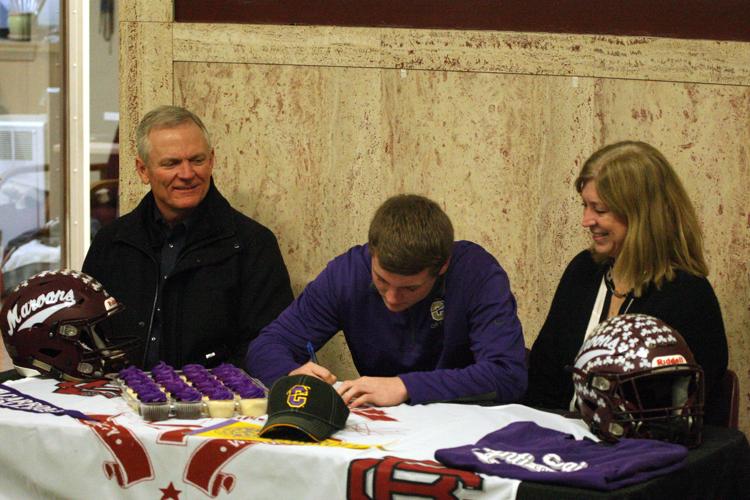 Thomas McGree chose a path rooted in family, but different from his teammates and friends.
The Central senior is heading to the Capitol City to join up with the Frontier Conference's Carroll College, taking the next step of his playing career with Saints head coach Troy Purcell.
McGree signed with Carroll back in December, but officially put pen to paper alongside his teammates Wednesday, seeing the Maroons' quarterback link up with older brother and Central graduate Nate McGree.
Thomas is the third McGree, after Nate and Connor, to join the Saints' program in recent memory, and said that the prospect of playing under Purcell is a major factor of why he's heading to Helena.
"I'm really excited," McGree said. "Coach Purcell did a great job the first year, and the future is really bright as well and it'll be a lot of fun… He is a high-energy guy, I got along really well with him, and the rest of the coaching staff, it was just really good for me."
The Central quarterback ended the season with 2782 total yards and 30 touchdowns, becoming the focal point of the Maroons' offense in his sole season as QB.
The senior said that he expects to play safety at Carroll, which is a position that McGree has spent a considerable amount of time in while at Central.
Peoples credited McGree for his versatility, but also mentioned his toughness, as the senior played through a broken hand for half of the 2019 season.
"Thomas had a great year for us as quarterback," Peoples said. "He battled through injuries his junior year, went from running back to receiver to quarterback. Plus, he had to overcome playing half the season with the cast on his off-hand. He just always found a way to get things going for us."
Trevor Neumann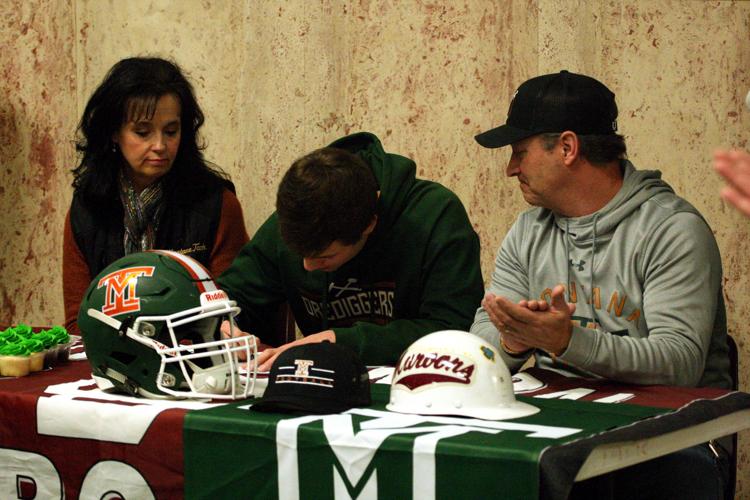 Central's leading receiver in 2019 isn't going far from home.
As his quarterback wrapped up his signing ceremony, the Maroons' Trevor Neumann officially signed with Montana Tech, becoming the latest addition for the Orediggers' football program.
Neumann said his decision came easy for a few reasons, but that his relationship with Tech is a familial one.
"Both my brother and sister went [to Tech] to play volleyball and basketball," Neumann said. "I thought it'd be cool to continue that with a different sport… I think it's awesome, I grew up going to watch my brother and sister and it was always a great time. There's nothing better than it really."
While Tanner Neumann and Danika Neumann became key cogs in the Oredigger basketball and volleyball programs, Trevor is looking to create his own path on the gridiron.
The Central receiver brought in 38 receptions for 741 yards and four touchdowns in his final year as a Maroon, while also adding a pair of interceptions on the defensive side of the ball.
Tech head coach Kyle Samson said that Neumann's multi-sport success and background made him a priority for the Orediggers.
"He's coming from a tradition-rich program like Butte Central," Samson said. "You watch him play on the basketball court, one of the top players in the state, both football and basketball. The thing I really like about him, he's a great competitor and plays with a lot of toughness and I think he's going to be a great asset to our team."
Matt Simkins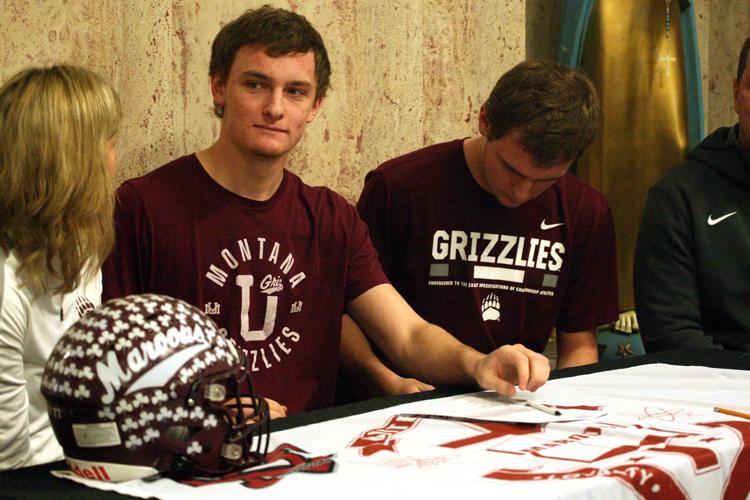 Peoples delivered some high praise for Matt Simkins on National Signing Day.
"He's got huge potential," Peoples said. "Injuries were really frustrating for him, but it seems like he's really healing… When he's healthy, he's as good as any tight end I've ever been around. Just an exciting athlete and he'll go forward and do great things."
Simkins officially signed with the Montana Griz and head coach Bobby Hauck Wednesday, guaranteeing his next step as a football player.
Despite injury sidetracking Simkins' senior year as a football player, the four-year varsity member ended with over 1000 yards receiving for the Maroons, catching eight touchdowns in the process.
While the future Griz tight end is excited to get up to Missoula and begin his next steps, he said being a Maroon and being able to sign alongside a childhood friend in Ossello was something special.
"It's really cool," Simkins said. "We've been playing since we were little, against each other and with each other. So it's pretty sweet to go to [Montana] with him."
Guido Ossello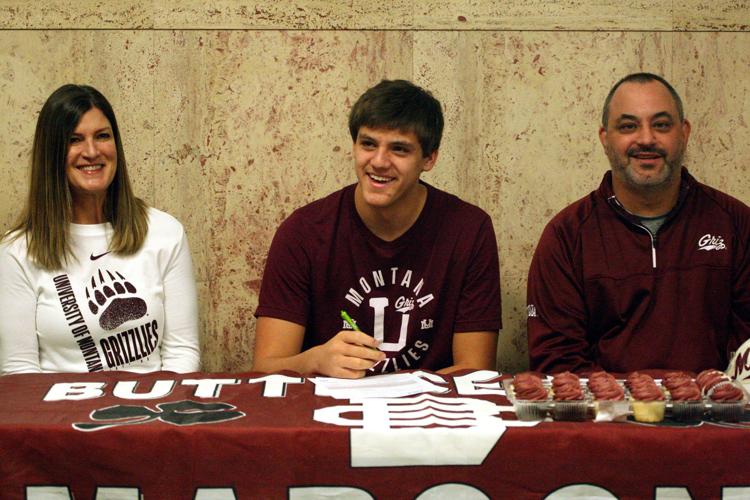 Three Central seasons ago, Guido Ossello wasn't even on the Maroons' roster.
After two falls in Central's colors, the senior wide receiver is trading one maroon for another, as Ossello officially signed with Montana on National Signing Day.
A student-athlete that has also put in time on the golf course and tennis court, Ossello took less than two years to make it on the football radar, as he finished with 698 yards and seven touchdowns on 39 receptions in his senior year.
Peoples said it's a unique situation, but that the receiver earned his spot on the Maroons before eventually earning a shot with Montana.
"He didn't play football in sophomore year," People said. "When he came out last year as junior, he had a real solid season, he showed great things offensive and defensively. But this last year, I think he's really shown his potential. He'll do some great things at the college level, he's going to get faster and stronger too, so the sky is the limit for Guido."
Like Simkins, Ossello said he'll miss being at Central, but the chance to move up to Missoula with a childhood friend is something that the senior is looking forward to.
"[Simkins] is one of my best friends off the field," Ossello said. "It'll be fun. We're rooming together next year, so I'll keep him out of trouble, he'll keep me out of trouble."
Aaron Richards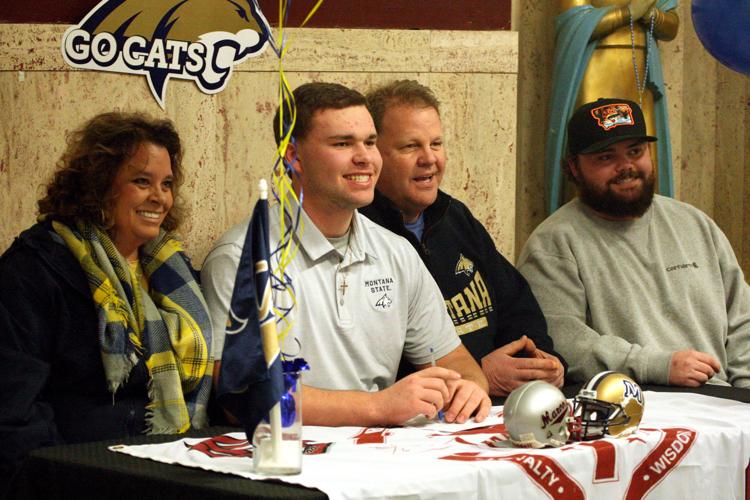 Aaron Richards committed months before the rest of his teammates had made their decisions, but the situation allowed him to be a friend and lead in a different way than he does on the field.
The Central senior has known since last summer that he was going to become a Montana State Bobcat, but the offensive lineman officially signed with head coach Jeff Choate's team Wednesday.
Richards said that it felt good to make it official, and that the buzz around the MSU program makes it an even more exciting occassion.
"Feels really good to make it official," Richards said. "It gets me excited seeing [other Bobcat signings]. The success they had this year too, making it to the semifinals, they just got a bunch of dudes, from Montana, from out of state and I'm just excited to join the program."
While Richards was committed and focused on playing his senior year of football, the rest of the Maroons were still in the hectic process of recruitment and commitment.
The lineman said that a special thing about his relationship with his teammates has been chatting and helping them figure out what their next steps are.
"I knew from an early age, I wanted to play football in college," Richards said. "At first, not everyone knows what they want to do... We all helped each other with recruiting, talking to coaches about each other. It was kind of a group effort."
The group effort saw Richards create two new rivals in the Griz's Ossello and Simkins, but said that he'll miss the closeness and friendship that playing at Central provided.
While Richards may miss Central, Peoples says that the Maroons might miss him even more, and that the senior lineman has the right attitude and tools to be successful in Bozeman.
"Aaron's a great kid," Peoples said. "He's got the natural size and the makings to be an outstanding lineman. He was a varsity player for four years for us, he's the kind of guy that you hate to see walk out the door, but you know he's going to do great things."
Get in the game with our Prep Sports Newsletter
Sent weekly directly to your inbox!