HELENA — One consequence of winning a "big game" is the chance to play in another.
And following a massive road win two weeks ago against Butte High, 43-3, Helena Capital, the No. 3 team in the 406mtsports.com rankings, will head to No. 1 Missoula Sentinel Friday with home-field advantage in the Class AA playoffs on the line.
At least the Bruins (5-2, 4-1) would leave Missoula with their fate in their hands heading into crosstown next week. But first, Capital will have to take down Sentinel, a team that has won 16 straight games, in its own stadium.
"I told them against Butte that it was the biggest game of their lives," Capital head coach Kyle Mihelish said. "And it was the same thing this week. Sentinel is a great team. They are No. 1 in the (Western AA) and I told the kids: 'We put ourselves in this position to have this opportunity, we might as well take advantage of it.'"
One thing the Bruins have going for them heading into Friday's game is a dominant defense. Capital has only allowed three teams to reach double digits in scoring and only Billings West (28) and Glacier (21) have scored more than 20 points.
In addition to allowing just 10 points per game, Capital is also sacking the quarterback and taking the football away at an impressive rate. The Bruins have 37 sacks, which is an average of 5.3 per game in addition to 16 takeaways (7 interceptions, 9 fumbles recovered).
Talon Marsh has been a force on the defensive line and leads Class AA with 12 sacks, although teammates Cole Soper (8) and Henry Gross (7) aren't far behind. 
"One thing about our kids defensively, they play fast and they play physical," Mihelish said. "They don't make a lot of mistakes and that's a big part of why I believe they are having success. They are easy to coach, and that's not just the defense, that's the entire team, but they just complement each other really well and they understand where they need to be."
Against Sentinel, the Bruins will face as big a challenge as they have all year in quarterback Zac Crews — a University of Montana commit — who stars on both sides of the ball.
As a quarterback, Crews is also a dual-threat. He averages just 117 passing yards per game but is incredibly efficient and has thrown 11 touchdown passes compared to just one interception. He's also the Spartans leading rusher with 76 yards per game, which ranks 10th in Class AA, and is tied for fourth in rushing touchdowns (7).
"Everything runs through Crews," Mihelish said. "He throws the ball well. They run power through him, counter with him, draws. He's the guy and we have to be able to limit some of the things he does. They do have some good perimeter kids and they have some size up front. They fly around defensively and they look fast on film. They are solid — everywhere."
The Capital offense is led by first-year starter Joey Michelotti who has been solid since taking over full-time for CHS. He's got eight touchdowns and is completing 61 percent of his passes but the Capital offense has been centered on a ground game that features Dylan Graham and Luke Sullivan.
Sullivan (590 yards, six touchdowns) is currently sixth in AA in rushing yards while Graham, who has missed time due to injury, is 12th (431 yards, five touchdowns) and both are averaging an impressive 9.4 yards per attempt.
Yet, in two losses this season, the offense hasn't been able to carry its weight, scoring a combined seven points in defeats to Glacier and Billings West. Part of that was due to turnovers and penalties — mistakes Capital can't afford Friday night, on the road, against the defending state champs.
"On offense we have been able to move the ball," Mihelish said. "When we sputter, it's because we have holding calls, turnovers and if we want to go to Sentinel and win, we have to eliminate that stuff."
After outscoring its last two opponents 91-9 and winning four of last five games, Capital has good reason to be confident and Mihelish believes his team will be up to the challenge.
"I like our confidence," he said. "I like where our kids are at. I think they are ready to play."
Bengals back at home 
At the same time third-ranked Capital will be playing No. 1 Sentinel in Missoula, fifth-ranked Helena High will look for its third straight win of the 2021 season against Missoula Big Sky on Senior night. 
The Bengals (5-2, 3-2) rolled Glacier 48-24 two weeks ago and followed it up with a 51-0 victory over Kalispell Flathead last week on the road.
Helena will actually be playing its last two regular season games at Vigilante Stadium in Helena, but will only be the home team Friday, as next week, HHS will be the road team against Capital.
Big Sky (2-5, 1-4) needs at least one more win to clinch a berth in the Class AA playoffs and is still in position to earn the No. 6 seed. Helena, on the other hand, is still in the mix for the No. 2 spot, but needs a lot of help. Either way, the Bengals need to keep winning to ensure opening the playoffs at home.
"You can lie all you want," Helena head coach Scott Evans said. "But you always look at the standings and look ahead a little bit. We have to take care of Big Sky and the reality is that win the Western AA, all the spots are up for grabs. We probably know the teams that will be in, but we are looking at seeding and trying to get home-field advantage and do the best we can."
Part of the reason the Bengals have been playing so well is the production from quarterback Kaden Huot. Not only is the Montana Grizzly commit currently eighth in the state in rushing yards (483 yards, seven touchdowns) he's also fourth in Class AA in passing yards and second in touchdown passes (18).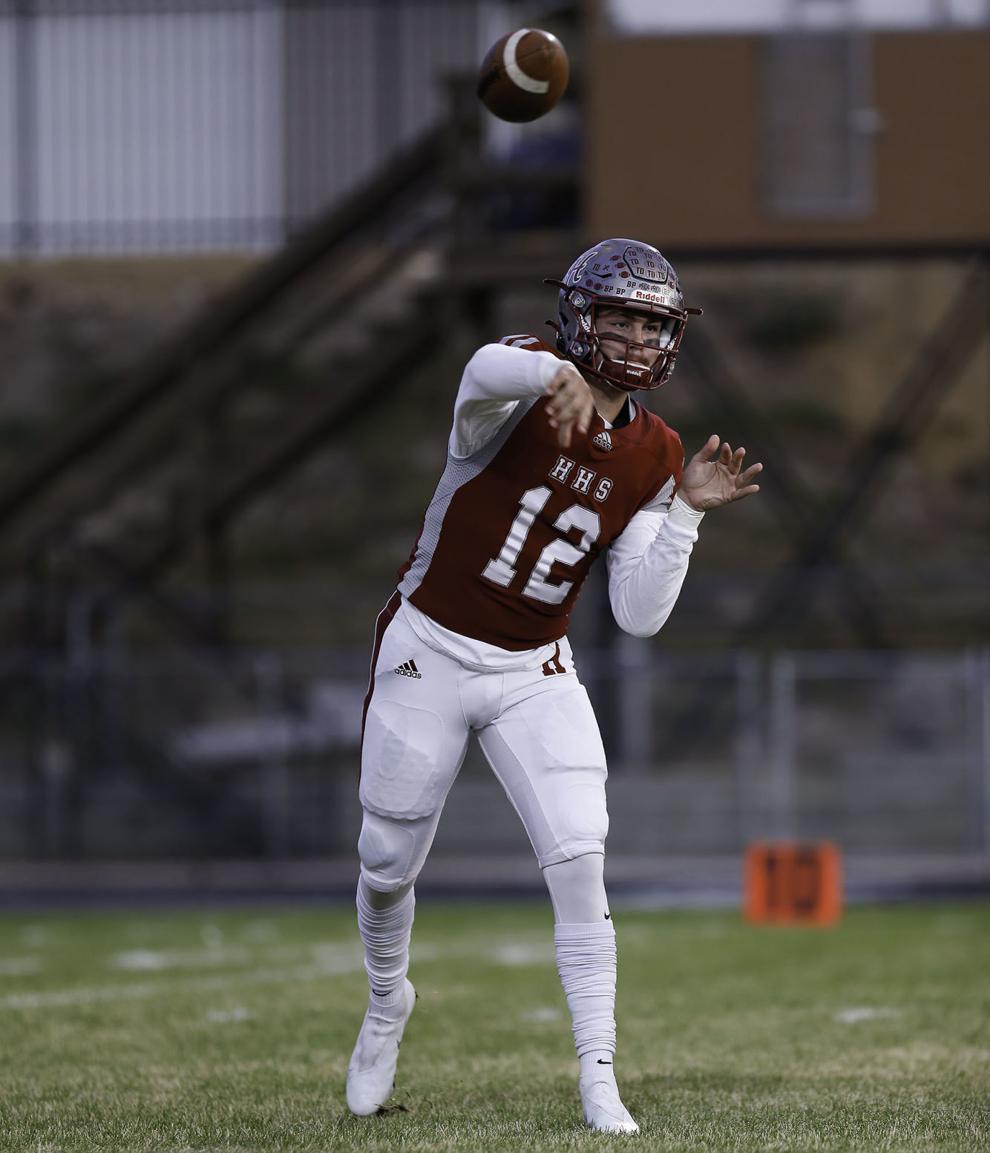 Chase McGurran has been a huge weapon on the outside with 35 receptions for 518 yards and seven touchdowns, however, Carson Anderson and Kade Schlepp are also over 300 yards, giving Helena three dangerous targets, as well as running back Marcus Evans who has over 300 on the ground.
Evans, another future Grizzly, has also been a force on defense with 93 total tackles, including 16.5 for loss. He's also got three sacks and 10 hurries and is part of a pass rush that has 25 sacks total led by Forrest Suero's five sacks and 20 hurries (both teams highs).
And following a 27-6 loss at home to Sentinel last month, the Bengals have found a groove heading into the stretch run. 
"I like where we're at right now," Evans said. "And the thing I like most is that our kids are out here competing and doing what they can to get better. I can't ask for anything more than that."
Around the area
Townsend (5-1, 4-0), which moved up to No. 2 in the Class B rankings following a win last week over the previous No. 2 Columbus, is two wins away from capturing the Southern B title.
It might not be decided until next week's game against Jefferson (4-2, 2-1), but the Bulldogs will look to keep their perfect record intact Friday against Big Timber (3-4, 1-2).
Jefferson will also look to keep its Southern B title hopes alive, which it can do with a win at home against Manhattan (3-4, 1-2). A win would essentially clinch a playoff berth for the Panthers who will be aiming for a third straight win.
In Class A action, East Helena will travel to Dillon. The Vigilantes are still seeking their first win in their first season of varsity football but it won't come easy on Friday as Dillon, a traditional Class A power, is 5-2 and aiming to solidify its playoff position in the Western A. 
All games are scheduled to start at 7 p.m. 
Chris is the sports editor and lead preps reporter for the Independent Record and 406mtsports.com. Follow him on Twitter @cmpetey406