MISSOULA – The Manhattan Christian Eagles continued to soar as they swept the Class C cross country team titles for the second year in a row.
The boys matched their Class C state-record low score with eight points (set in 2019).
Sophomore Oren Arthun led the Eagles by winning in 16 minutes, 52.55 seconds, which according to the MHSA record books, is a new Class C record (previously held by Manhattan Christian's Ben Morrison at 16:52.99).
"I was proud to see that," Arthun said.
Belt-Centerville's Asa Jassen was runner-up in 17:36.08 followed by Manhattan Christian's Nathan Adams in 17:50.4.
While they ran together through the first mile, Arthun said he worked to create a gap on the second mile thinking Jassen and Adams were right behind him.
"I just try to give it my all in everything I do and I guess it worked out," Arthun said.
Arthun and Adams were joined in scoring for the Eagles by Shaphan Hubner, who finished fourth for their low total of 8. Manhattan Christian runners also occupied places 9, 10, 11 and 29.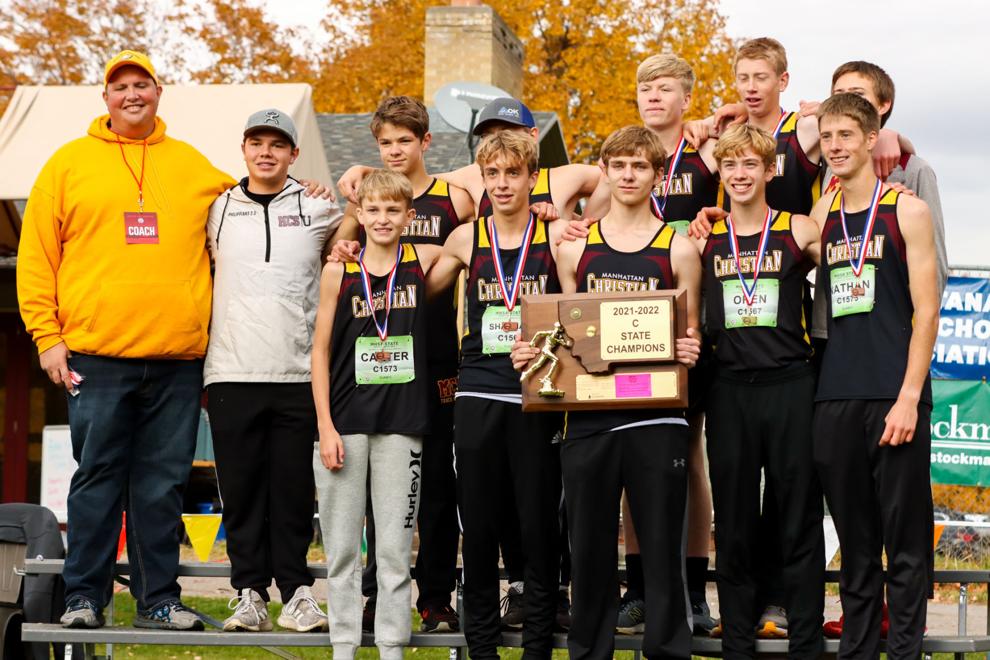 "I honestly had a great day. Our team ran well and just ran their best," Arthun said.
The Belt-Centerville boys finished second with 24 points as they put three runners in the top 15 in second, eighth and 14th places for their highest finish. Richey-Lambert rounded out the podium in third with 43 points.
Ahead of the meet, Belt-Centerville looked to be third so they asked who they needed to beat. Richey-Lambert happened to be right next to them on the starting line.
With their win, the Eagles move up on the consecutive champion list. They are now tied with Jefferson (1987-92), Kalispell Flathead (1997-2002) and Missoula Loyola (1999-2004).
"It's just so cool to see the program just continuing," Manhattan Christian coach Nate Te Slaa said. "State championships are great, but it's more about this. They're all together, all having fun.
"It's more about building the community than it is about winning, but the community breeds winning. We have teammates that don't want to let each other down." 
The boys team will lose just one senior from this season while the girls lose three.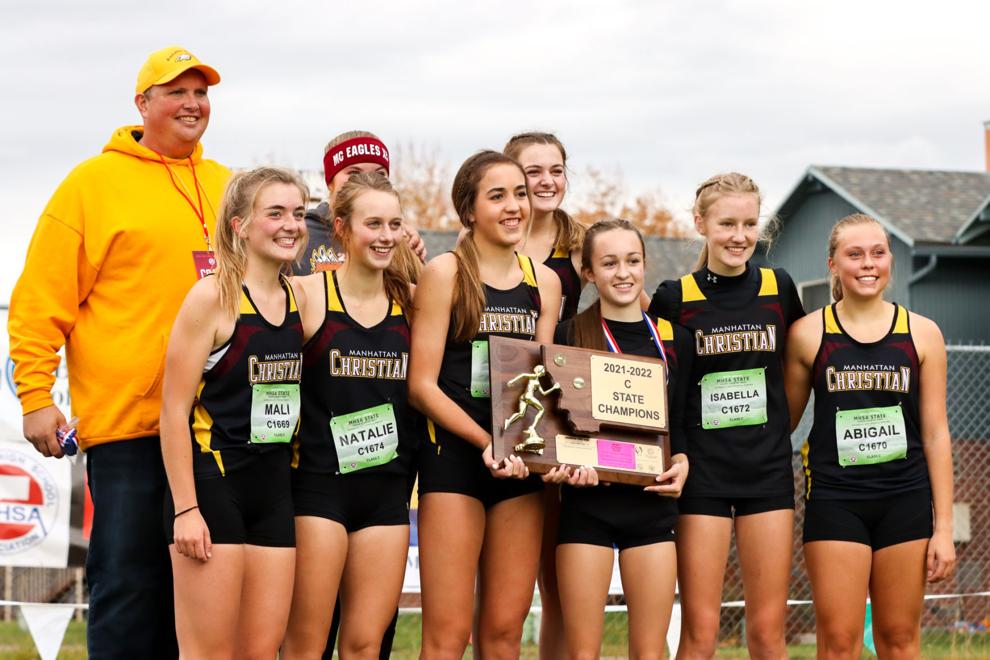 The girls race had a less certain outcome. The Eagles ultimately defended their previous title with 47 points atop the podium, but had to wait until it was announced before they were sure. Culbertson was second with 59 and Park City placed third with 66 points. Third through sixth places were determined by three points.
"We trained, we looked at the numbers, but that's why you run the race," Te Slaa said.
Jadyn VanDyken, in her first year of cross country, led Manhattan Christian with her fourth place finish. Natalie Walhof was 21st and Ava Bellach finished 22nd to round out their scoring.
"We knew there was a hill, we're from Churchill. Everywhere we go is hills so it didn't bother us with the hill in the middle of the course," Te Slaa said. "I think they just had a mindset that we can hang with anyone so it's just really cool."
Belt-Centerville's Lindsey Paulson repeats
Lindsey Paulson became the first Class C girl since 2014-15 to repeat as champion Saturday in Missoula.
"It feels really good. Crossing that finish line was just a big sigh of relief," Paulson said. "It's just like I did it and I knew I could do it the whole time, but it just felt really good just to do it."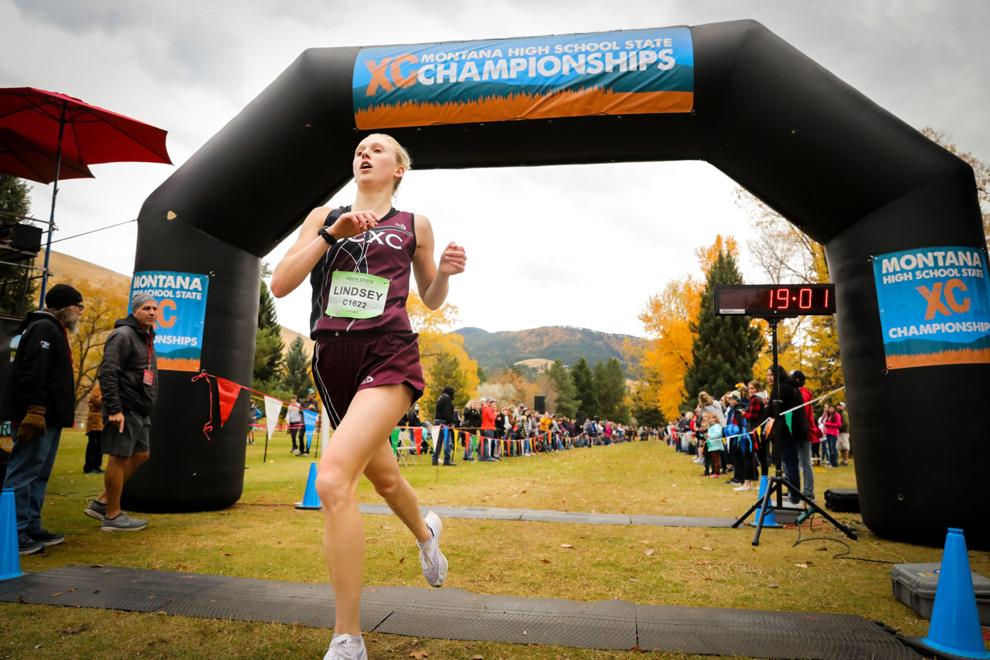 She ran much of the race alone after pushing out to an early lead.
"I went out and wanted to make sure I didn't go out too fast. I hit the paces that I wanted to hit and then that last mile I just gave it all I had after that hill," Paulson said.
"Lindsey ran a phenomenal race from start to finish," Belt-Centerville coach Mark Garber said. "And running by herself, I mean that's hard."
Plentywood's Annie Kaul ran 19:56.70 to finish runner-up for a third year in a row. Scobey's Mya Green placed third in 19:59.61.
As she stood on the starting line, Paulson said there were a lot of emotions.
"It was definitely bittersweet," she said. There was definitely a lot of adrenaline and nerves going into it being the last race of the day, watching everyone else race just built up that anticipation, but it was kind of a surreal moment just realizing it was my last time racing in high school."
This state race also held much higher expectations than those earlier in her career.
"Last year was kind of like I didn't quite know what I could do yet and this year was 'OK, I know I can do it and everyone's kind of expecting it from me,' so a little bit more pressure, but it's never a bad thing to have a bit more pressure on you," Paulson said. "It motivates you more."