MISSOULA — It almost felt too expected.
Two Missoula running powers, the defending Class AA boys team champ Missoula Sentinel and the 2020 runner-up Missoula Hellgate, went into the 2021 Cross Country State Meet as evenly matched as you'll find in the sport.
So, naturally, it came down to a nail-biting finish at the University of Montana Golf Course Saturday.
First, Sentinel senior Tanner Klumph, the runner-up in 2020, crossed the finish line in 15:56.21 to claim the individual title. Then came his friendly rival, Hellgate's Finneas Colescott, in second in 16:07.09.
From there, it was a matter of depth as both teams needed strong finishes from their back end. Once all the runners crossed the finish line, with Sentinel putting four in the top 20 and Hellgate with five in the top 21, everyone was doing the math in their heads to figure out the winner.
Runners, coaches, family members and more spectators crowded at the awards area, anxiously waiting to hear the results. First name that was called in the top three team finishers: Great Falls in third with a slight upset over the always dangerous Bozeman Hawks, leaving the Missoula schools.
Hellgate athletes and coaches roared as the Knights knocked off the defending state champs, 62-66, to win their first state title since 2007.
"I feel like our team closed that last mile better than anyone else," Hellgate coach Anders Brooker said. "That's something we talk about, closing well. … When they all finished, and we knew it was close, we were trying to score it in our heads and there was a while where we thought we got beat and we thought we got them, but our kids on the boys side all ran really well.
"When they announced Sentinel at second and we won, instantly you're just happy for your kids. … To see every kid show up in the biggest moments, that's all you can ask for."
Hellgate celebrated, but it didn't just celebrate its win. Brooker, as he has said all year long, was excited to see the way the top running schools from Missoula did, and how Klumph was able to secure a goal he has worked his entire high school career to accomplish.
"It feels awesome," Brooker said. "Not everybody shows up on the big stage and Sentinel showed up in a big way. We showed up in a big way. And to have the two individual champions come from Missoula schools was great. Tanner looked great today. He looked like a guy that was confident from the gun. Unless something happened you just felt early on that guy was going to win the state championship.
"We want to beat them, but it is fun to see the Missoula running community so vibrant and excited. We've talked about it before, that competition brings out the best in the community .. and that competition brings out the best in both of us."
Klumph took his third first-place finish of the year — all three happened in Missoula — and did it in a big way. At the one-mile mark he was neck and neck with Colescott along with Kalispell Glacier's Sam Ells and Chase Green out of Sentinel.
From there his lead only grew as he took the win by just under 11 seconds.
"I've been working for this forever and it hurt a lot, but I finally got it done so I'm speechless," he said, mentioning the challenging hill that other runners talked about too. "It's definitely special. I've been working for so long for this and to finally get it done is amazing. … It's the best way to end it. It's all I have been working for so it is just amazing."
After Colescott, the next Knights to cross were Jackson Triepke in fifth, Colten Graham in 14th, Wilson Derry in 20th, Daniel Wiltse in 21st, Nico Petrini at 41st and finally Ari Samuels at 58. It came down to Wiltse's finish at 21 as he, as the fifth runner for Hellgate, beat out Sentinel's No. 5, Callum Coots who took 31st.
Double repeat
It wasn't exactly a carbon copy of the 2020 girls race in Kalispell — the biggest difference being the weather was much better this year without a snow-packed course and bitter temps.
But the winners sure were similar.
Hellgate's Kensey May broke a drought of repeat AA girls individual champs with a first-place finish in 18:16.14, while the Bozeman Hawks took their second straight title and their 14th in 15 years. And, just like last season, the Knights were behind them with their second straight runner-up finish as a team.
May ends the season with one race where she didn't take first — the Mountain West Classic that was held on the same course as the state meet. She wasn't too happy with her performance that day, even though she was the top Montana finisher and third overall.
But she learned a lesson from that race.
The senior became a bit more aggressive in her running and that translated to Saturday as May had a goal of coming out fast with a 5:30 mile split. She kept her pace though, and she credited a rival for that.
May said Helena High star Kylie Hartnett, who finished second in 18:25.65, was a motivation for her to keep her pace and eventually win the individual title by nine seconds.
"She definitely helped me," May said. "In the first mile it felt like we went out fast but we actually did not. I was trying to go out in like a 5:30 mile and I hit at 5:42. She was kinda the reason that went for that 5:42. … She was just right there next to me pushing me along and she would come out and I would see her right next to me. … She definitely was a good motivation for continuing. I had to look behind me to see how far she was. Even if she was not close behind I knew that she could come up next to me whenever she wanted."
May also capped off an interesting cross country career. The senior grew up in Montana, but moved to Virginia where she won a state title her sophomore year at the 1A level, the lowest in the state.
Then she moved back to her home state and became a repeat champ at the highest level. Looking back, May joked that she wasn't that into running in junior high, mostly doing the sport for the exact reason you'd expect a 12 or 13-year-old to participate.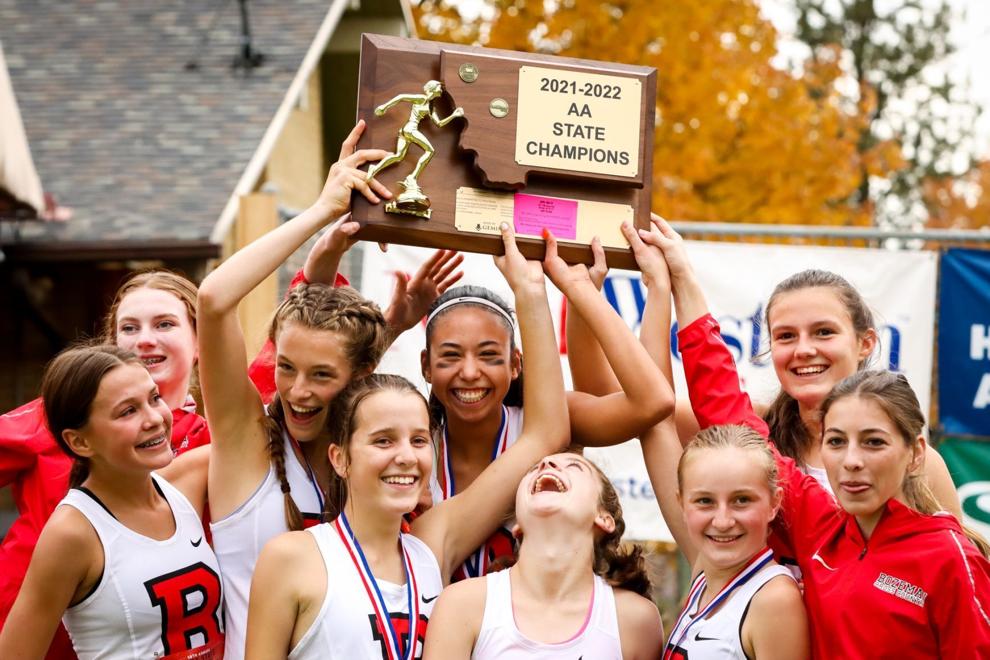 "I hated running in middle school," May said through laughs. "I just loved the popsicles. I grew my passion for running obviously so now I love it. But I wasn't thinking "Ooh, I'll come in and win some state titles.' I was thinking 'Oh, I'll go run have some fun.'"
For Bozeman, which continues its dynasty with another title, head coach Casey Jermyn gave a challenge to the girls at the back of the Hawks' pack.
That is where cross country races are decided, as we saw with Sentinel-Hellgate boys, and the Hawks excelled there. The Hawks had five top-20 finishers, led by Hayley Burns in first followed by Natalie Nicholas in sixth, Lucia McCormick in ninth, Serena Sproles in 15th and Nomi Friedman in 20th.
"I kinda talked with them the night before about going out a little harder, getting that group of girls up a little further in the mix," Jermyn said. "And they did just that. They ran really well and that's really what contributes to a strong team win, which was great. And on top of that our front girls had to do their job and they did. … Through and through on the girls side we all had great days, it was really fun."