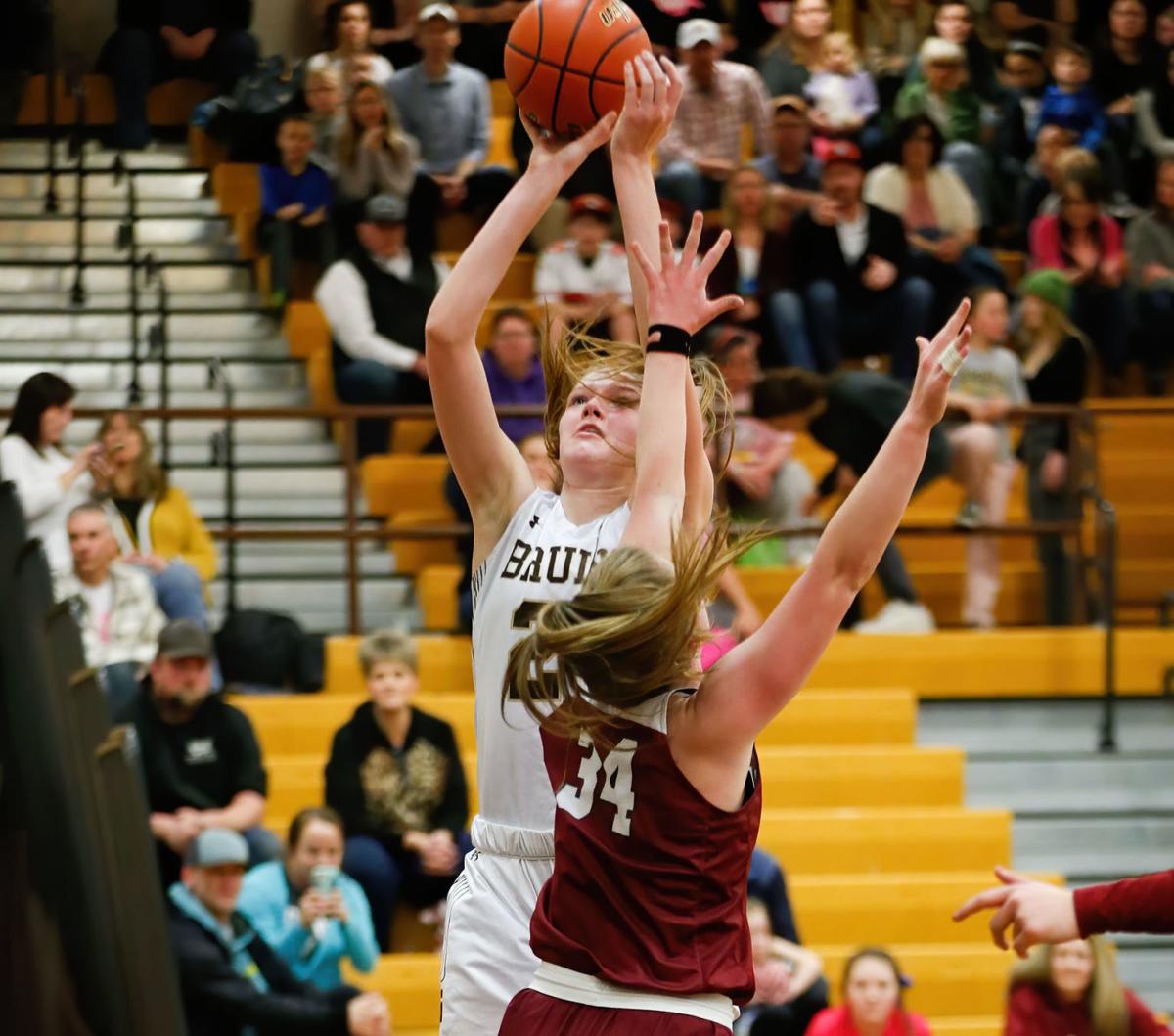 When you are fresh off a 22-1 season and are the defending co-champions of Class AA girls basketball, there is no such thing as managing expectations, especially not with two all-state players returning.
Instead, this season will be about trying to live up to the lofty expectations placed upon the Capital girls basketball team, which made the state title game a year ago but shared the crown with Billings West.
"It would be pretty cool," Capital senior Dani Bartsch said about going back-to-back. "It would be cool to make school history and to be able to do that with this group of girls."
Obviously, Dani Bartsch, Paige Bartsch, Audrey Hofer and others on the basketball team who also play volleyball, are used to winning repeat titles after recently wrapping up a 3-peat. 
That was a history-making event for Capital and the girls basketball team could make history of its own as it would be the first time any girls team at CHS repeated in basketball.
It would actually be just the third state title in school history. The Bruins won their first title back in 2015 but could win a third championship in seven years if CHS can follow up on what it did last season.
Of course, things are never that easy, even when you have as much talent as Capital, which boasts Paige Bartsch, a force in the middle at 6-foot-4. She averaged 13.9 points, 10 rebounds and 3.6 blocks a year ago and twin sister Dani, who averaged 11.9 points, 7.3 rebounds and three assists in 2019-20.
The Bruins did lose some key seniors such as Mashayla O'Malley, McKinlee Mihelish and Aryana Ridlon, they also return starting point guard Jaymee Sheridan, as well as a number of other key cogs in seniors Hofer, Mara McGliney, Carlie Gross and Keetyn Sayers. Juniors Rachael Stacey and Parklyn Heller will also play bigger roles this season.
"We have to figure out who is going to fill those roles for us," Capital head coach Katie Garcin-Forba said. "We lost some pretty important pieces and filling those voids will be important, but we have some talented younger players and we need to see how they fit in that mix.
"I'm really happy with the progress we're making," she added. "And that's because we do have so many kids back, we just have to figure out how they all fit into each role."
One role Dani Bartsch is hoping to play more of in 2021 is that of playmaker and she's already a good hand in that regard as she dished out 68 assists last season, just two behind Sheridan, who led the team. 
Known as a consummate worker, much of her time in the gym was spent developing that in the offseason and also her jump shot, which should make her an even more dangerous threat.
"I just have to keep shooting and trying to create shots for my teammates," Dani said. "That's been one of my main focuses and coach (Garcin-Forba) has been helping me get there." 
When it comes to Capital, much of the focus is on the Bartsch twins but McGinley is an essential part of the offense and her 3-point shooting provides critical spacing. She's also one of the best shooters in the state from beyond the arc and averaged 7.7 points a year ago while making 48 3-pointers (3rd in Class AA). 
Certainly, the Bruins are strong on the defensive end of the floor too and in their state title run a season ago, teams averaged just 34 points per game and only one team, Missoula Hellgate, cracked 50 in the only defeat for CHS. 
Billings West, the other defending champion, should be in the mix along with Hellgate, Missoula Sentinel and others, but no team returns as much talent as the Bruins and even as defending co-champs, they are plenty motivated to win the title all on their own.
"I think that's a factor," Garcin-Forba said. "But in the grand scheme of it that co-title is a small piece that drives them. They are a very driven group and these seniors want to finish on a high note. I think they are also realize, because they have been playing together for a lot of years, that this will be their last opportunity." 
The Bruins will host Butte High in their season opener Thursday night at 7:15 before traveling to Missoula for a showdown with Hellgate Saturday at 3:45 p.m. in a state semifinal rematch from a season ago. 
Chris is the sports editor and lead preps reporter for the Independent Record and 406mtsports.com. Follow him on Twitter @cmpetey406