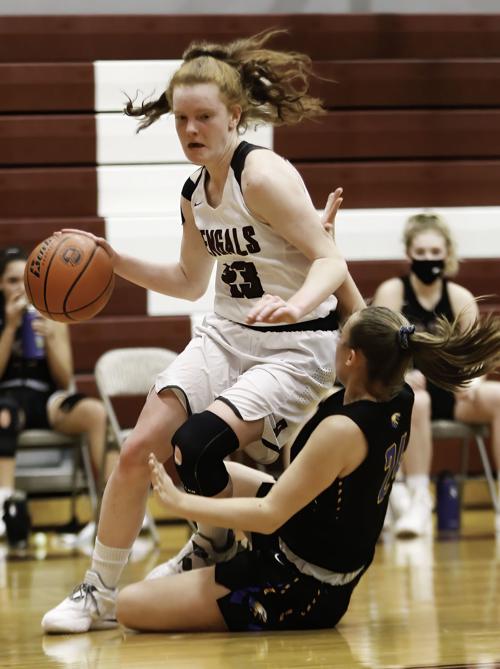 You never want to say never in sports, but it's likely that the Helena High girls basketball team played its last home game of the season Monday night and for seniors like Kylie Lantz, it meant one more game in the Jungle.
For Lantz, as well as the rest of the Bengals and their seniors, if it was their final farewell — it was one they'll remember after downing Missoula Big Sky 63-24.
"It felt really good," Lantz said. "This is our last game here and it's just really, really nice to go out with a win, especially a win by 39 points. I thought we did really well as a team and everyone communicated well on defense." 
Helena started a little slow, but got things going, thanks in large part to Lantz, who scored on a drive inside then hit two 3-pointers in the first quarter as Helena built a 14-7 lead.
"Kylie has such a high basketball IQ," Helena High head coach Ben Dudek said. "She sees the floor really well and she reads defenses really well. That puts her in positions to hit perimeter shots, but also pump and attack baseline. She had a really nice attack and got a big bucket for us to get going." 
Once the Bengals got going offensively, their defense smothered Big Sky and notched 17 steals as they forced the Eagles into 29 turnovers.
Those turnovers led to easy buckets for Helena High and at the break, the Bengals were in front 28-11. 
After scoring 28 points in the first half, the offense ramped up even more in the second. Reegan Walsh, a senior who came off the bench to score nine points, knocked down a triple and Lantz, late in the third scored on a reverse layup as the Bengals pushed their lead to 45-16 after three.
"We are going up hill right now and definitely doing better than they we were earlier in the season," Lantz said. "But we want to be peaking at the right time going into the playoffs and state."
In addition to the 14 points Helena got from Lantz, freshman point guard Avery Kraft scored nine points, dished out two assists and had three steals. Alex Bullock managed eight points and 10 boards for the Bengals, while senior Liz Heuiser scored six and tore down a team-high 11 boards. 
The win improved Helena High's record to 6-6 on the season ahead of Friday's crosstown game with Helena Capital. Helena is the No. 5 seed right now in the Western AA and trails Kalispell Glacier (7-6) for the fourth spot. 
The Wolfpack swept Helena High and own the tiebreaker, so a win over Flathead would clinch the fourth seed and mean the Bengals would travel to Kalispell for the state tournament play-in game. 
Yet, if Glacier lost and the Bengals beat Capital, the Bengals would be 7-6 and Glacier would be 7-7. In that scenario, Helena could attempt to reschedule an earlier game against Big Sky to play a 14th game or if it was determined by winning percentage, the lack of tiebreaker wouldn't matter.
So there is hope for the Bengals to host another game at the Jungle, but first, Helena High would need to beat Capital, which is a tall order all by itself.
"They are a handful," Dudek said. "And we are going to have a long week of prep for them to try and put ourselves in the fourth quarter with a chance to win."
Chris is the sports editor and lead preps reporter for the Independent Record and 406mtsports.com. Follow him on Twitter @cmpetey406