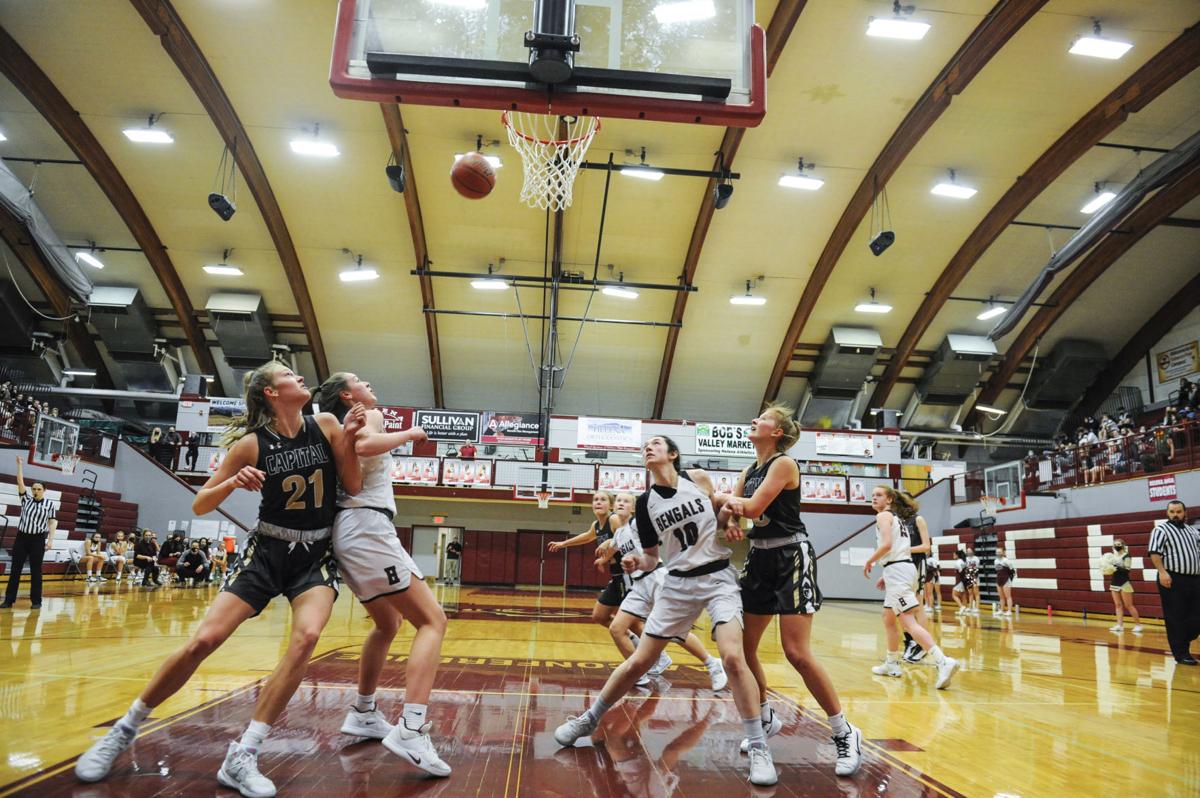 HELENA — For basketball players at Helena Capital and Helena High, they are remembered, in part, for how they perform in the crosstown game.
And with the way they dominated the Bengals Monday night, the Bartsch twins, Paige and Dani, helped cement their legacies in the rivalry with a combined 41 points in a 54-40 win for second-ranked Capital in what will be the final time the Capital seniors play at HHS.
"I didn't even think about that," Paige Bartsch said. "That makes me sad because I love playing against Helena High and in crosstown games. I grew up watching them and thinking this is my last one here, that's hard."
The Bartsch twins certainly didn't show any signs of nostalgia as they flew out of the gates, effectively using the pick-and-roll on consecutive possessions to build an early 7-2 lead. The first bucket was a Paige 3-point play; the second was a long jumper from Dani, which was a sign of things to come.
"When Dani sees that first one go in," Capital head coach Katie Garcin-Forba said with a smile. "You just know that she's going to play with confidence and start feeling it. She played like a senior in her fourth year in a crosstown game."
Helena High quickly found itself down 11-4, but a 3-pointer by Brooke Ark helped the Bengals cut the lead to just 15-9 at the end of the first quarter. 
In the second stanza, the Bengals crept even closer as Kylie Lantz made the first of three 3-pointers to get Helena within three at 17-14 with 3:06 left in the half. 
"We wanted to come out and compete against a really good team," Helena High head coach Ben Dudek said. "And I thought we did that."
Unfortunately, Dudek and company had no answer for the Bartsch twins, who scored 10 of Capital's next 12 points to take a 29-14 lead at intermission following a 12-0 run.
Early in the third, if there was any doubt about the outcome, Dani Bartsch washed it away with a slew of mid-range jumpers that pushed the lead to 16. The Bengals wouldn't get within single digits again.
"I was hitting from the mid-range in warmups," Dani said. "And they kept giving them to me, so I kept taking them." 
"Paige is already tough to handle," Dudek said. "And when Dani is shooting like that and they combine for 41 points, that's going to be a tough night for anybody."
After scoring 25 of Capital's 29 first-half points, the Bartsch twins added 16 in the second half, including 14 from Dani, which led her to a game-high 24 points on 8 of 14 shooting. She also grabbed eight rebounds, had four steals and two assists.
"I love playing in crosstown," Dani said. "And I just love this team. Our first two years, we were here playing here against Jamie Pickens and it's just nice to end it with two straight wins."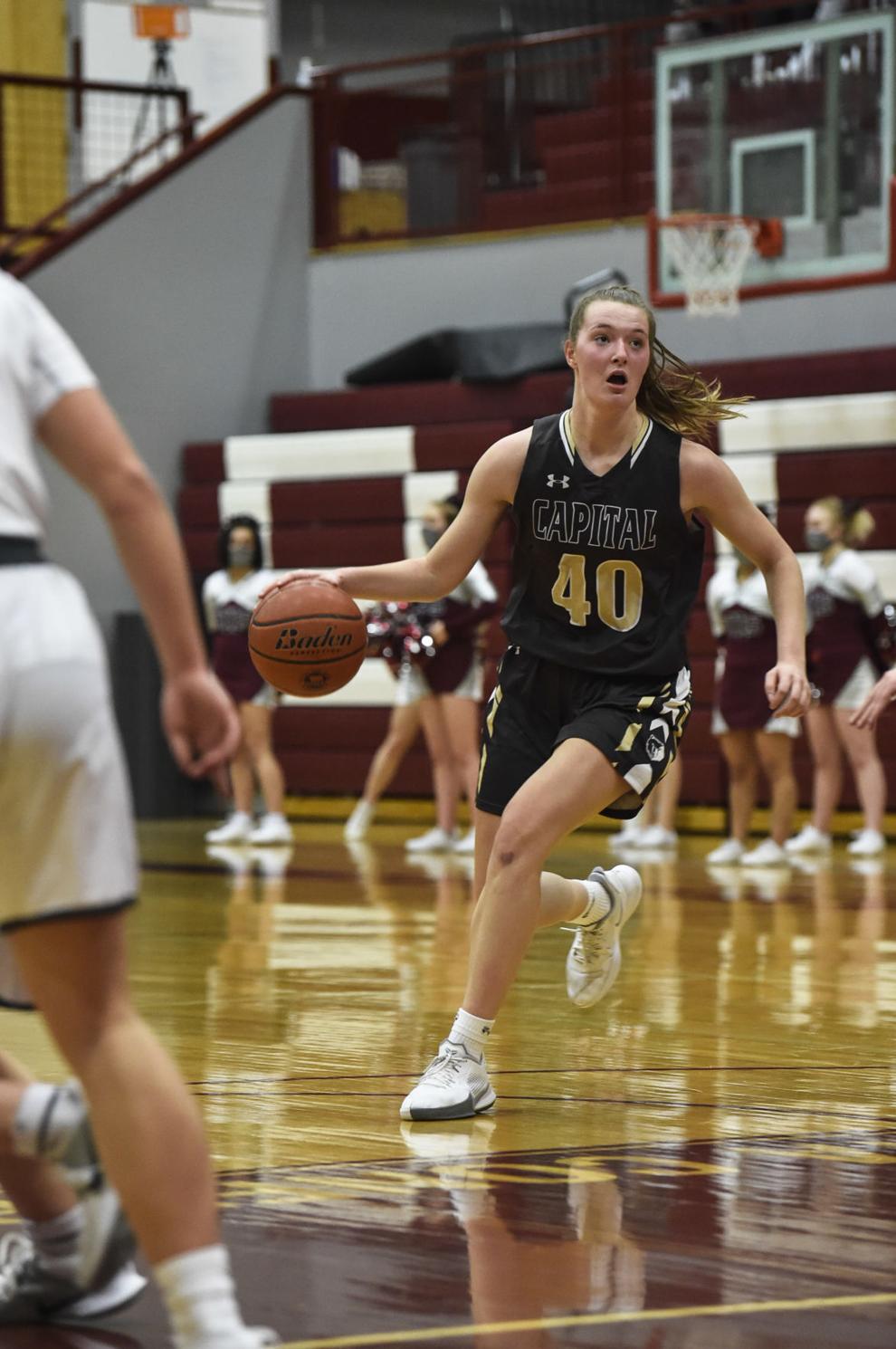 Paige Bartsch finished with 17 points, 15 of which came in the first half. She also had eight boards, four steals and three assists. 
"I think how you perform in crosstown is huge," Garcin-Forba said. "I think everyone looks back at Jamie Pickens and they all remember her in these games and now they are doing the same thing for themselves. We are just very lucky to have two of them."
Fellow senior Audrey Hofer managed five for Capital, all in the second half. Jaymee Sheridan added four points too.
On the Helena side of things, Lantz led the way with 13 points and was 3-for-4 from deep. Sophomore Alex Bullock and freshman Avery Kraft both wound up with seven. Liz Heuiser contributed with six points and eight rebounds too. 
Capital (7-1) will be back in action Thursday, on the road against Missoula Big Sky. Helena High will be at Missoula Sentinel. Both games are scheduled to tip off at 7:15 p.m. 
Chris is the sports editor and lead preps reporter for the Independent Record and 406mtsports.com. Follow him on Twitter @cmpetey406