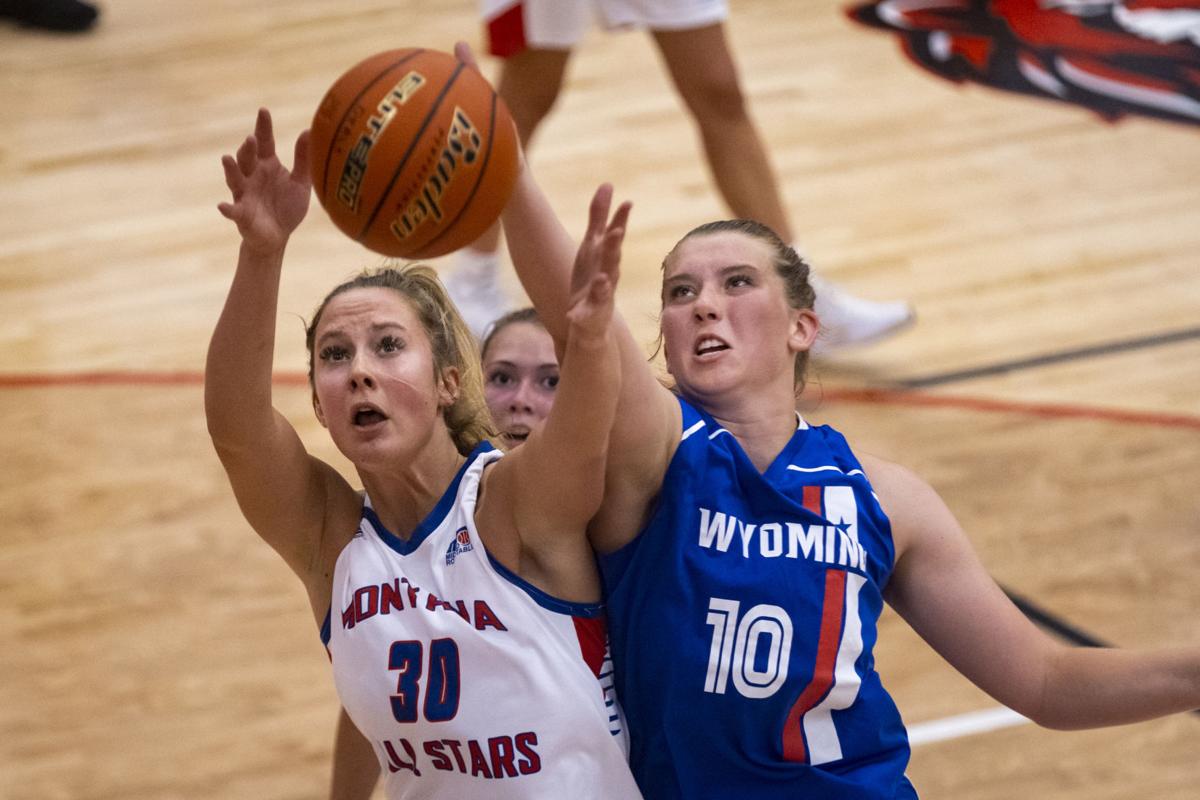 BILLINGS — A night after withstanding a second-half deluge, Montana's girls carried a simple message into their second-night matchup with Wyoming in the Midland Roundtable's annual all-star basketball showdown.
"We knew we needed to play a lot better than (Friday) night," Scobey's Gracee Lekvold said frankly.
There was no doubt from the outset that Montana heeded its own call, as it quickly jumped out to a double-digit lead Saturday at the Lockwood High School gym and never slowed down, cruising to a 71-39 victory.
The win served as Montana's ninth in a row over Wyoming, and increased its all-time series lead to 35-13.
Montana ran out to an 11-0 advantage to start the game, as Billings Central's Isabelle Erickson, Great Falls' Alison Harris and Bozeman's Macy Mayer each hit shots on the team's opening possessions. Big Timber's Hailee Brandon added a 3-pointer during the run.
Montana made a concerted effort to feed the ball inside to utilize its height advantage, as well as offensive rebounding and a collapsing defensive approach to neutralize 6-foot-4 Ally Fertig of Douglas, who has signed to play at the University of Wyoming.
At the outset of the second quarter, Montana started on an 8-0 scoring run as 6-6 Forsyth grad Lindsey Hein, a Montana State signee, converted underneath and as Brandon and Lekvold connected on consecutive 3-pointers.
Wyoming didn't score until four minutes had passed, a basket by Wyoming Indian's Angela Astorga. Montana limited Wyoming to just two points in the second half — an inside hoop by Gatorade player of the year Fertig with 3:17 left — but Kalispell Glacier's Emma Anderson quickly answered and Montana took a 28-11 advantage into halftime.
The outcome came about differently than Friday at the Bruce Hoffman Golden Dome in Sheridan, a game in which Wyoming put together 23-8 second-half scoring run and eventually took a 52-48 lead with 2:37 remaining. Montana gutted it out though, winning 55-52.
"We played a lot better defense but we were also knocking down shots. I think everyone was hitting shots today," said the 5-4 Lekvold, who will play next season at Rocky Mountain College. "We wanted to get up by 10 in the first quarter and go from there and win every quarter.
"We had a good feeling about this game."
Mayer triggered an early third-quarter surge by scoring inside and burying a 3 from the left wing as Montana extended its lead to 37-12. The lead grew larger as Fort Benton's Aspen Giese stole the ball and sprinted to a layup and as Lekvold hit a corner 3. A Hein putback made it 50-17.
Hein led Montana with 14 points. Lekvold added 13 and Erickson scored 12. Brandon was also in double figures with 10.
Wyoming's Gabby Drube, a guard from Gillete's Thunder Basin High School, said she could feel a different type of intensity from Montana on Saturday. This time, Wyoming wasn't able to come back.
"I think they played a lot better defense tonight, honestly," said Drube, who will run hurdles at the University of Wyoming next year. "Tonight, I personally felt a lot more ball pressure trying to drive to the hoop. I think they did a really good job on (Fertig).
"Defense turns into offense. They were playing really good defense and they got the momentum and we just couldn't get that back."
Drube had 13 points on Friday but was held to five in Saturday's rematch. Fertig scored a team-high 11 but shot just four free throws as opposed to the 15 she attempted the night prior. Douglas' Kam Townsend scored eight points and hit two of Wyoming's four 3-pointers.
Wyoming made only 9 of 20 from the foul line, while Montana hit 14 of 16.
"All of us want to win, all of us are competitive, but really, the biggest takeaway from this is the experience," Drube said when asked about Wyoming's run of frustration in the annual series. "Win or lose, we got to come together and build relationships and make new friends and face good competition.
"We lost, but they have a ton of great athletes, great girls, and it's just fun to play against that kind of competition."