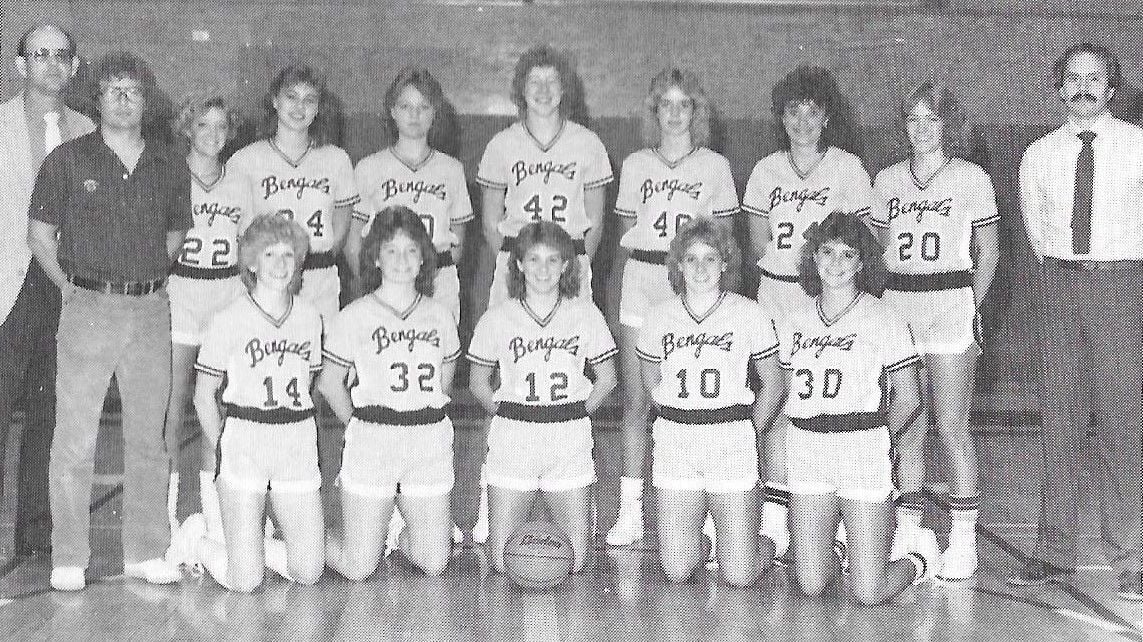 On this journey aboard Mr. Peabody's "Way-back Machine," we revisit one of the best local AA girls' basketball teams to not win a State championship – the 1985 Helena High Lady Bengals.
Thirty-five years ago, HHS' hoopsters posted the program's first undefeated regular season and garnered their first divisional tournament title, while establishing the school's win streak record and highest winning percentage. And their two stars set several individual marks, as well.
The defending State champs, under first-year head coach Steve Keller, returned just two starters. But they were good ones; all-state and 1984 tournament MVP Karen Gross, a 5-foot-11 forward, and 6-2 post Kari Kockler, who scored 21 points in the title victory. Rounding out the seniors were 3-year letterman Jennifer Davis, with Tiffany Shew, Theresa Downs, Laurie Fasbender, Becky Schmidt, Jami Fitzgerald and Peggy Sharp.
After a 70-43 trouncing of Anaconda in the season curtain-raiser (when the sport was contested in the fall), in their second game Helena beat eventual State champion Missoula Sentinel 74-53. The Lady Bengals trailed 12-11 at the end of the first quarter, before pulling ahead 39-24 at halftime, sparked by Fasbender's steal and lay-up, and 10 second-period points by Downs. HHS then outscored the Garden City group 35-29 the rest of the way, despite losing Kockler in the third, who left the game after being "knocked dizzy."
Gross led HHS with 22 points and 15 rebounds. Future University of Washington spiker Karen Deden, at 6-4, paced the Lady Spartans with 25 points and 22 boards.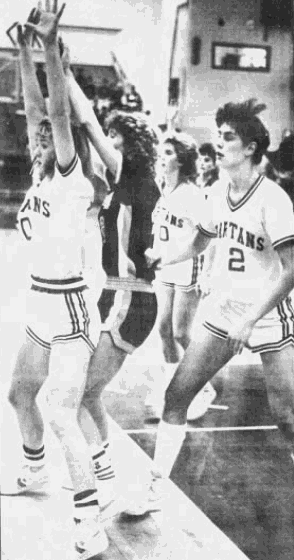 In a come from behind win over Flathead, 71-66, after Gross left the game with a slight concussion Kockler picked up the slack and scorched the nets for 30 points.
Next, came back-to-back record-setting performances by the "Killer Ks" that stands to this day.
In 70-50 win over CM Russell 70-50, Gross fired in 34 points for a new school mark, while posting 14 rebounds and seven steals. The very next game, Kockler equaled the effort with 34 counters of her own, in an 81-59 romp over Great Falls High.
When HHS bested Bozeman 58-42, it extended the Bengals winning streak to 12 (dating back to the year before), erasing the 1984 club's record of 11 straight.
Helena swept the crosstown series, beating Capital 58-33 and 68-58. Kockler, Gross, Shew and Downs led the red-and-white, while the Lady Bruins were paced by Michelle Eble, Shomai Roos, Janae Farnam and Sarah Burgess.
The second win over CHS gave the Lady Bengals (18-0, 12-0) its first undefeated regular season conference title).
Coach Keller's hoopsters then ran the table for the Eastern Division championship, beating Capital 54-40, Billings West 49-36 and CMR in the chipper 51-45, for the program's first divisional tourney title. Kockler dumped in 21 points and speared 13 rebounds versus the Lady Rustlers, while Fasbender dished six assists.
In the opening round of the State Tournament in Great Falls, the No. 1 Lady Bengals edged Havre 55-44, extending their school-record winning streak to 25 consecutive victories. Kockler netted 22 points against the Ponyettes, and established new HHS marks of 23 rebounds and 12 blocked shots.
But then the bubble burst, when HHS was upset by Sentinel in the semi-finals, 49-47, on a last-second field goal by sophomore Kirsten Schimke. Kockler, whose turn-around jumper knotted the score at 47s moments earlier, led HHS with 18 points and 11 boards. The Lady Spartans' Deden was slightly better, at 19 and 18.
Helena showed its' grit after the heart-breaking loss, rebounding with a pair of clutch wins. First they edged CM Russell 63-60 on Saturday morning, sparked by Downs' 16 points and four steals. Next the red-and-white took the measure of Columbia Falls 65-58 in the consolation finals, behind Kockler and Gross' combined 47 points, and Jennifer Davis' tough defense.
"We were very disappointed (with the loss to Sentinel)," Davis told the IR, "but we wanted to take something (hardware) home, too."
Sentinel captured the crown 57-49 over Kalispell in the finals, while CHS' Lady Bruins finished seventh.
Kari Kockler (18.7 ppg) and Karen Gross (13 ppg) were selected to the All-Tournament team. They were both named 1985 All-State, as well, while Kockler was tabbed honorable mention All-American.
The third-place Lady Bengals finished at 24-1, for the most wins in school history, followed by the 1991 and 2019 squads (who were 2- and 3-time State champs, by the way), at 22-2. The 1985 team's winning percentage of 96% also ranks No. 1, ahead of 1991 and 2019's 91.7-percentages.
Individually, Kockler – who went to play college volleyball for national champion Portland State – set at least six school records, highlighted by season averages of 19.1 points and 9.9 rebounds per game. And future Carroll hoopster Gross, averaged 14.3 points and 9.0 boards, and left with four HHS marks, including lifetime totals of 821 points and 612 rebounds.