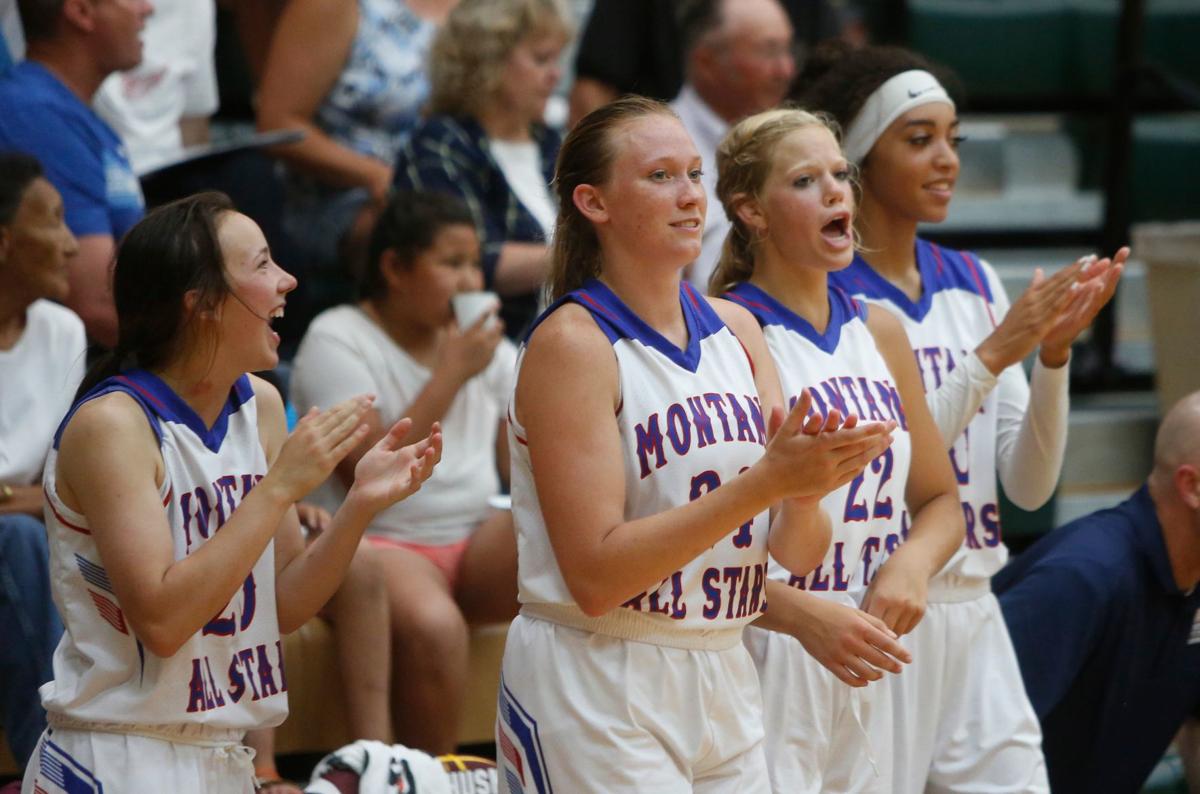 BILLINGS — The Montana boys have won 14 straight games in the annual Midland Roundtable Montana-Wyoming All-Star basketball series.
The Treasure State girls have won the last five contests.
The teams tasked with keeping those winning streaks intact come June were announced at the Midland Roundtable's monthly gathering on Thursday at the Billings Hotel and Convention Center.
The Montana boys roster consists of Ryan Simpson of Bozeman, Jesse Owens of Billings West, Blake Thelen of Great Falls, Chrishon Dixon of Billings Central, Michael Haverfield of Dillon, Sam Gray of Billings Central, Jaden Graham of Lewistown, Sayer Patton of Choteau, Caleb Bellach of Manhattan Christian and Brody Grebe of Melstone. The coach is Steve Keller, the University of Providence men's basketball coach. Keller is 14-0 leading the Montana boys.
This will be the 44th annual boys series and the Treasure State leads 59-27.
"It's a great, athletic team," said Midland Roundtable representative Richard Begger of the boys squad. "We have some great athleticism. The quickness of the team will be exceptional and we have great shooters."
The girls roster includes TyLee Manuel of Billings West, TyRaa Manuel of Billings West, Shayla Montague of Billings West, Kali Gulick of Kalispell Glacier; Sydney Sheridan of Helena Capital; Kyle Olsen of Three Forks; Danielle Zahn of Florence; Mackenzie Dethman of Froid-Medicine Lake; Lillian Gopher of Box Elder and Alyssia Vanderberg of Arlee.
Rocky Mountain College women's basketball coach Wes Keller will once again lead the Montana girls team.
It is the 23rd year of the girls series and Montana leads 31-13.
"We are excited to have some height and are pretty big this year," Midland Roundtable representative Mike Noland said of the girls team. "We have some great shooters and we have some real tough kids, especially from the B-C. We have some multi-sport kids."
You have free articles remaining.
This year's games are Friday, June 7 at Rocky Mountain College in Billings and Saturday, June 8 at Sheridan College in Sheridan, Wyoming. The girls begin at 5:30 p.m. and the boys are slated for a 7:30 p.m. tip-off.
Traditionally the games are held in Sheridan on Friday and Billings on Saturday, but this year that was switched as the Wyoming coaches requested the dates rotate every two years. It will be the second time, and first since 1979, that the games in Billings will be played on a Friday.
Bellach is set to play basketball at Montana State.
Simpson and Owens will both play football for Montana and Thelen will play football at Montana State.
Dixon will be playing basketball at Montana State Billings and Haverfield will play basketball at Montana Western. Graham is slated to play basketball at Northern State (South Dakota) and Patton at Carroll College.
Gray and Grebe are undecided on their post high school plans.
All of the players on the girls team will play college basketball.
Five of the girls players will be playing basketball at MSU Billings in the Manuel twins, Montague, Gulick and Zahn.
Sheridan and Gopher will join NAIA champion Montana Western next season. Dethman and Vanderberg will both be playing for their all-star team coach, Wes Keller, at Rocky next year. Olson will play at Carroll College.
With the Manuel sisters and Montague representing Billings West, Roundtable officials said it is believed to be the first time three players have been selected from the same school.
One notable player absent from the girls team is Helena's Jamie Pickens, the two-time Gatorade Montana Girls Basketball Player of the Year. Roundtable officials said the future University of Montana player had a scheduling conflict.
Wyoming rosters will be announced at a later date. Sheridan College men's basketball coach Matt Hammer will lead the Wyoming boys and Sheridan women's coach Ryan Davis will coach the Cowboy State girls.