HELENA -- When cousins Matt McGinley and Mark Northey combined to lead Capital High basketball to a come-from-behind overtime victory over Butte last week, it was just the latest installment of the duo's athletic achievements.
McGinley fired in a game-high 25 points, including five bombs from 3-point land, while Northey had nine points and shared the game-high of six rebounds with Michael Nettleton and Peyton Koch.
The cousins' performance against the Bulldogs was also the continuation of their family's legacy of four generations of local sporting lore. Beginning with their great-grandfather Bernard McGinley and grandfather Steve McGinley, along with their father and uncle Mike McGinley.
Mike, in his 25th and final season as a Capital sub-varsity coach, directed both guys on his Bruins JV team; his son Matt's freshman year, and nephew Mark's sophomore season. And he's assisted their varsity games the past three and two years, respectively.
"Matt has been around our program his entire life and I've known Mark for nearly as long." Related CHS head coach Guy Almquist. "They're both very quiet kids, but in their own way great competitors. They set our standard by making team success the primary objective through their own selfless acts.
"Our other kids see the class and respect they treat their teammates and opponents with, and I think it rubs off on them."
Cousins in arms
McGinley and Northey have been teammates in the sporting arena ever since the youth leagues.
In the eighth grade, McGinley and Northey helped LaCasa Fiesta to an undefeated record and the Small Fry football league's senior championship. Next, that winter on the hardcourt, their Helena Blackhawks traveling hoops team fashioned a sparkling 33-3 record.
And the following year, the cousins were part of another unbeaten football season, helping the Capital freshmen to an 8-0 mark.
"That was very memorable, because we had a lot of success and it was special to share (with Mark) not losing a football game over a two-year span," McGinley related.
With the Bruin varsity on the gridiron, the cousins have been part of back-to-back appearances in the playoff semifinals.
In this year's first-round playoff win over Flathead, 24-10, quarterback McGinley ripped off a 40-yard, third quarter go-ahead touchdown run. And Northey, at defensive back, pirated a pair of interceptions, including a drive-killing pick on the Braves' last possession with 3:43 left on the clock.
Matt, who missed his sophomore grid season due to a broken pelvis, is on pace to graduate with nine letters -- four in track, three in basketball and two in football. With the CHS track team last spring he was part of the Western Divisional fifth-place 400 relay team that qualified for State.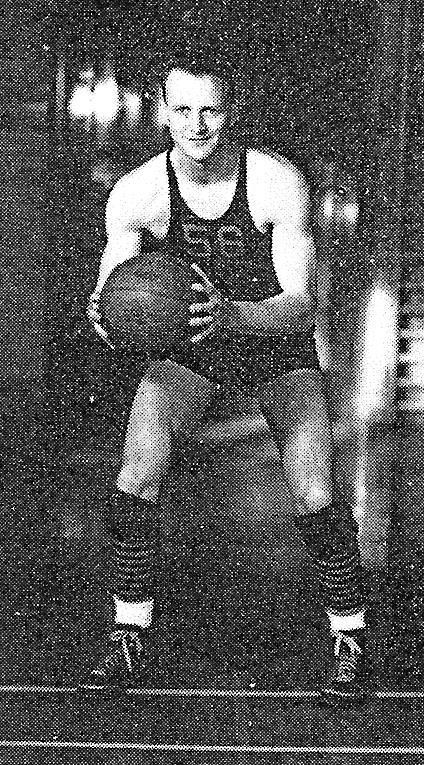 Great-grandfather Bernard McGinley
McGinley and Northey's roots on the local sporting scene begin with their paternal great-grandfather, who first arrived in the Capital City shortly after WWII.
After helping Butte High to the 1932 State basketball championship, Bernard McGinley (1913-2007) garnered 14 of a possible 16 letters at Dillon's Montana Normal College (now UM-Western) in football, basketball, baseball and track & field.
In roundball, he was a three-time All-Montana College Conference selection. The MCC was equivalent to today's Frontier Conference.
At Helena High, Bernard was an assistant football (1945-53), basketball (1945-60) and track coach (1946-60), and the head coach of the Helena Legion baseball team from 1948-51. As the HHS freshman hoops coach for 15 years, he guided the Kittens to nine unofficial "Little 16" championships and compiled a career record of 151-37, for a .798 winning percentage.
Bernard once led the City Baseball League with a .417 batting average, and also officiated prep and college football and basketball for 15 years.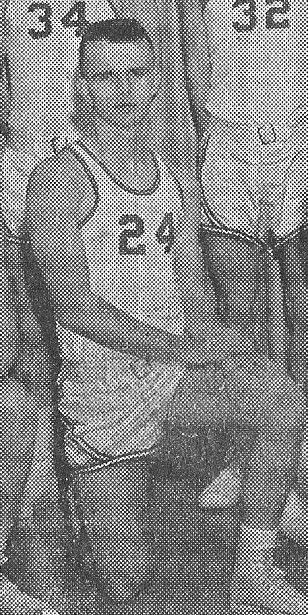 Grandfather Steve McGinley
The late Steve McGinley (1944-95) earned 10 letters at Helena Cathedral High, from 1958-62.
His best sport was football, at which he lettered all four years at quarterback. In 1958, as a freshman backup, the Greenies went 7-2 overall, and 6-1 in conference play, while tying for the Class B Southwest championship with Stevensville.
Playing end for that Cathedral team was Jim Campbell. Fifty-nine years later, Campbell's grandson, Kaleb Winterburn, and Steve's grandson, Matt McGinley, were opposing signal-callers in the HHS-CHS crosstown games this fall.
One of Helena's best all-around athletes, Steve was the sixth-man on the Greenies hoops team, threw the javelin in track and won the conference title with a heave of about 180-feet, and was a standout third baseman for the Helena Legion.
He went on to grid for the Carroll College Saints.
Father and uncle, Mike McGinley
At Capital from 1986-89, Mike played four years of varsity football, cracking the starting lineup as a freshman. He also lettered three years with the Bruins basketball team, and was selected to the 1989 All-State team. On the baseball diamond, Mike was a tall, lanky left-handed first baseman -- a la his grandfather, Bernard -- and pitcher for the Helena Senators.
Mike began coaching at CHS in 1992, directing the frosh hoopsters for four years before taking over the Bruin junior varsity. In 25 years, he has posted one undefeated season, going 20-0 in 2012, and three other years with just one or two losses.
Mike said he did not know his official career record, although with just a couple losing seasons, a conservative estimate would place him in the range of 325 wins -- more likely closer to 375.
When asked about his retirement, Mike answered, "I have a daughter in the CHS program, and I want to watch her play."
Life's lessons
Son Matt described how his dad taught him "to work hard" and to not be satisfied.
"I've spent countless hours in the gym working on my skills, along with working in the weight room and working on my speed," he said. "My dad always told me if you don't work as hard as you can, you're only hurting yourself because you'll never reach your potential.
"Most importantly though, he taught me to be a person of high character. He showed me how to be a leader, have good sportsmanship, and develop relationships with my teammates."
Northey said one of the most important lessons he's learned from his uncle is accountability.
"On the court whenever we have a turnover or a defensive breakdown, he makes us take responsibility for it; not to blame others," Northey recounted. "I think that translates to real life skills. You have to take responsibility for your actions in the real world and you can't blame others for your mistakes."
Praise from the boss
"It's difficult to put into words Mike's importance to the success of our program. He has lived and breathed Bruin basketball for so long," Almquist said. "Kids love playing for him and I've personally learned a lot from him over the years. It's been a great relationship as we compliment each other well. We're both keenly aware of each others strengths and weaknesses.
"The continuity that our program has had is very rare in this day and age. Mike's departure after this season will leave a huge hole that will be difficult to replace. He has been an excellent role model for so many young men on Helena's westside."
Almquist noted that the McGinleys and Northey "are individual parts of a greater family with a tremendous sports history and the last game the three of them -- Mike, Matt and Mark -- are involved in for Capital basketball will be emotional for a lot of us."