HELENA — A year ago, as a sophomore, Brayden Koch scored 24 points in two Helena Capital wins over Helena High. 
Now as a junior and "the guy" for the Bruins, Koch matched that 24 point total Thursday night, thanks to an 8-for-11 effort from the field and four 3-pointers in a 57-36 win for the Bruins over the Bengals inside the Jungle. 
"They were all over him the whole game," Capital head coach Guy Almquist said of Koch. "And that's the challenge for him this year is being the guy. It takes a different maturity level to play as the guy and I thought the best thing about him was his poise. He was very poised, although being able to shoot really well, that helps too."
Early on though, Koch didn't do much shooting. Instead, he did more creating for his teammates and they took advantage as Malachi Syvrud, Tyler Tenney and Jacob Curry all hit shots from beyond the arc in the opening stanza as the Bruins built a 17-6 lead.
"In a crosstown game, you need to come out and be the aggressor," Almquist said. "Our philosophy is to let it rip and for the fifth straight game we came out like a ball of fire. Our starting group did a good job and I thought we had got a lift off the bench. Jacob Curry and Derrick Kirkland both came out and did a great job."
Trailing by double digits, Helena High's head coach Brandon Day shifted tactics defensively and that opened the door for Koch, who scored 10 points in the second, including two treys as Capital built a 39-13 halftime lead.
"Capital has a great group of boys, But it would be nice if they missed once in a while" Day said. "I was trying to make something happen and changed up some things in the second quarter and Koch was able to hit a couple. They just have a lot of different guys who can shoot the ball."
For the game, the Bruins hit 10 triples, including two more in the second half from Koch and another from Trysten Mooney as Capital built a 51-20 lead. 
Putting the exclamation point on that 31-point advantage, was Koch, with a steal and slam dunk to close the third quarter.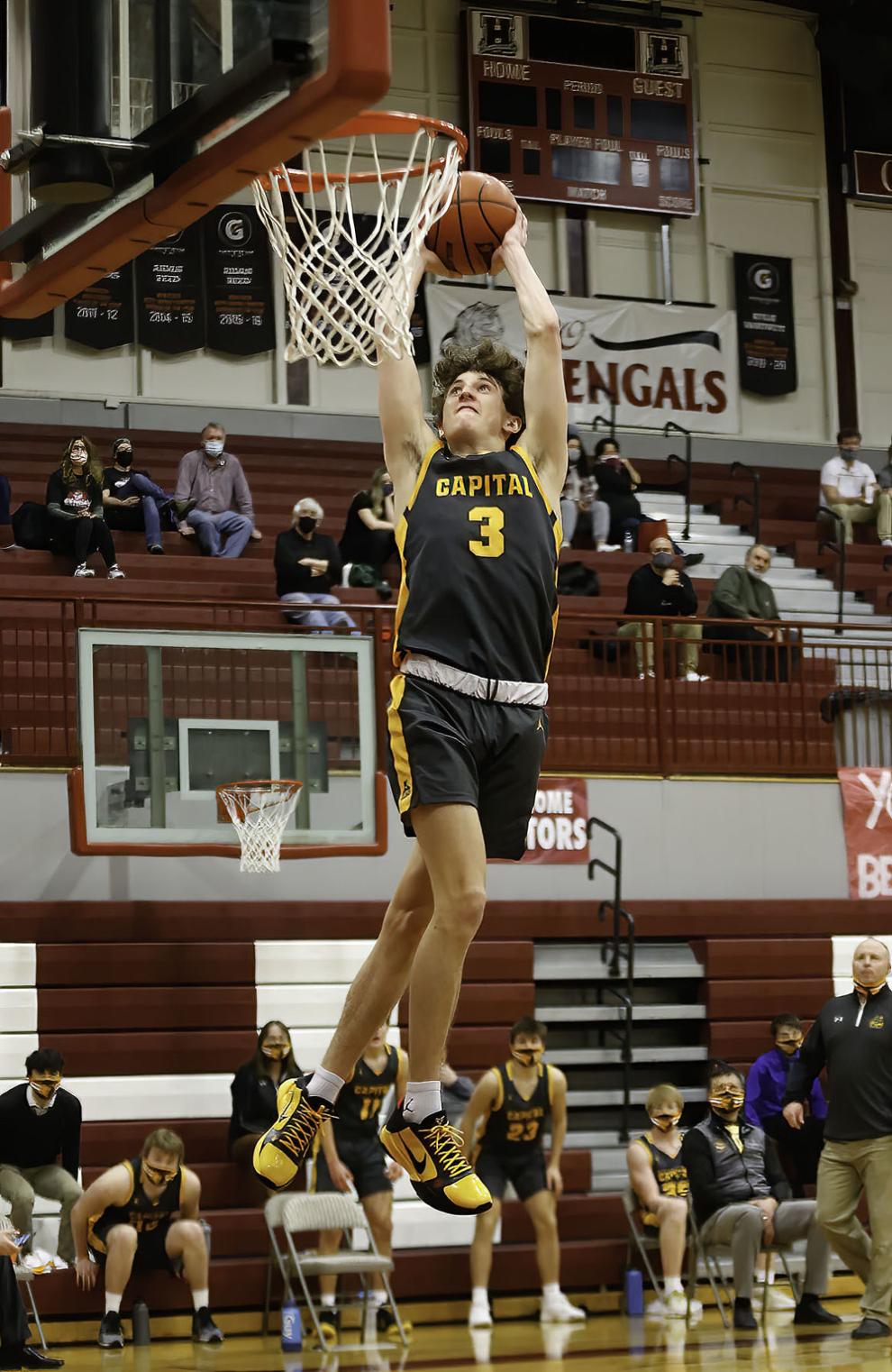 "It feels pretty good," Koch said of winning on his Rivals' home court. "We played really well as a team and I'm really proud of the guys who came off the bench and stepped up. We just played a really great game and came out firing in the first half."
In the final stanza, the Bengals (0-5) ripped off 12 consecutive points to get within 19 points, but that was as close as they would come. Bergin Luker hit two 3's in the second half to finish with six points. Sam Norum ended up with a team-high 10 and Kaden Huot also added eight.
"The good thing is that we aren't even through half the season," Day said. "And we aren't done. We are going to keep working and getting better and we will get ready to play next week."
While the Bruins (3-2) may have taken their foot off the gas momentarily in the fourth quarter, Koch slammed the door shut on any comeback hopes with another dagger from downtown on his final bucket on the night.
"I just try to play my game," Koch said. "I take the openings when I get them but I'm trying to create for others, be confident and just play."
That confidence emanated throughout the Bruins roster and one notable performer was Curry, who contributed nine points off the bench and two 3-point makes of his own. Mooney added eight, while Syvrud and Tenney each had five as five different Bruins connected from deep.
"We have a program with a culture of competing, day in and day out," Almquist said. "We knew that we were going to be better and I think tonight showed that we have it in us."
Chris is the sports editor and lead preps reporter for the Independent Record and 406mtsports.com. Follow him on Twitter @cmpetey406