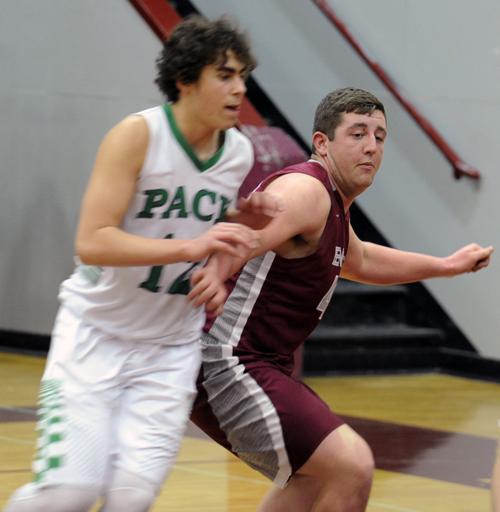 HELENA — Conner Murgel led the Helena High boys basketball team with a game-high 21 points to win their third consecutive Class AA Western Conference game with a 59-42 victory over Kalispell Glacier on Saturday afternoon.
The Bengals (7-5, 3-2), who have now defeated Capital, Flathead, and Glacier, have now established momentum, according to Helena coach Brandon Day.
Propelled by two Pierce Brown 3-pointers, Helena took a commanding 15-7 lead over the Wolfpack (4-6, 0-2) after the first quarter.
Brown also finished the game in double digits with 16 points. Though Glacier scored 17 points in the second half led mostly by Drew Engellant, who finished with a game-high 15 points, it wasn't enough to overcome the Bengals.
"We are starting to get into a rhythm and figure out a rotation," Day said. "Hopefully, we can continue to improve to where we need to become Divisional time."
Wolfpack coach Mark Harkins said the level of physicality both Helena and Capital displayed to his team was a learning experience. Helena shot 40-percent from 3-point land, sinking a total of 9 of 22 3-point shots during the game.
"It was a tough trip for us, no question," Harkins said. "Both Helena and Capital are sound defensively. They are very physical, and we haven't seen a whole lot of play like that. We struggled (with their physicality) and, we didn't shoot the basketball very well. We didn't play offense very well, and I thought we were a little tentative against their physicality. To their credit, they got after us. We need to get better (overall)."
The Helena girls basketball team defeated Glacier 44-35 Saturday afternoon. The Bengals were led by Paige Aasved, who scored a game-high 16 points. Helena also got contributions from Vanessa Walsh, who scored 11 points. 
The Capital girls basketball team defeated the Flathead  on the road 63-36 Saturday afternoon. The Bruins (10-1, 4-1) were led by Sydney Sheridan, who scored 15 points. Dani Bartsch scored 14 points and Emily Kidder scored 11 points.
Bruins wrestlers topple Glacier
Capital wrestler Wyatt Schneider's victory over Glacier's Ricardo Hewitt, in the 132-pound weight class, allowed the Bruins to defeat Glacier 36-31 Saturday night at Capital.
Schneider's victory was set up by Carson DeRosier, who defeated Triston Little, by a score of 4-0, to give the Bruins a 31-27 lead.
Lee Lambrecht defeated Royce Conklin, by a pin at 1 minute, 54 seconds, to open the match, to win his 214th career match in the dual.