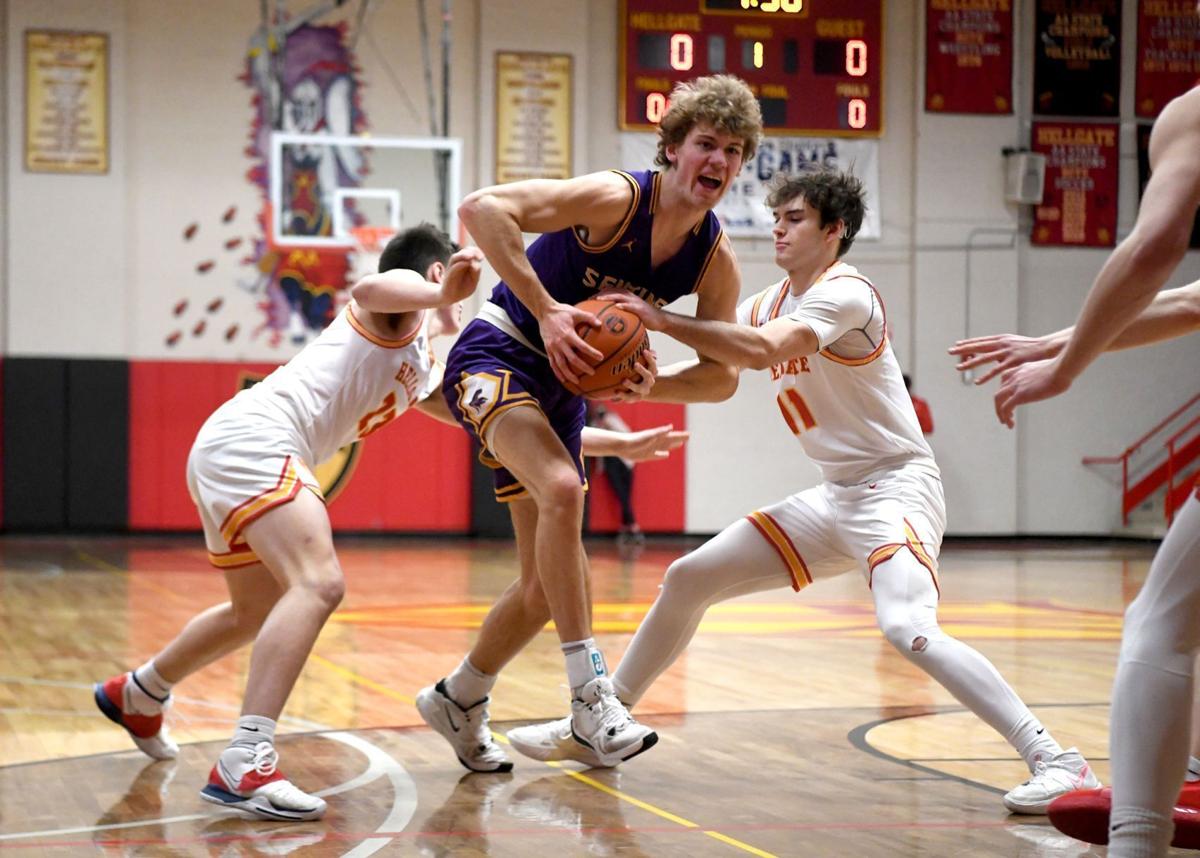 Editor's note: Full Court Press will be updated as we receive results. 
Boys Basketball
• Four days after scoring 51 points, Alex Germer scored 14 of his team-high 16 points in the fourth quarter as top-ranked Missoula Sentinel fended off third-ranked Missoula Hellgate 65-56 to remain unbeaten. TJ Rausch and Soren Syvrud scored 11 apiece, and Tony Frohlich-Fair added 10 in support of Germer, who sat with foul trouble and was the focus of the Knights' defense. Frohlich-Fair scored seven fourth-quarter points for the Spartans, who outscored Hellgate 27-17 over the final eight minutes and led by only three with less than a minute to play. Brogan Callaghan scored 17 and Josh Wade nine for the Knights.
• Drew Wyman scored 24 points and Levi Torgerson hit five of Great Falls' 11 3-pointers as the No. 2 Bison defeated Billings Senior 71-61. Torgerson added 16 points and Reed Harris, who hit three 3-pointers, added 15 for the Bison. Great Falls outscored the Broncs 43-24 over the second and third quarters to take control of the game. Four Senior players scored in double figures: Liam Romei (18 points), Junior Bergen (12), Chazz Haws (11) and Jacksen Burckley (10). 
• Ty Huse and Padraig Lang shared scoring honors with 12 points each and Bozeman placed 12 players in the scoring column in a 69-40 romp over Belgrade. Brady Lang and Trent Rogers added eight apiece for the Hawks. Wyatt Russell scored 12 and Sage Smart eight for the Panthers. 
• Caden Bateman scored 12 points and Trevyn Reed chipped in with 10 to help Missoula Big Sky pull away from Butte in the fourth quarter for a 54-45 victory. Louis Sanders helped with nine for the Eagles, who outscored the Bulldogs 20-10 over the final eight minutes. Jake Olson scored 15 and Kenley Leary 10 for Butte.
• Weston Price had the hot hand with 21 points and Kalispell Glacier built a 16-point lead after three quarters and cruised to a 52-42 crosstown victory over Kalispell Flathead. Connor Sullivan scored eight and Jaxson Olsen provided seven points and 11 rebounds for the Wolfpack, who had their 16-point margin by halftime. Joston Cripe scored 15 and Hunter Hickey eight for the Braves, who also received 10 rebounds and four blocked shots from Ezra Epperly. Flathead used a 12-0 run to pull within nine with less than four minutes to play.
• On Monday, Brayden Koch scored 13 of his team-high 15 points in the second half — including six in the fourth quarter — as Helena Capital stunned No. 3 Missoula Hellgate 53-51 to hand the Knights their first home loss since 2018. Hayden Opitz and Jacob Curry added nine points each for the Bruins, who snapped Hellgate's 26-game home winning streak against in-state teams. Josh Wade scored 16 points to lead the Knights.
• On Monday, Alihn Anderson scored 18 points and Columbia Falls built an 11-point halftime lead on the way to downing Whitefish 58-43 in a Western A divisional play-in game. Allec Knapton scored 13 and Jace Hill 12 for the Wildcats. Bodie Smith topped the Bulldogs with 17 points, and Talon Holmquist added 12. C-Falls plays Dillon in its Western A divisional opener Thursday.
• Caden Williams was on fire with 26 points and Libby used a solid second quarter to build an 11-point halftime lead and earn a 59-39 triumph over Browning in a play-in game. TJ Andersen added 12 for the Loggers, who secured a first-round matchup in the Western A divisional against Frenchtown on Thursday morning. Maurice Redhorn scored 11 for Browning.
• Dougie Peoples and Bryan Holland scored 13 points apiece and Butte Central rode a dominant middle two quarters to a 72-23 trouncing of Stevensville in a Western A divisional play-in game. Bryson Sestrich and Kyle Holter added 11 apiece for the Maroons, who outscored the Yellowjackets 43-10 in the second and third quarters. Kellan Beller scored 13 for Stevi. Butte Central opens divisional play Thursday against Ronan.
• Brendan Wagner led with 19 points — eight in the fourth quarter — and Whitehall overturned a one-point deficit after three quarters to topple Jefferson 50-47. Hayden Hoagland added 13 for the Trojans, who led by four at halftime. Trent McMaster scored 19 and Joe Visser 11 for the Panthers. 
• Owen Long led with 16 points, Jacob Buchignani added 15 and Austin Allen scored 12 of his 14 points in the second half as Three Forks rallied from a six-point deficit at intermission to top Big Timber 57-40 in a first-round game. The Wolves closed out the third quarter with a 9-2 run and opened the final eight minutes with a 12-2 surge. 
• Gavin Bates had the hot hand with 25 points and TJ Carr backed him with 13 as Eureka shrugged off a slow start and walloped Troy 70-25 in a divisional play-in game. Corbin Hurst and Hazen Bohn added nine points apiece for the Lions. Trevor Grant scored eight for Troy. Eureka will host Florence-Carlton in the divisional March 4 in Eureka.
• Eli Saltenberger drained 20 points and Braedon Sawyer backed him with 14 as Anaconda coasted past Arlee in a play-in game. Jacob Greenwood added nine for the Copperheads, who led by 11 after one quarter and weren't threatened thereafter. Micah Johnson led the Warriors with 19 points, and Hunter Brown and Ben Harlow added 10 apiece. 
• Tyler Ellsworth scored 12 points, Kellan Doheny added 10 and Dutton-Brady got off to a strong start and held off Chester-Joplin-Inverness 42-36 in a divisional opener. Tyce Erickson added seven for the DiamondBacks, who led by eight after one quarter and four at halftime. Kyle Harmon scored 13 and Blake Harmon provided 12 for the Hawks. 
• Hayden Diekhans tallied a game-high 19 points and Fort Benton broke to a 25-2 first-quarter lead and kept rolling in a 72-21 pummeling of Winnett-Grass Range in a divisional opener. Jace Thompson and Billy Ullery added 10 apiece for the Longhorns, who put 11 players in the scoring column. Walker Doman scored nine to lead the Rams.
Girls Basketball
• Billings Senior limited Great Falls to a single first-quarter point and the Broncs went on to beat the Bison 43-24. Allie Cummings scored 12 points and Brenna Linse added nine for the Broncs, who have won five of their last six games. Kendal Burcham scored six for the Bison.
• MacKenzie Tutty led the way with 20 points as Butte rolled to a 16-point halftime lead and overcame a one-point third quarter to outlast Kalispell Flathead 40-30. Ashley Olson added eight for the Bulldogs, who saw their lead dip to 10 after three quarters. Clare Converse led the Bravettes with 15.
• Bailee Sayler scored a game-high 15 points and Addy Heaphy helped with 10 as No. 2 Missoula Hellgate held off Missoula Sentinel 46-36 in a crosstown matchup. Alex Covill added nine for the Knights, who led by six entering the fourth quarter. Olivia Huntsinger and Brooke Stayner scored nine apiece for the Spartans. 
• On Monday, Kylie Lantz led a balanced Helena scoring attack with 14 points and the Bengals demolished Missoula Big Sky 63-24. Avery Kraft and Maloree English scored nine apiece for Helena, which put nine players in the scoring column and won the last three quarters by double digits. Corbyn Sandau scored 10 for the Eagles.
• Tatum Running Crane popped in 13 points and Browning bolted to a 20-0 first-quarter lead en route to overwhelming Polson 62-20 in a divisional play-in game. Arena Matt and Walker Running Crane chipped in with 11 apiece for the Runnin' Indians. Megan Rost scored nine and Jazlyn Dalbey eight for the Pirates. Browning opens Western A divisional play against No. 1 Dillon on Thursday.
• On Monday, Ari Burke scored 11 points — nine on 3-pointers — and Ronan earned a spot in the Western A tournament by routing Libby 56-19 in a play-in game. Jaylea Lunceford provided 10 points, six rebounds and six steals for the Maidens, who open divisional play against Butte Central. Rylee Boltz paced the Loggers with five points and eight rebounds. Ronan takes on Butte Central in the divisional Thursday.
• Ashlyn Swenson scored 10 points and Three Forks pulled away in the third quarter in grinding out a 33-18 triumph over Townsend in a district opener. Jayden Woodland added eight for the Wolves, who took a five-point halftime lead and expanded it to 13 after three quarters. Emma Huffman scored seven for the Bulldogs, but not other player scored more than three. 
• Rachel Van Blaricom led with 15 points, Cia Stuber provided 14 and Dakota Edmisten scored nine of her 11 points in the fourth quarter as Jefferson rallied for a 55-44 opening-round win over Manhattan. The Panthers outscored the Tigers 21-9 in the fourth quarter. Adele Didriksen scored nine, and Olleca Severson and Hallie Hemenway provided eight apiece for Manhattan.
• Sydney Brander scored 23 points to more than double Troy's team output to lead St. Ignatius over Troy 50-10 in a play-in game. The Bulldogs led only 7-3 after one quarter but used an 18-2 second-quarter surge to pull away. Talise Becquart and Izzy Tunison scored three points each for the Trojans. 
• Angela Gopher pumped in 19 points and Kayla Momberg provided 17 as Box Elder throttled Cascade to open divisional action. Breanna Bacon added 11 for the Bears, who led by 11 points after one quarter and at halftime before blowing it open. Mattison McKamey scored 13 and Caybree Ludvigson 10 for the Badgers. 
• Shayla Borlaug drained 21 points to lead three players in double figures and North Star rode a dominant second quarter to a 61-32 thumping of Geraldine-Highwood in a divisional opener. Jade Wendland scored 16 and Laynie Sattoriva 12 for the Knights, who outscored the Rivals 27-8 in the eight minutes preceding halftime. Jonna McCullough scored nine and Ellie Aron eight for Geraldine-Highwood.
• On Monday, Payton Millender led the way with 12 points as Alberton-Superior built an 11-point halftime lead and maintained it from there to down St. Regis 33-22 in a divisional play-in game. Macy Hill scored eight for the Tigers.
20-Point Club
26: Caden Williams, Libby
24: Drew Wyman, Great Falls
23: Sydney Brander, St. Ignatius
21: Shayla Borlaug, North Star
21: Weston Price, Kalispell Glacier
20: Eli Saltenberger, Anaconda
20: MacKenzie Tutty, Butte