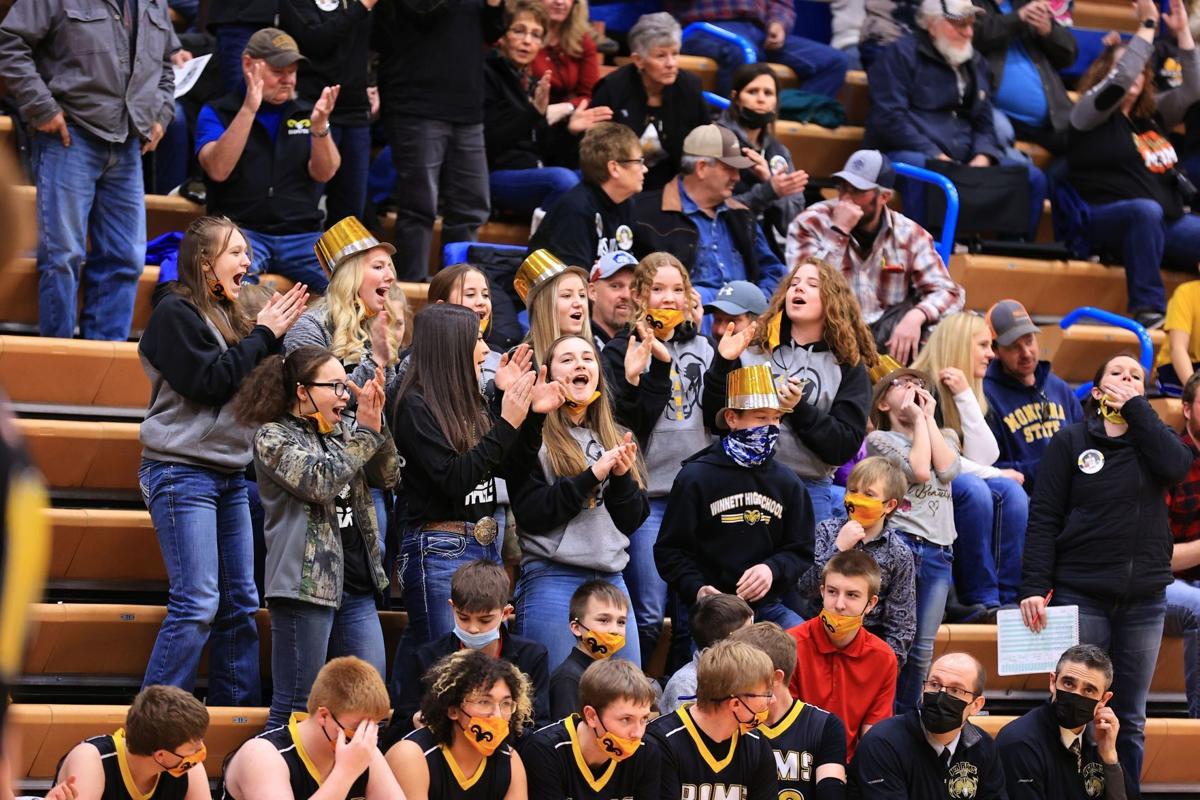 Editor's note: Full Court Press will be updated as we receive results. 
Boys Basketball
• Montana State signee Alex Germer scored a career-high 51 points — 40 in the first half — and surpassed 1,000 points for his career in leading No. 1 and unbeaten Missoula Sentinel past crosstown rival Missoula Big Sky 88-62. In 23 minutes of game action, Germer made 13 3-pointers to miss the state record owned by Manhattan Christian's Sam Leep by one and set the Class AA mark. His point total is second in the state this year to 57 by Lodge Grass' Damon Gros Ventre and it surpassed his career high by 14. Tony Frohlich-Fair added 14 for the Spartans. Chaz LaDue had 15, Tre Reed 13 and Shane Shepard 11 for the Eagles. 
• Josh Wade dumped in 21 points and No. 3 Missoula Hellgate built a 12-point halftime lead then held on to knock off Butte 53-40. Cayvey LaRance added eight for the Knights. Jake Olson scored 12 for the Bulldogs. 
• Neil Daily scored 20 points to lift Billings West to its second win in as many nights, a 67-49 victory over Belgrade. The Golden Bears defeated Billings Senior on Thursday, and with Friday's win improved to 6-6 to get within a half-game of Billings Senior for fourth place in the Eastern AA and a home playoff berth.
• Cody Carlson (22 points) and Luke Juneau (20) were double trouble in leading Browning to a 77-53 trouncing of Columbia Falls. Joseph Bullshoe added 11 points for the Runnin' Indians, who jumped to an 11-point lead after one quarter and built the gap to 17 by intermission. Allec Knapton scored 16 and Cade Morgan 13 for the Wildcats. 
• Jonathan Kirkley scored 20 points and Jace Fitzgerald added 19 as No. 1 Dillon stayed perfect by rolling over Lewistown 75-51 in a rescheduled game. Cole Truman contributed 13 and Connor Curnow 10 for the Beavers, who led by 12 at halftime and poured it on with a 30-9 third quarter. Fischer Brown scored 10 to lead the Golden Eagles. 
• Dougie Peoples popped in 17 points and Egan Lester chipped in with 12 as Butte Central coasted past Hamilton 61-36. Bryson Sestrich added nine for the Maroons, who outscored the Broncs 36-16 over the middle two quarters. Max Cianflone scored 12 for Hamilton.
• Max Eaton led the way with 15 points, and Riley Basta and Parker Buckley provided 10 apiece as Glendive rallied from a first-quarter hole and downed Sidney 58-29. The Red Devils, who also received nine points from Michael Murphy, trailed 13-9 after the first eight minutes but took a six-point halftime lead and pitched a 15-0 fourth-quarter shutout. Jerome Entz scored eight for the Eagles. 
• Montana Griz commit Rhett Reynolds went off for 26 points and he had plenty of help from Trenton Emerson's 20 points as No. 2 Shelby steamrolled Great Falls Central 80-39. Randon Richman added 14 for the Coyotes, who pulled away from a five-point first-quarter lead to move up by 17 at halftime and double the margin over the next eight minutes. Preston Linn scored nine to lead the Mustangs.
• In a showdown between two of the top teams in the class, Beau Neal scored 20 points and No. 7 Florence-Carlton rallied past No. 8 Deer Lodge 55-52 to win the 6B crown. Eli Pedersen scored 13 and JP Briney 11 for the Falcons, who trailed by three entering the fourth quarter. Ozzie King scored 22, Aidan Thompson 17 and Logan Nicholson 10 for the Wardens, whose only two conference defeats were to Florence-Carlton.
• Kaide Griffith knocked down five 3-pointers en route to 19 points to help highlight Roundup's 52-51 victory at Shepherd. Griffith also had four rebounds and two steals for the Panthers. Teammate Jace Lemmel chipped in with 12 points and six rebounds. Roundup led 42-38 heading into the fourth quarter. Shepherd was paced by the 17 points and nine rebounds of Colt Hando. Jaydan MacGillivray added 11 points, with three 3-pointers.
• Zoran LaFrombois scored 16 points to lead four players in double figures as St. Ignatius overpowered Troy 76-45. John Komotios scored 11 and Layne Spidel and Kellen McClure had 10 apiece for the Bulldogs. 
• Trent McMaster hit for 20 points and Tyler Harrington 14 as Jefferson won at home 66-62 over Three Forks, which received 33 points from Owen Long. The contest was tied at 22-all at halftime. Jefferson led 42-39 entering the fourth quarter. McMaster had eight points during a wild fourth quarter. Long accounted for 16 of Three Forks' 23 fourth-quarter points. He had four 3-pointers overall.
• Guidry Giles and Cooper Christensen each scored eight points and Fairfield put 12 players in the scoring column in a 58-23 rout of Cut Bank. Kaelob Flores added seven for the Eagles. William Sewell's eight points led the Wolves.
• Ty Moccasin added a double-double with 18 points and 10 rebounds and Damon Gros Ventre also provided 18 points and eight rebounds as No. 1 Lodge Grass moved into Saturday's championship game with a 72-59 victory over Baker. DC Stewart was right behind with 17 points and Malachi Littlenest added eight for the Indians, who jumped to a 10-point lead after one quarter and more than doubled it to 21 after three. Konner Flint scored 13, Logan Grahm added 10 and Jaxon Tronstad chipped in with eight points and seven rebounds for the Spartans. 
• Caleb Cole scored 16 points and Rilee Small-Fisher added 13 as Colstrip shrugged off a slow start and rolled past Lame Deer 57-32 to advance to the championship game against Lodge Grass. Shae Wilkie scored eight for the Colts, who trailed by two after one quarter but outscored the Morning Stars 15-3 over the next eight minutes. Journey Emerson scored 17 for Lame Deer, which faces Baker for third place. 
• Jasiah Hambria scored 13 points and Kaleb Hoversland added 11 as Lustre Christian defeated Frazer 78-26 in a loser-out contest. Lustre led 23-0 after the first quarter. Jonathon Jackson finished with eight points for Frazer.
• Michael Jaynes pumped in 21 points and Zarek Jones provided 14 as Dodson sprinted to an 18-2 first-quarter lead and held off Nashua 74-60. Jeramiah Benson added 11 for the Coyotes, who led by 24 entering the final eight minutes. Toby Gasoe led the Porcupines with 10.
• Colten Miske led the way with 20 points and Trey Knight had his back with 11 as Wibaux kept its season alive with a 41-32 loser-out win over Custer-Hysham. The Longhorns led 14-5 after one quarter and upped the margin to 15 by halftime. Brayden Webb scored 12 for the Rebels. 
• Jared Pardee's 18 points were tops as Ekalaka built a nine-point halftime lead, saw it evaporate into a one-point deficit after three quarters, then regroup to down Terry 45-41 in a loser-out game. Tucker Tooke added 12 for Ekalala. Abe Smith scored 12, Filippo Ferretti 10 and Philippe Landwehr eight for the Terriers. 
• Baylor Pospisil dropped 21 points and Quin Gillespie did his share with 19 to lead No. 7 Bridger into the championship game with a 63-43 romp over Broadview-Lavina. Hank Tuszynski scored 14 and Kade Erickson nine for the Pirates. 
• Colter Woldstad scored 18 points and Ryen Fenley backed him with 14 as Harlowton-Ryegate earned a meeting with Bridger in the title game with a 60-47 triumph over Park City. Johnny Mysse scored eight for the Engineers, who trailed by a point at halftime but outscored the Panthers by 10 over the ensuing eight minutes. Tucker Johnstone led all scorers with 26 for Park City.
• Brothers Chase Keating and Chance Keating pumped in 17 points apiece and Reed Point-Rapelje lived to see another day by holding off Absarokee 48-44 in a back-and-forth loser-out game. Trent Ott scored eight for the Renegades, who led by one at halftime and two heading into the fourth quarter. Colton Young scored 17 and Tysen Young 13 for the Huskies. 
• Shad Boyce scored 11 points and Roy-Winifred jumped to a 10-point lead after one quarter on the way to downing Winnett-Grass Range 48-36 and earn a berth in the championship game. Brody Geer added eight for the Outlaws, whose lead slipped to five at halftime. Brady Bantz led all scorers with 15 for the Rams, and Walker Doman provided nine. 
• Aidan McDaniel had the hot hand with 23 points and Reese Paulson backed him with 14 to lead No. 3 Belt to a comfortable 59-15 triumph over Hobson-Moore-Judith Gap. Bridger Vogl added seven for the one-loss Huskies, who led 20-4 after one quarter. Rowdy Smith scored five to lead Tri-Cities. 
• Ace Becker scored 14 points, and Jace Balbach and Kain Vincent provided 11 apiece as Denton-Geyser-Stanford fended off Centerville 52-46 to advance to a Saturday morning consolation game against Winnett-Grass Range. The Bearcats led by eight at halftime and held on. Keegan Klasner scored 14 and Chaz Dilley 10 for the Miners in their final game of the season.
• Blake Harmon scored 17 points, Bryce Kammerzell 14 and Kyle Harmon 12 as Chester-Joplin-Inverness went wire to wire with Big Sandy and won 52-49 in overtime to advance to Saturday's action. The teams were tied after three quarters and regulation. Brayden Cline scored 12, Kade Strutz 10 and Kody Strutz nine for the Pioneers.
• Box Elder, behind the 23 points of Tayce St. Pierre, beat North Star 57-48 to advance to the consolation finals. Gabe Saddler also provided a helping hand by tossing in 16 points for the Bears. Box Elder moved ahead 21-13 in the first quarter and was up 32-19 by intermission. Rhett Wolery led the Knights with 14 points, and teammates Garrett Spicher and Gavuin Spicher added 10 points apiece. Box Elder had to forfeit Thursday's opener due to COVID-19 contact tracing.
• Carter McDowell was one of four players to reach double figures in scoring with 15 points and No. 9 Simms survived an upset scare from Dutton-Brady 59-57 to remain unbeaten. Kaidin Thibert scored 14, Caden Smerker 13 and Dallin Nelson 10 for the Tigers, who rallied from six down in the fourth quarter to send the game into OT. Simms will host Heart Butte for the title. Jake Feldmann scored 22, Tyler Ellsworth 14 and Rylan Doheny 11 for the DiamondBacks. 
• Heart Butte advanced to the championship game against Simms by downing Sunburst 57-30 in the semifinals. The Warriors were led by the 18 points of Thomas Young Running Crane. Teammate Jordan Calf Looking added 10. Heart Butte led 11-8 after one quarter and 21-17 at halftime. A 15-4 run in the third quarter by the Warriors broke the game open. Sunburst received 11 points from Josh Kearns.
• Brody Connelly scored 17 points to lead four players in double figures as Valier overcame a 32-point day by Power's Spencer Lehnerz for a 64-55 win in a loser-out matchup. Cam Stoltz score 13, Brett Stoltz 11 and Will Boumans 10 for the Panthers, who led by a point at halftime but upped the lead to nine after three quarters.  
• Tebarek Hill pumped in 21 points and had nine rebounds, and Seth Amunrud backed him with 18 points, eight steals and five assists as second-ranked and unbeaten Manhattan Christian cruised into the championship game with a 72-30 thumping of Shields Valley in the state's only single-elimination tournament. Willem Kimm scored 15 and Logan Leep 11 for the Eagles, who led by 14 after one quarter and 17 at halftime before turning it into a rout with a 27-3 third quarter. Manhattan Christian faces Twin Bridges for the title on Saturday. Kaden Acosta scored 12 points and had three steals to lead the Rebels. 
• Charlie Kruer scored 20 points and No. 6 Twin Bridges set up the expected showdown with Manhattan Christian for the title by eliminating Harrison-Willow Creek 57-36 on the strength of a big second quarter. Matt Kaiser scored 12 and Connor Nye 10 for the Falcons, who trailed by a point after one quarter but used a 17-7 run to lead by nine at halftime. Luke Cima and Kyle Homner scored nine apiece for the Wildcats. 
• Keaton Piedalue paved the way with 20 points and Charlo regrouped from a slow start to topple Noxon 61-53 in a loser-out game. Steson Reum scored 13, and Phil Marquez and Roper Edwards provided 11 apiece for the Vikings, who outscored the Red Devils 18-9 in the decisive second quarter. Brody Hill and Wyatt Lackner scored 12 apiece, and Jeriko Smith-Roach added 10 for Noxon. Lackner hauled down 11 rebounds.
• Kyle Lawson scored 22 points and Hot Springs broke open a close game in the second half for a 45-31 loser-out victory over Plains. Michael Marriman chipped in with eight for the Savage Heat, who were tied 19-11 at halftime. Tucker Foster and Parker Flock scored eight apiece for the Horsemen.
Girls Basketball
• No. 4 Billings Skyview used 23 points from Breanna Williams and 15 from Brooke Berry to beat visiting Billings Senior 55-47. The Falcons trailed early, but were up 33-26 by halftime. Skyview's margin was 46-39 going into the fourth quarter. Williams scored 14 of her points in the first half. The Falcons shot seven of 11 from the foul line in the fourth quarter. Allie Cummings drilled four 3-points on her way to 22 points for the Broncs. 
• No. 3 Billings West improved to 11-0 with a 63-34 triumph over visiting Belgrade. The Golden Bears were sparked by the 14 points of Kendell Ellis and 12 from Taylee Chirrick. Teammate Bella Murphy contributed 11. Kaitlin Grossman got her hands on six rebounds. West was up 16-5 after one quarter and 38-15 at halftime. Naomi Reanier had 12 points for Belgrade. Grace Gavert added 10.
• Top-ranked Missoula Hellgate bounced back from a Tuesday loss with a win at Butte 47-27. Alex Covill scored 16 points for the Knights and Keke Davis added 10. MacKenzie Tutty led the Bulldogs with seven points.
• Kylee Old Elk scored 15 points, Alyssa Pretty Weasel added 14 and Aiyana Big Man provided 13 as No. 3 Hardin started fast, pitched a second-quarter shutout, and went on to trounce Lewistown 66-24. The Bulldogs led 33-10 at halftime. 
• Tia Stahl had a big night with 23 points and No. 3 Roundup quietly kept up its winning ways with a 43-31 win over Shepherd. Blythe Sealey had 11 rebounds for the Panthers, who took a seven-point halftime lead. Kiara Dennison led Shepherd with 10 points. 
• Maddison Underdal drained 22 points and Jori Clary backed her with 15 as Shebly broke away from a tie after three quarters to defeat Great Falls Central 49-43. Sareya Hicks and Michaela Hawk scored 11 apiece for the Mustangs.
• Rachel Van Blaricom was the difference with 20 points in Jefferson's 43-27 win over Three Forks. The Panthers fell behind by three after one quarter but an 18-6 run over the next eight minutes was the difference. Jayden Woodland led the Wolves with 12 points. 
• Kasidy Yeoman led all scorers with 19 points and Florence-Carlton shut down Deer Lodge in a 37-19 win. Kylie Kovatch added seven for the Falcons. Tayrn Lamb led the Wardens with seven points. 
• Emma Woods scored seven points to lead Fairfield past Cut Bank 33-22.
• Montana State signee Lindsey Hein came up big with 26 points and 12 rebounds as defending state co-champion Forsyth began its postseason run with a 61-28 trouncing of Baker. Hein was 7-for-15 from the floor and 12-for-16 from the free-throw line. Daley Pinkerton scored nine for the 10th-ranked Dogies, who led 12-2 after one quarter. Forsyth will face Colstrip for the district title Saturday. Emily Shumaker scored nine to lead the Spartans. 
• Baily Egan produced a double-double with 17 points and 12 rebounds, Malea Egan added 12 points, and Canzas Hisbadhorse anchored them with eight points and eight rebounds as No. 2 Colstrip advanced to the title game with a 66-21 rout of Lodge Grass. Gracie Bradley and Kadie Bends also scored eight for the Fillies, who jumped to a 23-0 first-quarter lead en route to maintaining their perfect record. Diamond Amyotte scored nine points, and Jordan Jefferson added six points and seven rebounds for the Indians.
• Ashtyn Curtiss scored 14 points, Liv Wangerin added 11 and Plentywood led from start to finish in a 42-24 victory over Froid-Lake to win the district crown. Emma Brensdal added nine for the Wildcats, who led by 10 at halftime. Dasani Nesbit scored 13 for the Redhawks. 
• Kiarra Brunelle's 10 points led the way and Westby-Grenora used a huge fourth quarter to knock off Circle 36-24 for third place. Elizabeth Field scored eight for the Thunder, who trailed by two entering the final eight minutes but closed on an 18-4 surge. Alexis Moline scored 10 for the Wildcats. 
• Taryn Hagle was team high with 14 points and Brooke Reuter contributed 12 as Savage fended off Culbertson 38-35 in a nail-biter for the fifth-place trophy. The Warriors led by four at halftime and kept the Cowgirls at bay.
• Freshman Aubri Holzrichter had her biggest game of the season at the right time, scoring 25 points as Lustre Christian stayed advanced to rolling past Frazer 60-21. Holzrichter, who is averaging just under 12 points per game, had a previous best of 22, also against Frazer. Tiara Whitmus added 12 and Alexa Reddig 10 for Lustre. Bailey Beston scored seven for the Bearcubs. 
• Kataya Kill Eagle pumped in 19 points and Imagin Fox finished with 11 to help Dodson defeat Nashua 54-45. Fox, Kill Eagle and Jean Jackson, who had eight points, combined for seven 3-pointers, and Dodson went 17 for 22 from the foul line. Tia Dees scored 16 points to lead Nashua.
• Brooklyn Ragland had the hot hand with 20 points and McKenzie Morrison did her share with 14 to lead Custer-Hysham past Wibaux 44-39 in a loser-out game. The Rebels, who play Jordan for third place, trailed by one point entering the fourth quarter. Shantel Bertelsen scored 12 and Abby Begger 11 for the Longhorns.
• Lindsay Lawrence led the way with 17 points as Jordan held off Broadus 41-31 to move into the consolation game against Custer-Hysham. Brenna Murnion scored seven for the Mustangs, who were behind by a point after one quarter but up five by intermission. Abi Krantz scored eight for the Hawks.
• Karli Lane scored 20 points, Teagan Oliva added 14 and Harlowton-Ryegate played its way into the championship game with a 55-44 win over Plenty Coups. Mesa Butler added nine for the Engineers, who led 17-3 after one quarter and kept the Warriors at arm's length thereafter. Harlowton-Ryegate faces Bridger for the crown. Keane Blacksmith scored 10 and Lois Flatlip eight for Plenty Coups, which fell into a loser-out game Saturday morning against Broadview-Lavina.
• Emily Adkins was nearly unstoppable with 33 points and it was enough for Bridger to hold off Roberts 50-40 to move into the title game against Harlowton-Ryegate. Mya Goltz added eight for the Scouts, who led by seven at halftime. Brighid Doll had 12, Kenzie Pitts 11 and Emma DeVries nine for the Rockets, who face Park City in a loser-out game Saturday morning.
• Trinity Tinsen scored 18 points and Jonna McCullough helped with 11 as Geraldine-Highwood KO'd Centerville 43-27 to move into the consolation game. The Rivals led by 19 at halftime before the Miners, playing their second game of the day, trimmed the margin to nine. Mollie Kerkes scored 10 and Abi Whitney nine for Centerville.
• Elizabeth Hickey and Dakota Auck scored 13 points apiece and Rabecca Lynn provided 12 to power Hobson-Moore-Judith Gap past Denton-Geyser-Stanford 48-42 in a loser-out game. The Titans will face Geraldine-Highwood in Saturday's consolation matchup. Sydney Von Bergen scored 12, and Adie Woodhall and Allie Skelton added nine apiece for the Bearcats.
• Mollie Kerkes scored 16 points and Annie Cook added 13 to lead Centerville to a 45-31 win over Winnett-Grass Range in a loser-out game. Centerville took control with a 16-6 advantage in the second quarter after leading just 9-6 after one. Zurry Moore and Kaitlyn Carter had nine points each for W-GR.
• Kyla Momberg and Angela Gopher each scored 18 points and Box Elder broke from a tie at the end of the first quarter to trounce Chinook 65-42. Mariah Arkinson chipped in with eight for the Bears, who outscored the Sugarbeeters by 24 over the middle two quarters. Allison Powell scored 14 points and Hallie Neibauer 12 for Chinook. 
• Augusta got a game-high 15 points from Olivia Isakson and 10 more from Payton Levine in a 46-25 victory over Cascade and a berth in the championship game Saturday against Valier. The Elk took a 23-10 lead into halftime. Mattison McKamey's six points led the way for Cascade. Jessy Barger had five points for the Badgers, who face Power in a loser-out game Saturday.
• Hannah St. Goddard led three players in double figures with 13 points and Valier earned a spot in the title game by tripping Simms 52-47. Loni Orcutt scored 12 and Emma Valdez 11 for the Panthers, who led by 19 entering the fourth quarter before withstanding a 21-7 Tigers run. Laura Zeitzke scored 14 and Kodiann Lynn 10 for Simms.
• Kinsey May racked up 31 points — 24 coming on eight 3-pointers — and Power stayed in the chase by toppling Sunburst 49-24. Jersey Somerfeld added eight for the Pirates, who led 28-8 at halftime and will face Cascade in a loser-out game. Brooke Holland scored 11 to lead the Refiners. 
• Heart Butte methodically pulled away from Dutton-Brady for a 55-45 win in a loser-out game. Sadee Cree Medicine scored 12 points and Lish Spoonhunter added 11 for the Warriors. Dutton-Brady's Mackaela Pulver led all scorers with 16 points and Leslie Ostberg contributed 11. D-B shot 12 for 37 from the foul line while Heart Butte made 16 of 29.
• Landri Paladichuk scored 13 points, Shelby Klein added 12 and Ennis moved into the championship game against Manhattan Christian with a 49-41 triumph over Shields Valley in the single-elimination tournament. Tanner Inman added nine for the Mustangs, who led from the beginning. Haven Sager scored 12 and Morgan Fairchild 10 for the Rebels. 
• No. 4 Manhattan Christian beat Twin Bridges 61-23 and advanced to the title game with a balanced effort that included a double-double from Kiersten Van Kirk (10 points, 10 rebounds) and 14 points from Taylor DeVries. Eliana Kuperus pulled down 12 boards for the Eagles, and Grace Aamot added 11 points. Allie Dale and Callie Kaiser led Twin Bridges with 11 points apiece.
• Baylee Pruitt led the way with 18 points and St. Regis rode a big third quarter into the consolation game with a 38-35 trimming of Noxon. Macy Hill added eight for the Tigers, who trailed by three at halftime but led by eight entering the fourth quarter. Avery Burgess scored 10 and Chelsea Vohs eight for the Red Devils. 
20-Point Club
51: Alex Germer, Missoula Sentinel
33: Emily Adkins, Bridger
33: Owen Long, Three Forks
32: Spencer Lehnerz, Power
26: Lindsey Hein, Forsyth
26: Rhett Reynolds, Shelby
26: Tucker Johnstone, Park City
25: Aubri Holzrichter, Lustre Christian
23: Tayce St. Pierre, Box Elder
23: Breanna Williams, Billings Skyview
22: Jake Feldmann, Dutton-Brady
22: Cody Carlson, Browning
22: Ozzie King, Deer Lodge
22: Kyle Lawson, Hot Springs
22: Allie Cummings, Billings Senior
22: Maddison Underdal, Shelby
21: Tebarek Hill, Manhattan Christian
21: Michael Jaynes, Dodson
21: Baylor Pospisil, Bridger
21: Josh Wade, Missoula Hellgate
20: Brooklyn Ragland, Custer-Hysham
20: Karli Lane, Harlowton-Ryegate
20: Trenton Reynolds, Shelby
20: Luke Juneau, Browning
20: Beau Neal, Florence-Carlton
20: Charlie Kruer, Twin Bridges
20: Keaton Piedalue, Charlo
20: Jonathan Kirkley, Dillon
20: Rachel Van Blaricom, Jefferson
20: Trent McMaster, Jefferson
20: Neil Daily, Billings West