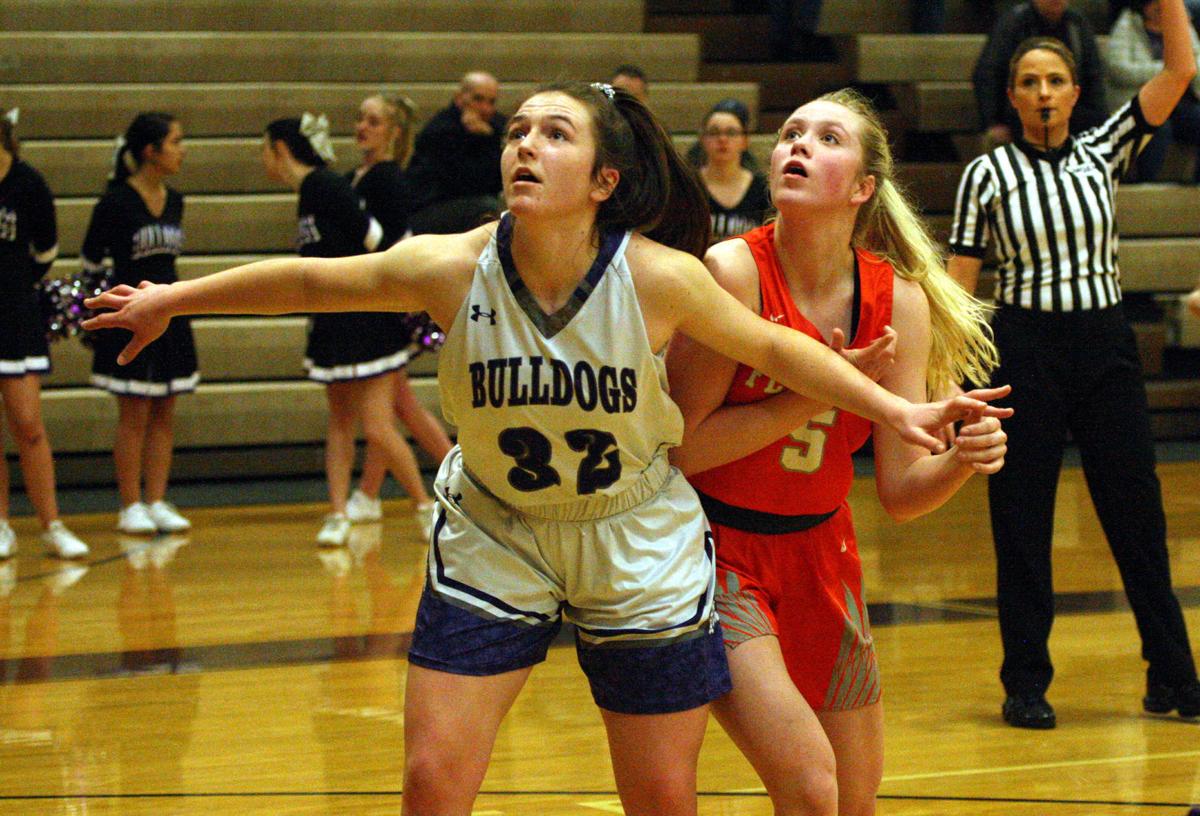 Editor's note: Full Court Press will be continually updated through the night as results arrive.
Boys Basketball
Class AA
• Junior Bergen scored 20 points, Nick Eliason added 13 and Jackson Burckley contributed 10 as Billings Senior fended off Bozeman 65-52. The Broncs led by 10 points at halftime. Carter Ash scored 13 points, Jackson Coles added 12 and Padraig Lang 10 for the Hawks.
• Jake Olson led with 18 points -- 14 in the first half -- and Ryan Burt and Blake Drakos each had 10 as Butte held off a Kalispell Flathead comeback for a 64-57 victory. Joston Cripe scored 15 to lead the Braves, followed by Gabe Adams with 13 and Tannen Beyl at 10. 
Class A

• Blayne Deroche poured in 27 points and Rylee Spoonhunter added 12 to power Browning past Havre 65-47. The Runnin' Indians led by five after one quarter and four at halftime, but built the margin to nine after three before pulling away. Mason Rismon scored 17 points and Jake Huston added 10 for the Blue Ponies.
• Wylee Schnetter scored 18 points, Emmet Renner 13 and Nick Pasquarello 12 as Laurel outlasted Sidney 70-54 after jumping to a 13-point lead after one quarter. Carter Johnson led all scorers with 20 for the Eages.
• Bodie Smith scored 14 points and Talon Holmquist added 13 to lead Whitefish to a 45-43 overtime victory over Stevensville. Kellen Beller's 14 points led the way for Stevi, which also received 10 points from Tanner Pendergast. 
Class B
• On Senior Night, senior Cory Chaney tallied a double-double with 15 points and 13 rebounds to lead Eureka past Troy 58-34. AJ Pacella also had 15 points and Jake Kindel added 11 for the Lions. Braiden Lowry scored 13 points Moxley Resle-Begalke added 10 points for the Trojans. 
• Trenton Emerson pumped in 17 points, Tanner Parsons added 16 and Logan Leck pitched in with 11 and Shelby pulled away in the third quarter for 60-50 victory over Cut Bank. The Coyotes trailed by two points at halftime but outscored the Wolves 25-11 over the next eight minutes. Devin Gobert led all scorers with 21 points for Cut Bank, and Hayden Harrell added 10.
• Only five players scored for Malta, but four of them in double figures -- led by Kooper Oxarart with 14 -- and the Mustangs slipped past Glasgow 51-42. Malta led by 16 entering the fourth quarter and held on. Conner Tuss scored 12, and Tanner Smith and Kenyon Stiles had 10 apiece for the Mustangs. Alex Boland scored 19 to lead the Scotties.
• Owen Long had a game-high 17 points to lead No. 4 Three Forks over No. 8 Deer Lodge 46-40. The Wardens' balanced effort was led by Logan Nicholson's 12 points.
• Hayden Hoagland had 12 points and Brendan Wagner 11 as Whitehall eased past Townsend 43-29. The Bulldogs were paced by seven points each from Tyler Christensen and Devon Zeadow.
• Caden Holgate scored 17 points, and Finn Tesoro and Sven Stenberg added 11 apiece to carry Manhattan past Big Timber 61-51. Codee Mehus scored 18 points and Dawson Laverell added 11 for the Sheepherders. 
• Rocco McMakin poured in 23 points, Kayden Little Sun added 18 ad Journey Emerson was next with 15 to lead No. 6 Lame Deer past Forsyth 73-68. 
• Tanner Rae had a big night with 26 points, and Dylan Sanner and Kaide Griffith each added 15 as Roundup rallied from a big first-quarter hole to down Joliet 70-62. The Panthers trailed 21-8 after the first eight minutes but made up all but four points of the deficit in the second quarter. Caleb Bailey and Zayne Songstad each had 16 points for the J-Hawks. 
• Colby Martinez scored 22 points, Cale Chamberlin added 19 and Trey Stampfel 18 as No. 9 Columbus jumped to a 22-point first-quarter lead and coasted past Red Lodge 75-61. Troy Allen led four Rams in double figures with 13 points. Braden Tomlin had 12 and Jay Jetmore and Austin Heimer 10 apiece for Red Lodge.
• Keeley Bake pumped in 20 points and Connor Murray added 11 for Fairfield in a 76-65 victory over Choteau. Guidry Giles and Kaelob Flores each added nine points for the Eagles.
Class C
• Danner Haskins led with 18 points and Carson Callison contributed 16 to help Alberton-Superior slip past Valley Christian 45-37. The MountainCats led by 15 points at halftime before the Eagles mounted a comeback. Riley Reimer led Valley Christian with 14 points. 
• Kade Strutz led with 17 points and Ryan Roth and Clint Darlington chipped in with 14 apiece to lead Big Sandy past Turner 56-38. The Pioneers opened the game on an 18-7 run. Shane Kimmel paced the Tornadoes with 12 points and Austin Welsh had eight.
• Jared Pardee's 16 points helped highlight Ekalaka's 62-37 win at home over Terry. The Bulldogs also displayed plenty of balance, with Turner Tooke and Mick O'Connor finishing with 13 points each. Ekalaka was ahead 34-18 by halftime, and continued to pad its advantage in the second half. Terry's Chris Badac was the game's top scorer with 18.
• Top-ranked and reigning state champion Manhattan Christian held off visiting Gardiner 50-49 behind Josiah Amunrud's 23 points, eight rebounds and four steals. The Eagles raced out to a 24-10 lead in the second quarter and never trailed. The game was tied twice. Elijah Byrd kept Gardiner close with his 22 points. Manhattan Christian prevailed despite shooting 31.1%.
• Tyson Flickinger pumped in 24 points, Jordan Trupe added 15 and Kieran Hernandez 10 to fuel Plentywood past Savage 78-35. The Wildcats jumped to a 23-4 lead after one quarter and put nine players in the scoring column. 
• Gabe Gonsioroski scored 15 points, Grady Gonsioroski pitched in with 14 and Caleb Senner had 10 to lift Richey-Lambert over Brockton 82-36. The Fusion led by 12 after one quarter and 18 by halftime.
• Ryan Fenley led the way with 17 points and Jason Todhunter helped with 13 as Harlowton-Ryegate downed Broadview-Lavina 52-26 with a big first half. The Engineers led 17-5 after one quarter and built the margin to 27 by halftime. Kade Erickson led the Pirates with 10 points.
• Brendan Falls Down poured in 23 points and Clarence Stewart was right behind with 19 to lead Plenty Coups to a 79-71 victory over Reed Point-Rapelje. The Warriors, who also received 12 points from Melville Stops Jr., led by 16 points entering the fourth quarter. Daynon Bear led all scorers with 26 points for Renegades, and Chase Keating and Bud Ullery each popped in 13 points. 
• Aiden McDaniel hit three 3-pointers on his way to 20 points in Belt's 47-32 triumph over visiting Denton-Geyser-Stanford. Teammate Kaiman Evans added 10 points. The Huskies were in command 21-8 at halftime. Parker Donaldson led D-G-S with 11 points. Dylan Taylor notched 10. 
• Colt Miller was tops with 17 points and Jovonne Nesbit added 15 to help No. 8 Froid-Lake topple Circle 51-42. Rhett Bailey scored 12 for Circle.
• Dawson Murnion led four Murnions in double figures and Jordan won a wild one 83-77 over Winnett-Grass Range. Edward Murnion popped in 18 points, Keenan Murnion 16 and Douglas Murnion 15 for the Mustangs. Jacob Jessen led all scorers with 29 points and Brady Bantz added 25 for the Rams. Jordan outscored Winnett-Grass Range 26-13 in the third quarter for a 10-point lead before the Rams rallied.
• Tyler Ellsworth pumped in 18 points and three other Dutton-Brady players hit for double figures in the Diamondbacks' 68-26 romp over Augusta. Rylan Doheny scored 15, Kellan Doheny 11 and Clay Blankenship 10 for Dutton-Brady. Augusta was led by Cameron Ellsworth's eight points.
• Terry Allmer scored 18 points to lead Lustre Christian over Saco-Whitewater-Hinsdale 41-17. Loden Idler scored six to lead the Mavericks.
• Nelson Smith scored 23 points and Preston Smith added 11 to lead Darby past Seeley-Swan 51-41. 
• Matthew Eike had 22 points and teammate Zack Thomas was right behind with 21 as Hobson-Moore-Judith Gap outlasted Centerville 67-63, holding off a fourth-quarter Miners rally. Carson McGinness led all scoreres with 28 points for Centerville, followed by Cole Detton with 15 and Grant Cotton at 11. 
• Nathan Brown set a school record with 48 points and surpassed 1,600 for his career, but Lincoln nevertheless fell to St. Regis 103-71. Brown was 16-for-24 from the floor, including 8-for-12 from 3-point range. He also had seven steals, seven assists, five rebounds and two blocked shots. Brodi Henderson had 13 points and Ryan Greenwood 10 for the Lynx. Not to be outdone, St. Regis' Caleb Bell scored 39 points and Andrew Sanford 21. The Tigers also received 14 points from John Pruitt and 13 from Tanner Day.
• Baylor Pospisil led the way with 21 points and three other players scored in double figures as Bridger rolled past Absarokee 74-55 after opening the game with a 22-9 run. Jake Kallevig added 16 points, Kalen Pospisil 14 and Jace Weimer 10 for the Scouts. Zacc Degele scored 12 points and Tucker Sullivan chipped in with 11 for the Huskies. 
• Shaun Ball poured in 28 points and Corbin Lone Bear added 18 as Dodson raced past Frazer 82-34. The Coyotes led by only four points after one quarter but built the margin to 15 by halftime and ran away in the second half. Julian Benson added 17 and Zarek Jones 10 for Dodson. Kayo Jackson scored 12 points for the Bearcubs.
• Treydon Brouillette hit a layup at the buzzer to give No. 10 Plains a 50-48 victory over Noxon and the Horsemen's first regular-season championship in 11 years. Kade Pardee led Plains with 21 points and Brouillette had 11. Rylan Weltz topped all scorers with 30 for Noxon. The crown snapped Arlee's five-year stranglehold on 14-C; the Warriors are now in Class B.
• No. 4 Melstone completed a perfect regular season by trouncing Broadus 69-44. The Broncs are 18-0.
Girls Basketball
Class AA
• No. 4 Billings West spread the scoring wealth, with Willa Albrecht nabbing 11 points, Mackenzie Rask 10 and Maddie Albrecht nine in a 50-41 triumph over Billings Skyview. In all, nine players scored for the Golden Bears, who led 29-14 at halftime. Brooke Berry and Cami Harris each scored 12 points for the Falcons.
• Bozeman used a 22-point fourth-quarter uprising in winning at home over Billings Senior 57-50. The Hawks outscored the Broncs 22-11 in the closing eight minutes to erase a 39-35 deficit. Addi Ekstrom's 18 points sparked the Hawks. She shot 7 of 8 from the foul line during the fourth quarter. Teammate Macy Mayer tossed in 13 and Miza Lewis 10. Bozeman scored 15 of its 22 points in the fourth at the foul line. Senior received 11 points apiece from Brenna Linse and Cass Venner. Bailey King added 10.
• Jenna Johnson topped all scorers with 22 points and Kalispell Flathead toppled Butte 56-52 in a Western AA game where the largest fourth-quarter lead by either team was four points. Mackenzie Tutty led the Bulldogs with 14 points, Makenna Carpenter finished with 13 and Haley Herron contributed 10.
Class A
• Kyndall Keller led four players in double figures with 16 points and No. 3 Havre moved to 15-1 with a 67-35 romp over No. 4 Browning. Kadia Miller scored 13 points, Sadie Filius 11 and Kylie Walker 10 for the Blue Ponies. Tamika Guardipee topped the Indians (13-3) with 11 points. 
Class B
• Maddison Underdal pumped in 19 points and Bailey Johnson added 13 to carry Shelby over Cut Bank 55-39. The Coyotes led 14-9 after one quarter and gradually built the gap the rest of the way. Jada Doore scored nine points, and Aryana Black and Sadie Pepion each contributed eight for the Wolves.
• Hannah Obert led 12 Columbus players in the scoring column with 16 points and the seventh-ranked Cougars coasted past Red Lodge 64-30, breaking open a close game with a 19-3 second quarter to lead by 20 at halftime. Red Lodge was paced by eight points from Isabelle Sager.
• Scoring was at a premium, but 10 points by Peyton Vogl and seven from Mel Woodward were just enough to help Townsend squeak past Whitehall 27-26. Jada Clarkson led the Trojans with 11 points. Whitehall led by two points entering the fourth quarter. 
• No. 2 Big Timber thumped Manhattan 63-35 and stayed unbeaten (17-0) as Bailey Finn and Emily Cooley led the Sheepherders with 15 and 14 points. Darby Johnston scored 12 and Lauren Niebur 10 for Big Timber. Jasmine Grossman had 14 points for the Tigers.
• Three Forks ran away from Deer Lodge, locking up the Wardens 42-18. The Wolves were led by Kendall Lynn and Breanna Bloch's 13 and 12 points. The Wardens received nine from Rachel Nicholson.
• Jadyn Pluid and Megan Hanson each scored 12 points and Eureka survived Thompson Falls 57-55 in double overtime after watching a nine-point lead early in the fourth quarter slip away. Ellie Baxter scored 19 points, Belle Cooper 13 and Jody Detlaff 11 for Thompson Falls.
Class C
• Sarah Billmayer scored 19 points and sister Emma Billmayer chipped in with 14 to lead Turner past Big Sandy 60-25. Brooke Reed scored nine for the Tornadoes, who led 19-9 after one quarter and coasted from there. Seanna Demontiny scored eight to lead the Pioneers. 
You have free articles remaining.
• Ceara Miske had 18 points and Wibaux had too much horsepower for Chloe Tudor and Plevna in a 57-35 triumph. Eight players scored for the Longhorns, who jumped to a 19-2 lead after one quarter. Tudor's 21 points topped the Cougars. 
• Kiersten Van Kirk had 17 points and seven rebounds, and Kylie Thompson pitched in with 12 points to lead 10th-ranked Manhattan Christian past Gardiner 73-46. Eliana Kuperus added 10 points and seven rebounds for the Eagles, who improved to 15-2 in winning their Senior Night game. Josie Thomas led Gardiner with 10 points, and Bailey Fuhrmann had eight points and 10 rebounds.
• Jenna Rust led the way with 21 points and Elizabeth Field scored 16 as No. 8 Westby-Grenora kept up its winning ways by thumping Culbertson 54-36. The Thunder (16-1) led by only six points after one quarter but outscored the Cowgirls 20-2 over the next eight minutes. Kelsie Williams scored 10 points and Faith Bowland added nine for Culbertson.
• Liv Wangerin was dominant with 27 points and Plentywood used a big second quarter to cruise past Savage 65-35. Emma Brensdal added 11 for the Wildcats, who led by six points after one quarter and outscored the Warriors 17-4 in the second frame. Haylie Conradsen led Savage with 17 points.
• Hayley Story led with 18 points and Park City used a balanced offense to topple 61-30. Eight players scored for the Panthers, who bolted to a 17-4 first-quarter lead. Abby Hoffman added nine points for Park City. Kenzie Pitts scored nine points and Hailey Croft added eight for the Rockets. 
• Hope Buessing pumped in 21 points and Bridger built a sizable early lead, watched Absarokee mount a rally, then pulled away late for a 43-32 win. The Scouts led 10-2 after one quarter but the Huskies trimmed the deficit to four entering the final eight minutes. Lexi Feddes scored eight points to top Absarokee.
• Sylvie Stewart led four players in double figures and No. 7 Plenty Coups improved to 14-1 by pounding Reed Point-Rapelje 71-29. Anonda Goes Ahead scored 14 points, Lois Flat Lip 11 and Sephra Covers Up 10 for the Warriors, who led by 10 points at halftime and ran away with a 43-11 second half. Justice Albers was the bulk of the offense for he Renegades with 16 points. 
• Kaitlyn McColly had the hot hand with 23 points, Kia Wasson scored 15 and Jaycee Erickson helped with 13 as Saco-Whitewater-Hinsdale thumped Lustre Christian 76-13, shutting out the Lions 26-0 in the second quarter to lead 46-16 at halftime. Alexa Reddig scored eight for Lustre Christian.
• Jadyn Gackle led a balanced Fairview offense with 13 points and the Warriors rolled to a 52-30 win over Bainville. Montana Zevenbergen and Megan Asbeck each pitched in with 10 points for Fairview. Kiylee Kellis topped Bainville with nine points, followed by Lakyn Rabbe at eight.
• Heather LaBree, Hannah LaBree and Kenzie Tooke all scored points in double figures as Ekalaka won at home against Terry 63-8. Heather LaBree led the charge with 14 points, followed by Hannah LaBree with 12 and Tooke with 11. The Bulldogs were up 37-6 by intermission. Taylor Wagner and Sarah Dyer did all the scoring for Terry.
• Klaire Kovatch had 19 points, 10 rebounds, four steals and four assists to lead Seeley-Swan to a 56-31 romp over Darby and the regular-season championship. Emily Maughan added nine points and four steals for the Blackhawks, who jumped to a 21-2 first-quarter lead. Amber Anderson topped the Tigers with eight points.
• Harlowton-Ryegate received 14 points from Keeley Chrest, 11 from Karli Lane and 10 from Teagan Olive in dispatching Broadview-Lavina 52-11. The Engineers held the Pirates scoreless in the second and fourth quarters. 
• No. 2-ranked Belt received 15 points from Kolby Pimperton in beating visiting Denton-Geyser-Stanford 62-21. The Huskies (16-1) led 18-7 after one quarter and 36-13 by halftime. Pimperton knocked down three 3-pointers in the second half. Teammates Kyelie Marquis (11) and Brooke Schraner (10) also scored in double figures for Belt. Mariah Schott had seven points for D-G-S.
• Olivia Geer had a big night with 21 points and No. 3 Roy-Winifred bumped its record to 16-1 with a 77-40 trouncing of Hays-Lodgepole. Dyauni Boyce scored 16 points and Isabelle Heggem added 12 for the Outlaws. Hays-Lodgepole received 12 points from Mulleah Stiffarm and nine from Sierra Chandler. 
• Sydney Dethman's 11 points led the way as Froid-Lake slipped last Circle 31-29.
• Abby Pierce scored 13 points and Jordan dug itself out of a hole with a second-half rally to down Winnett-Grass Range 51-41. The Mustangs trailed by five points at halftime and one entering the fourth quarter. Tia Stahl, the 406mtsports.com female athlete of the month for January, led the Rams with 19 points and Mya Olsen added 13. 
• Melony Fetter scored 27 points and Dodson raced to a 13-point first-quarter lead en route to a 55-42 win over Frazer. Christina Jaynes added 16 points for the Coyotes. Kaylandra St. Marks scored 20 and Justine Smoker 14 for the Bearcubs. 
• Plains rolled to a 52-9 win over visiting Noxon and locked up the No. 3 seed at the Western 14-C district tournament. Plains jumped to an 8-1 lead after one quarter, led 21-6 at the half and took a 35-7 advantage into the fourth quarter. Senior Kylee Altmiller led the Trotters with 21 points.
• Danielle Horan scored 18 points and Dakota Auck added 16 for Hobson-Moore-Judith Gap in a 50-45 triumph over Centerville. Hailey Konesky scored nine points for the Miners. 
• Landri Paladichuk led with 15 points and Jenna Snider had 14 to fuel Ennis past Drummond 47-34. Deana Parke's 14 points paced the Trojans.
• No. 5 Melstone wrapped up a perfect regular season with a 66-14 romp over Broadus. The Broncs are 18-0 heading into the postseason.
20-Point Club
48: Nathan Brown, Lincoln
39: Caleb Bell, St. Regis
28: Carson McGuiness, Centerville
27: Liv Wangerin, Plentywood
27: Blayne Deroche, Browning
27: Melony Fetter, Dodson
27: Maeson Cotter, Laurel
26: Daynon Bear, Reed Point-Rapelje
24: Tyson Fiickinger, Plentywood
23: Kaitlyn McColly, Saco-Whitewater-Hinsdale
23: Brendan Falls Down, Plenty Coups
23: Josiah Amunrud, Manhattan Christian
23: Dawson Murnion, Jordan
23: Rocco McMakin, Lame Deer
22: Mathew Eike, Hobson-Moore-Judith Gap
22: Colby Martinez, Columbus
22: Jenna Johnson, Kalispell Flathead
21: Jenna Rust, Westby-Grenora
21: Hope Buessing, Bridger
21: Devin Gobert, Cut Bank
21: Zack Thomas, Hobson-Moore-Judith Gap
21: Eli Williams, Culbertson
21: Kylie Altmiller, Plains
21: Baylor Pospisil, Bridger
20: Sylvie Stewart, Plenty Coups
20: Kaylandra St. Marks, Frazer
20: Carter Johnson, Sidney 
20: Junior Bergen, Billings Senior