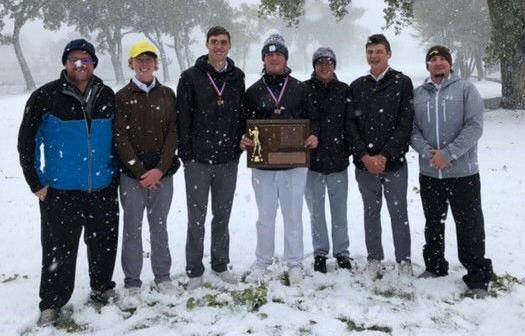 GREAT FALLS - Despite a snowstorm impacting the tournament halfway through the final day of the Class AA State Golf Championships, the tournament pressed on at Meadowlark Country Club concluding with Bozeman taking both the boys' and girls' titles.
This is the fourth straight title for the Hawks girls, and the second straight for the boys. Sophomore Justus Verge took top scorer for boys for the second year in a row, shooting an even-par 144 over the two days.
Cooper Knarr's second-day 78 helped lift the girls to their title, while Billings West's Carrie Carpenter held onto a four-stroke lead and followed up a first-day 75 with another to claim top scorer, despite the harrowing conditions.
The Bozeman girls claimed their fourth-straight team title with a 700, the Golden Bears took second (722) and Butte — which led by six strokes after the first round — settled for third place for the second straight year.
In the boys tournament, it was all Bozeman. Verge surged to a consecutive first-place title while propelling the Hawks to a second-straight team title. Bozeman finished with 620 strokes and was followed by Missoula Sentinel in second with 688 and Helena Capital in third with 690.
While the Helena Capital boys couldn't quite hang with Bozeman, the Bruins did manage a third-place finish under head coach Casey Lyndes and in the process, they had two golfers earn All-State honors.
The first was Gabe Witham, who capped a stellar two-day showing by finishing fourth among boys in the individual competition. Teammate Trevor Swanson, also finished 15th to make the All-State list. 
"I am proud of the two of them," Lyndes said. "They deserve it."
Witham finished the tournament with a two-day total of 160. Swanson joined three other golfers at 171.
Caswell Bloomquist (31st, 177), Dutch Teders (T-41, 185) and Brett Stoos (T-51, 193) also helped bring home the third-place trophy with solid rounds on Monday and Tuesday, despite facing blustery winds on day one and snow storms on day two.
It was also the first state golf trophy of any kind, girls or boys, for Helena Capital since the girls team took third in 2006.
"I am proud of the boys," Lyndes said. "They all played well in less than favorable conditions. The weather was horrible both days. Caswell, Dutch and Brett did a nice job of keeping their focus and saving strokes where they could."
Capital had a couple of girls drop out of the tournament due to illness, so the Bruins didn't notch a team score, however, Lexi McNew put together a solid performance and shot in the 90s both days. She finished three strokes shy of being All-State as she was 20th with a total of 190. Zita Gravely was 30th (202) and Megan Swanson wound up 50th (236).
"Reflecting back on my first year, I'd say it was a successful one," Lyndes said. "All our kids improved from day one and we brought home a trophy."
The weather wreaked havoc on the Class AA field, but it was particularly hard on the Helena High girls.
The Bengals were hoping to bring home a trophy of their own but ended up finishing fifth. The boys team, which was lean on experience, finished 14th.
Yet, Helena High was still able to place three girls on the All-State team as Ginny Kerr, Lauren Williams and Celi Chapman each finished in the top 15 to earn All-State honors.
Kerr finished fifth (174) to lead the Bengals. That result also gave Kerr, a senior, her third straight All-State showing at the Class AA state tournament. 
"That's quite an accomplishment," Helena High golf coach Bob Tipton said of Kerr.
Williams and Chapman each tied for 15th with final totals of 187, while Pilar Santos wasn't far behind in 27th with a 200. Jadyn Johnson also competed and logged a two-day score of 233.
Luke Thompson was the top finisher for the Helena boys and he ended up tied for 35th (182). Byren Stoner was 58th (199), Adler Lybbert was tied-60th (202), Myles Jacobs shot a 231 to get 66th and James Lane shot a 214 to wind up 70th.
"Craziest tournament ever," Tipton said. "50 MPH winds the first day -- a tree blew down. (Tuesday) was snow and cold. At the end, kids were creating snowballs when they putted."
"All in all, I couldn't ask of anything else from these kids," he added. "I am proud of be their coach." 
Evan Reier contributed to this report 
yChris is the sports editor and lead preps reporter for the Independent Record and 406sports.com. Follow him him on Twitter @cmpetey406
Be the first to know
Get local news delivered to your inbox!