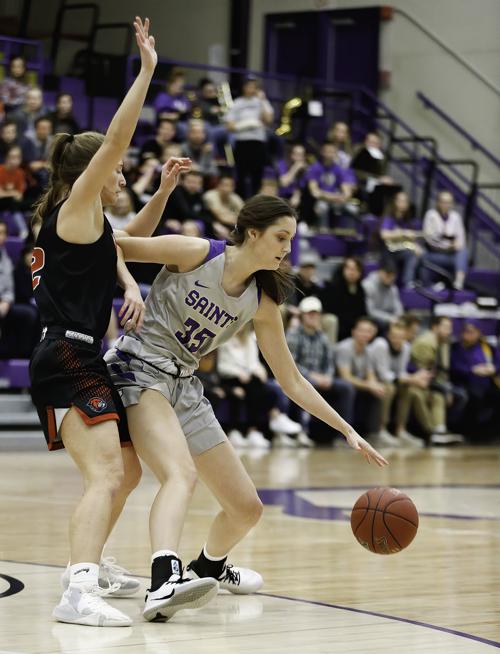 HELENA — If you are familiar with Frontier Conference basketball, you know that the teams beat up on each other.
There are no surprises anymore and everybody has a shot.
This season the teams have only played one another one time, and five of the seven teams are only separated by two games.
There are some favorites and plenty of time for teams to make up ground.
So after everyone playing each other once, let's see where everyone stands in the power rankings.
Agree or disagree? Let me know on Twitter at @rskuhn
1. Carroll College (13-5, 5-1 Frontier)
Carroll College has been the most consistent team in the Frontier Conference thus far.
A trip to Arizona must have done wonders because since its day one loss to Our Lady of the Lake, the Saints have won the last six games.
Not only have they been winning, but they have been pulling out tight wins against teams such as Providence, Rocky Mountain and Montana Western.
The scoring duo of Danielle Wagner and Christine Denny have been key to the offense and sparks off the bench from Jaidyn Lyman and Taylor Salonen have given them life.
Carroll looks like the team to beat. It's up to the rest of the Frontier teams if they want to stop them.
Next up: at Montana State Northern (1/22), at Providence (1/25)
2. Montana Western (11-6, 4-2 Frontier)
Montana Western showed it could win with a high-profile scorer and a bunch of seniors after cutting down the nets last season.
Now, the Bulldogs are showing they can win without them too.
Sure, they lost to Carroll on the road in a unusually high scoring game, but they came back to defeat Rocky Mountain one day later at home.
While guard Shannon Worster has been Montana Western's go to scorer this season, the Bulldogs showed she had help as 10 different players scored in the win.
No one scored more than eight points, but they only shot 37 percent from the field.
Imagine what they could do if they were making half their shots.
Next up: at Lewis-Clark State (1/23), at Montana Tech (1/25)
3. Lewis-Clark State (11-5, 3-3 Frontier)
Lewis-Clark State didn't start 2020 the way it would have liked losing its first two games.
But the Warriors rebounded nicely this week.
Lewis-Clark State returned home to pull out close wins against Montana State Northern and Providence.
Theres nothing like playing in a gym you are comfortable with, just ask Kiara Burlage who averaged 13.5 points during that span.
The Warriors are staying at home so look them to continue their success.
And look for Burlage to take the reins.
Next up: vs. Montana Western (1/23), Rocky Mountain (1/25)
You have free articles remaining.
4. Rocky Mountain (12-5, 3-3 Frontier)
Rocky Mountain fell to the middle of the pack after two tough losses this week.
The Battlin' Bears first lost to Carroll on its new home court and then fell to Montana Western three days later.
Rocky looked it was going to stay atop the conference standings but now with three teams sitting at 3-3, it's anybody race.
Senior post Markaela Francis showed she is capable of being one of the best players in the Frontier by averaging a near double-double with 16.2 points and 9.9 rebounds per night.
Look for the Battlin' Bears to return to form.
Next up: at Montana Tech (1/23), at Lewis-Clark State (1/25)
5. Montana State Northern (14-4, 3-3 Frontier)
Montana State Northern showed it could be one of the top teams to start the season.
But since the Frontier schedule started, they have showed they are in the middle of the pack.
Give the Skylights credit, with a nice road win over Montana Tech just days after losing to Lewis-Clark State in Lewiston, Idaho.
Montana transfer Hailey Nicholson stepped up with 24 points while McKenzie Gunter added 23 points off the bench.
Northern has a favorable schedule with three straight home games so they must make the best of it.
Next up: vs. Carroll (1/22), vs. Providence (1/23)
6. University of Providence (11-7, 2-4 Frontier)
Last season Providence was the Jekyll and Hyde team.
Sometimes it looked great and then sometimes not so much.
This season, the Argos are the same way.
After rebounding from giving up a 15-point lead to Carroll, Providence defeated Montana Tech in Butte and then lost to Lewis-Clark State.
Don't look at post players Bailey Cartwright and Parker Esary though. The duo each put up a double double down low.
Providence needs to find consistency is it wants to make it back to the NAIA Tournament.
Next up: at Montana State Northern (1/23), vs. Carroll (1/25)
7. Montana Tech (11-7, 1-5 Frontier)
The year 2020 has not been good to Montana Tech.
First the Orediggers showed they struggle on the road.
This week, they showed they struggle at home too.
Montana Tech lost its two games this week to Providence and Montana State Northern where it shot a combined 40 percent.
The Orediggers have the top scorer and rebounder in the league. What more do they need?
They need to figure it out soon to get out of the cellar.
Next up: vs. Rocky Mountain (1/23), vs. Montana Western (1/25)