HELENA — Carroll's offensive line has experienced some growing pains in the season's initial five games. It is a group that -- except for center Andrew Carter -- features four guys playing at different positions or starting for the first time at the collegiate level altogether.
"We've had to have some growing stuff going on with those guys," Carroll offensive line coach Ryan Springer said. "I really appreciate the intensity with which those guys come to practice. I think our practices have markedly improved as the season has gone along. Those guys really understand the mental intensity to practice and improve each day. Really excited about the growth of the group."
Hunter Mecham and Timothy Sellars took over the starting tackle spots after Alex Hoffman and Tanner Steele departed after the spring. Mecham was bumped outside from his guard position, a spot where he earned second team all-conference honors in the spring, and Sellars has made the first starts of his Carroll career this season.
Redshirt freshman Maverick Roberts was inserted in the starting lineup at guard after Jadon Lamb originally started the season on the left side. Sebastian Koch mainly held down that position in the spring, but has gotten snaps at right guard so far this season.
"I definitely have to be a lot more technique-sound, especially when it comes to speed or speed to power rushes," Mecham said about his move to tackle. "I have to learn the offense a little bit better than I did at guard because our guards kinda just sit there and get told what to do. At tackle you have to be able to tell them what to do. It's an adjustment, but it's one that I enjoy."
In the season's first half, there have been plenty of bright spots for Carroll's front five. Three times in five games the Saints have rushed for more than 100 yards, including a season-high 180 against Montana Tech. Carroll is averaging 110.2 yards on the ground per game behind that offensive line, but with the group's success, has also come some struggles.
Twenty-four times in five games Carroll's quarterback has been sacked, and in three out of five contests, defenses have sacked the Saints five or more times.
"We're a young group, we've got a lot of learning to do, but I think it comes down to, you have to expect yourself to win," Carter said. "You have to make yourself win. That's kinda what we're trying to get into our offensive line right now. You decide that you're going to win, you decide that you're gonna do it. You decide that you're going to block. I think that's the key to our success. We've done alright, but we can definitely do better than what we have done."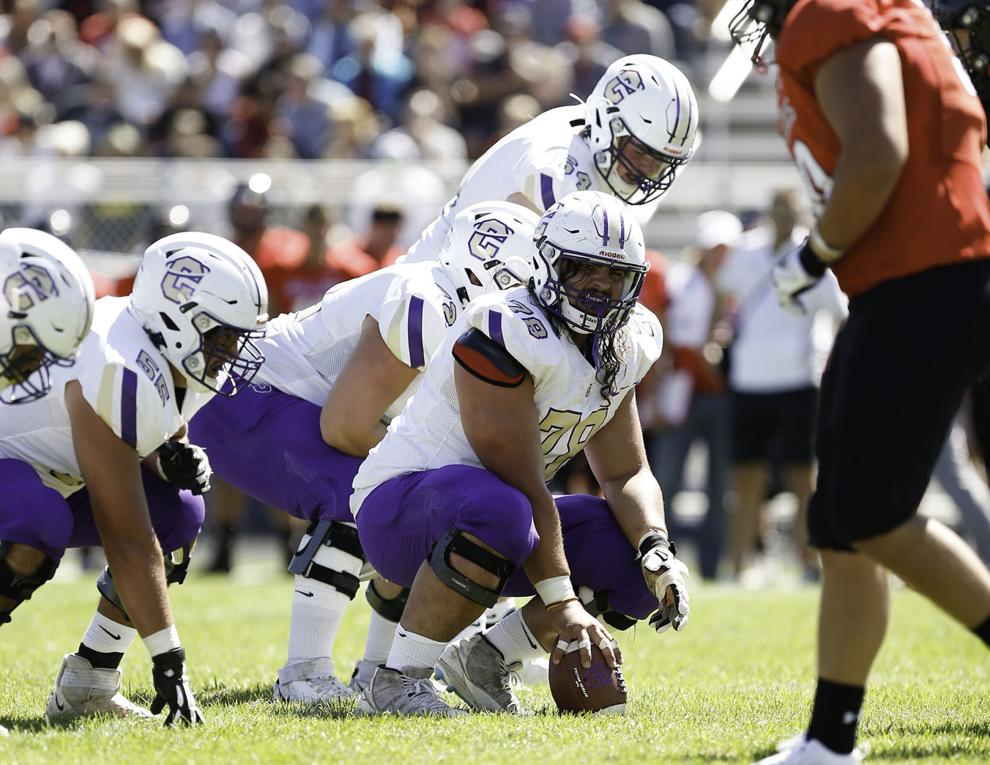 Those sack numbers work out to 4.8 sacks, on average, allowed per game, or one every 14.5 offensive plays. Devan Bridgewater was sacked 14 times in the season's first three games, including seven against Eastern Oregon.
"After the EOU game, after Devan was a little hurt, I know we all took that to heart and said, 'that's our quarterback, he's hurt because of us. We gotta protect him better,'" Carter said. "Everyday we come out here and try to fix the things that we did wrong in order to not allow our quarterback to get sacked. It's football, man. That happens sometimes. We just gotta be better and we just can't let it happen. You gotta make the choice not to let it happen."
Carter said he's seen many times this season where the offensive line has played well. Finding some consistency, as well as finishing their blocks and imparting their will on the defensive line a little more are things he said he would like to see improved.
"A lot of the times we'll be blocking the guys, we'll get them out of the gap or drive them down the field, but then they'll somehow end up off of us and we'll be chasing them back to the ball," Mecham said. "Just the finish part will definitely -- once we fix that -- allow us to be a lot better up front and move people a lot more and get a lot more yards."
The line's effort this year has never come into question, according to Springer. He has liked what he has seen from his position group in practice and on film from that standpoint. More than anything, improving play boils down to improving technique, and combined with the good effort, results will follow.
"I think we've battled really hard," Springer said. "There's definitely not any issues with some of the effort stuff. We're young, we're growing. I'm excited with some of the progress we've made with some of these guys. Coach [Troy] Purcell talks about each day [that] the aim is to get better. That's the biggest thing that we're tasking this group with is trying to improve each day and trying to have one goal each day when we get out to practice."
A day after College of Idaho sacked quarterback Jack Prka six times, Mecham and Sellars were at practice, working on technique with Colton Ball -- a defensive lineman.
"We were working on our sets to cover up speed rushes because against C of I we had some issues with that a few times," Mecham said. "We were just out there working on our angles, working on our punches, working on running around the hoop so that we don't have any other issues with a speed rush later on."
Springer called Ball one of the best speed rushers in the conference, someone who can help Carroll's tackles continue to improve on a specific area with good reps in something other than a game setting.
"Some of that stuff is things that get developed with time playing tackle," Springer said. "Tim and Hunter have had some growing that they've done with that stuff. It's one of those things where, with those guys, it continues to improve the more times they see it, the more times they get work at it. We're fortunate to have guys like Colton Ball...Colton can give us a great look and help get those guys more improved on their technique on some of that stuff. It's a daily goal for those guys, just to keep continuing to improve."