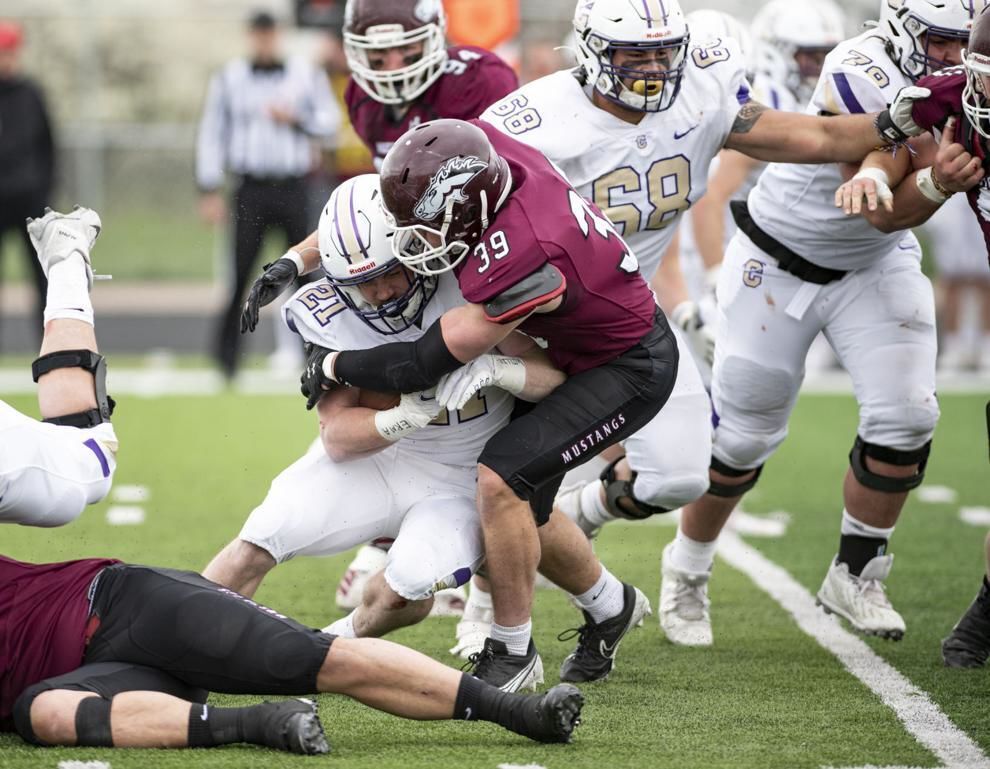 SIOUX CITY, Ia. - Carroll's 2021 spring season and run into the NAIA Football Championship Series ended with a 55-0 loss to No. 1 seed Morningside on Saturday.
The Saints, who entered the game as the No. 16 seed in the 16-team bracket, could not slow down a powerful Mustangs offense that churned out 566 yards in the win. Senior running back Anthony Sims found the end zone three times for Morningside as the home team notched a total of six rushing touchdowns.
Mustangs quarterback Joe Dolincheck, who entered Saturday's game leading the country in passing yards per game, shook off nearly five months of rust and racked up 322 yards through the air on 21-for-25 passing.
"Unless you're the last team to win it, you're pretty much the only team with a smile on your face," Saints head coach Troy Purcell said postgame. "Then you gotta look back on the season and see how your program has grown and how your kids are getting better and how your coaching staff is getting better. Learning how to win and you gotta learn how to lose, also. You don't ever dwell on games like this, but I did tell the guys, 'let's remember this one.'"
Carroll managed just 3.9 yards per play on the evening, and despite moving the ball with some ease in the second half, could not get much rhythm offensively. Redshirt sophomore quarterback Devan Bridgewater threw two second half interceptions and was 14-for-31 through the air for 131 yards.
After forcing a turnover on the Mustangs' first drive of the game and a punt on the second, Carroll's defense yielded a fourth and 10 conversion that only a couple plays later gave way to Morningside's first score of the contest. That drive opened the floodgates as the Mustangs scored on each of its next four possessions, including a botched Carroll punt returned for a touchdown.
"They're a good team," Purcell said of Morningside. "I think some of the turnover stuff kinda shows when you're not playing games where that opportunity to turn the ball over could happen. They bounced back and they didn't let it affect them at all. Offensively, we gotta establish some drives. They put the ball on the ground that many times, we need to get some first downs and change the field position game and get them off the field."
In total, Morningside capitalized on two Carroll special teams mistakes to build a 34-0 advantage by halftime, including a blocked punt that set the Mustangs up for a quick 17-yard pitch-and-catch to go up 20-0 in the second quarter.
While the Saints notched 17 first downs on Saturday, Morningside racked up that many on pass plays alone on the way to 30 total first downs. A 7.4 yards per play clip helped that effort, as did a 5-for-9 showing on third downs.
"It wasn't our day today," Purcell said. "Hats off to Morningside and that coaching staff and players. There's a reason why they [have] 38 wins in a row and two national championships. It was a great way to put a measurement up for us as coaches and the players and see where we're at with this program right now. Now we're ready to take the next step and now it's time to win in the playoffs."
For a team like Carroll that featured just one senior on its defensive two-deep and only three senior starters, this now completed spring season will only pay dividends when the fall rolls around. Redshirt freshmen and sophomores without previous game experience gained that this season, and while sometimes the play was not pretty, those players now understand what game speed looks like and can adjust accordingly.
"The experience has just been unbelievable for these guys to have," Purcell said. "Anybody that didn't play, they got all these freshmen and sophomores that don't have true game experience, and now our guys do."
This spring was also an opportunity for Carroll's coaching staff to see what did and did not work as far as personnel, scheme and a countless number of other aspects of the game goes. Now equipped with some down time before fall camp comes back around, those issues can be addressed, turning the Saints into a more prepared and capable team in the fall.
Next up on the priority list for the Saints is making sure they finish the semester strong in the classroom and then hit the weight room to begin preparing for a fall season that will be here before you know it.