HELENA — Less than six months after helping the Blue Ponies capture another Class A State Championship, Havre High's Sadie Filius signed to continue her basketball career at Carroll College. The first signee of the Saints' 2022 recruiting class, Filius is a two-time state champion, and still has another prep season to go.
"She's a winner," Carroll women's basketball coach Rachelle Sayers said. "Her toughness, her competitiveness, the fact that she's been on two state championship teams at Havre, those are qualities that you can't teach. The things that she came in with, the intangibles, are things that are really, really important to us. For us to keep the standard that we've set, we've gotta recruit kids that understand that level of competitiveness."
Filius scored 18 points in the state title game back in March and strung together clutch play after clutch play to lift Havre over Billings Central. A three-point play in double overtime and two more clutch free throws sealed a four-point victory for the Blue Ponies.
"You see her leading her team on both ends of the court," Sayers said of Filius. "She plays as hard defensively as she plays on the offensive end. She's gonna get the loose ball, she's gonna beat every kid to that loose ball. She's gonna inspire her teammates to play with that toughness and that aggressiveness. She can get to the rim and finish...she's doing a little bit of everything really well."
Filius said Carroll has recruited her for about a year and it was some interactions with players and coaches that helped make up her mind to become a Saint. Making a decision this early -- before the school year starts -- also relieves some pressure heading into her senior season.
"I just fell in love with the team atmosphere and all the coaches," Filius said. "The academics fit really well for me...I really love this school and the coaches and everyone. I felt like it was the right time and the right fit. I just wanted to have it out of the way for my senior year so I can just play."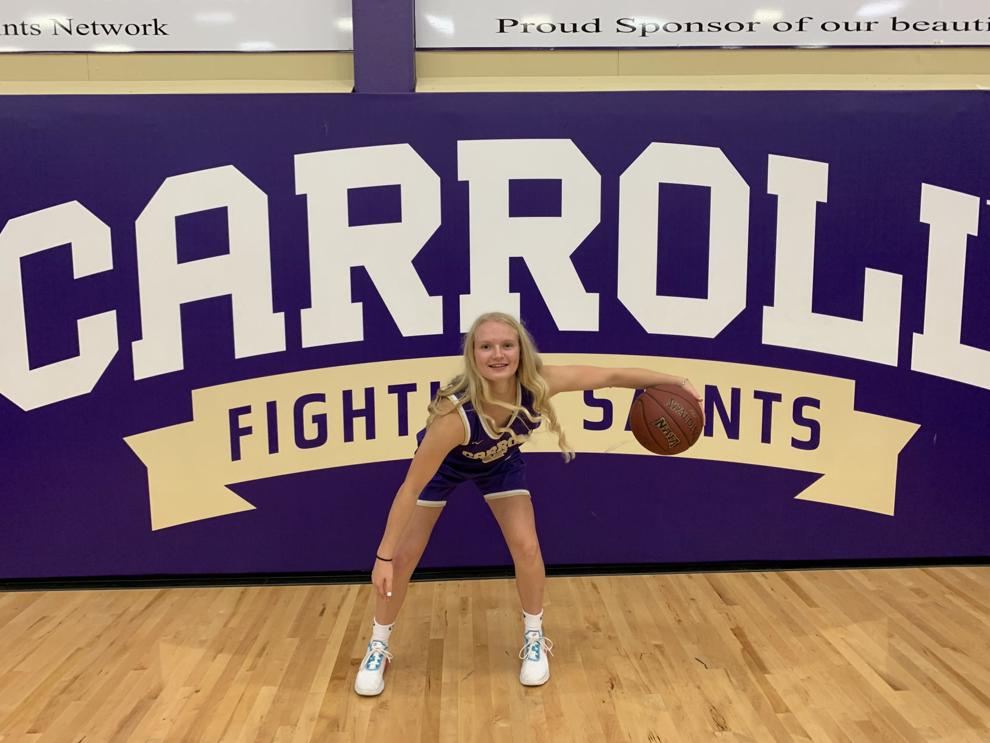 Right now, Filius said she wants to major in mathematics with a focus in engineering at Carroll and said the family-like atmosphere around campus and the basketball team was a big part of her decision to don the purple and gold.
For the program, the addition of Filius gives the Saints a really solid start to their 2022 recruiting class and fills a need with a local player.
"This is a big get for us," Sayers said. "We definitely need a point guard in that 2022 class. I love her competitiveness, she's going to be a great floor-leader for us. She's going to be ready to step in and play at this level. With the work ethic she has, she's going to continue to get better year after year."
Filius' signing continues the Blue Pony pipeline for the Saints' women's basketball program. In 2016, Danielle Wagner, who has scored over 1,200 points and is a two-time All-American at Carroll, was also the first commitment of her class after winning a state title with Havre in 2014.
Jolene Fuzesy -- Carroll's all-time leading scorer and only player to record 2,000 points in a career, spent her senior season of 2003-2004 with the Blue Ponies. Fuzesy was inducted into Carroll's Hall of Fame in 2019 and was a two-time All-American during her time as a Saint.
"Now we have the next crop of Blue Ponies coming in with Sadie," Sayers said. "I think Sadie will have just as much of an impact on our program as those two had...I think she's going to come in here and blaze her own trail and I think you're going to see another successful Blue Pony go through the Carroll program."
Filius said she believes Carroll is the right place to continue her success on the hardwood, but with one season of high school basketball left, she wants a shot at yet another state championship before joining the collegiate ranks.