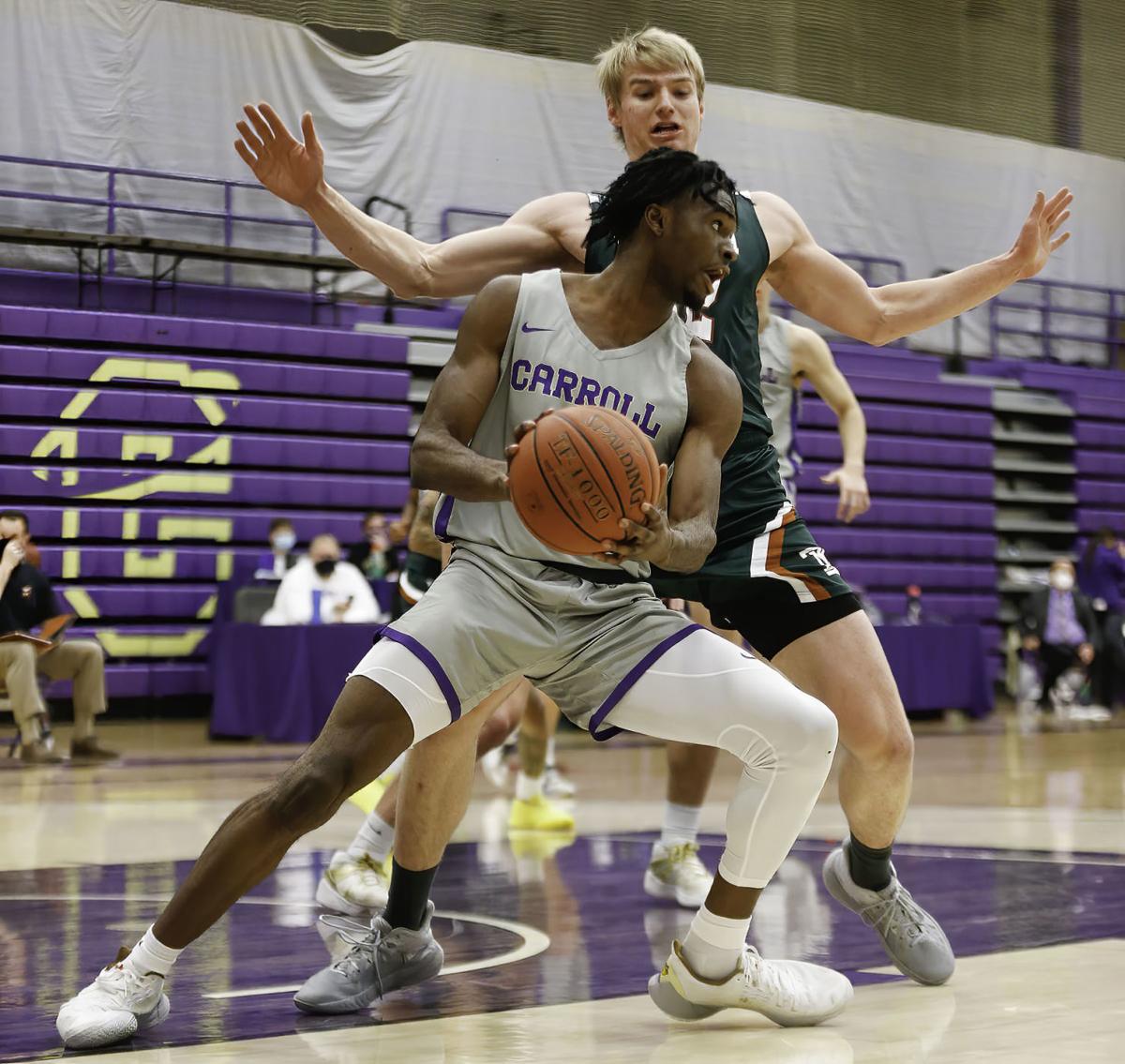 HELENA — A season that saw the Carroll men's basketball team sitting at 5-5 through 10 games has ended with the Saints reeling off 11 wins in their last 12 games to finish at 16-6 overall and 13-5 in Frontier Conference play. Four Saints scoring in double figures helped Carroll beat Montana Western 77-63 on Sunday night to accomplish that feat, and complete the season sweep over the Bulldogs.
"I just think the player buy-in has been great on the defensive end," Saints head coach Kurt Paulson said. "They've been committed to guarding hard and it's kinda helped everything. Helped us get wins and turn the thing around back in early-January."
It was fitting that Western was Carroll's final opponent of the season since the Saints seemed to turn things around during games against the Bulldogs back in early-January inside the PE Center. Since then, Carroll's record has been nearly untarnished, resulting in the Saints locking up the No. 2 seed in the Frontier tournament.
Carroll receives a bye as a result and will host the highest remaining seed from the quarterfinal round on Saturday at 7 p.m.
As for the game on Sunday, the Saints continued the same tried and true method that has carried them over the last 12 games: make free throws, play good defense, outrebound teams and shoot lights out.
"I liked how we made our free throws again, and then outrebounded them," Paulson said. "That's kinda been the theme for some wins the last three games is getting free throws and offensive boards, so that was nice to see. Our defense, again, was tough. We kept them under 65 [points], they've been scoring a lot in the 70s and 80s, and we kept them down in the 50s and 60s and that was vital."
Shooting 70% in the early-going, Carroll jumped out to an 18-8 advantage through the game's first seven minutes and change. That materialized into a 14-point halftime lead for the Saints as their lead grew to 20 points one at time in the second half.
Juniors Shamrock Campbell and Jovan Sljivancanin were dynamite once again, combining for 27 points. Sljivancanin notched his eighth double-double of the 2020-2021 season with 12 points and a season-high 17 rebounds.
Campbell pulled down seven rebounds to go with his 15 points, but also dished out four of Carroll's 13 assists. Sophomores Dennis Flowers III and Jonny Hillman joined the aforementioned duo in double figures with 13 and 10 points, respectively. Sophomore Brendan Temple and freshman Murat Guzelocak each chipped in nine points in the win.
"They were keying on Jovan, obviously he hurt them last night, so he had two to three guys [guarding him]," Paulson said. "Jonny Hillman stepped up and got loose. Gui [Pedra] got us going in the first half and then Dennis carried us in the second half."
After building a comfortable halftime advantage, the Saints went back-and-forth Western in the waning 20 minutes. The Bulldogs would cut Carroll's lead down to 10 or 11 points, only for the Saints to stretch it back to 15-plus points. Each team scored 34 points in the second half, preserving Carroll's first half edge.
Led by Sljivancanin, Carroll had its way with Western on the boards, out-rebounding the Bulldogs 41-26 on Sunday. That number included a 14-7 margin on the offensive glass as the Saints also out-scored Western 38-24 in the paint.
Three Western players scored in double figures, led by junior Jamal Stephenson who scored 16 points on 6-for-12 shooting. Seniors Jalen Hodges and Max Clark each chipped in 15 points, but Western shot just 41.1% from the field as a team. That mark included a 10-for-29 (34.5%) effort from 3-point range as Stephenson accounted for four of those triples in the loss.
Carroll, however, shot 47.7% on Sunday and 44.4% from long range. Flowers and Campbell each buried three 3-pointers and Hillman knocked down two of his own.
The Saints, like their female counterparts, will be forced to wait until Thursday night to see who their opponent in the semifinals will be. The Carroll men get the highest remaining seed from those quarterfinal games and will host that team inside the PE Center on Saturday at 7 p.m. following the women's game.
Asked how important it was for his team to have home court advantage in the semifinals, Paulson had a quick and simple reply.