HELENA — Basketball season is upon us. In about a week, Carroll's men's basketball team is scheduled to begin its season against Yellowstone Christian College with the women following eight days later with a matchup against Southeastern.
On Monday, however, fans will get an opportunity to see both teams in action during the annual purple-gold scrimmage, an event that acts as a preseason intra-squad tune-up game.
"It will be a nice chance Monday to see the guys in an organized setting with referees," Saints men's coach Kurt Paulson said. "Kinda see what we got just in time for a Friday opener. It'll be a fun week next week. I'm sure the guys are excited to play somebody else starting Friday."
The scrimmage will feature three, 10-minute running clock quarters for both the men and women beginning at 6 p.m. Carroll's junior varsity program will play three, five-minute running clock quarters after both varsity programs finish.
"I think the players are really excited to get out there and scrimmage and finally have some fans in the stands," Saints women's coach Rachelle Sayers said. "It was a long year last year and a long summer. We've been going hard for three weeks now. They're excited. They would rather go against somebody else, but just to get out there and have a full scrimmage is going to be a lot of fun."
Sayers said that, with the season approaching, Monday will be a good measuring stick for where her team is conditioning-wise, and it will also give the coaching staff some game-like film to break down ahead of the team's first contest.
There exists a good amount of expectations around the women's team heading into this season, and the same can be said for Paulson's group. In three seasons, Paulson has led the Saints to a national championship game appearance and three-straight NAIA national tournament bids, including a run to the final eight last season.
"It's kinda been a whirlwind ever since the season ended," Paulson said. "We're back at it and it's exciting because we have a lot of returners. We actually have some veteran, older players for once it feels like. The expectations, for me, would be to just get better each day. I don't want guys thinking about the end goal, I want them just thinking about the scrimmage on Monday. Take it a week at a time."
Over 84 percent of last year's scoring is back for the Saints. Four out of five starters are also back for a program that knocked off two top-five teams on its way to a second-round run in Kansas City. Carroll did that without a senior on its roster, but this year, it has two seniors in Shamrock Campbell and Jovan Sljivancanin.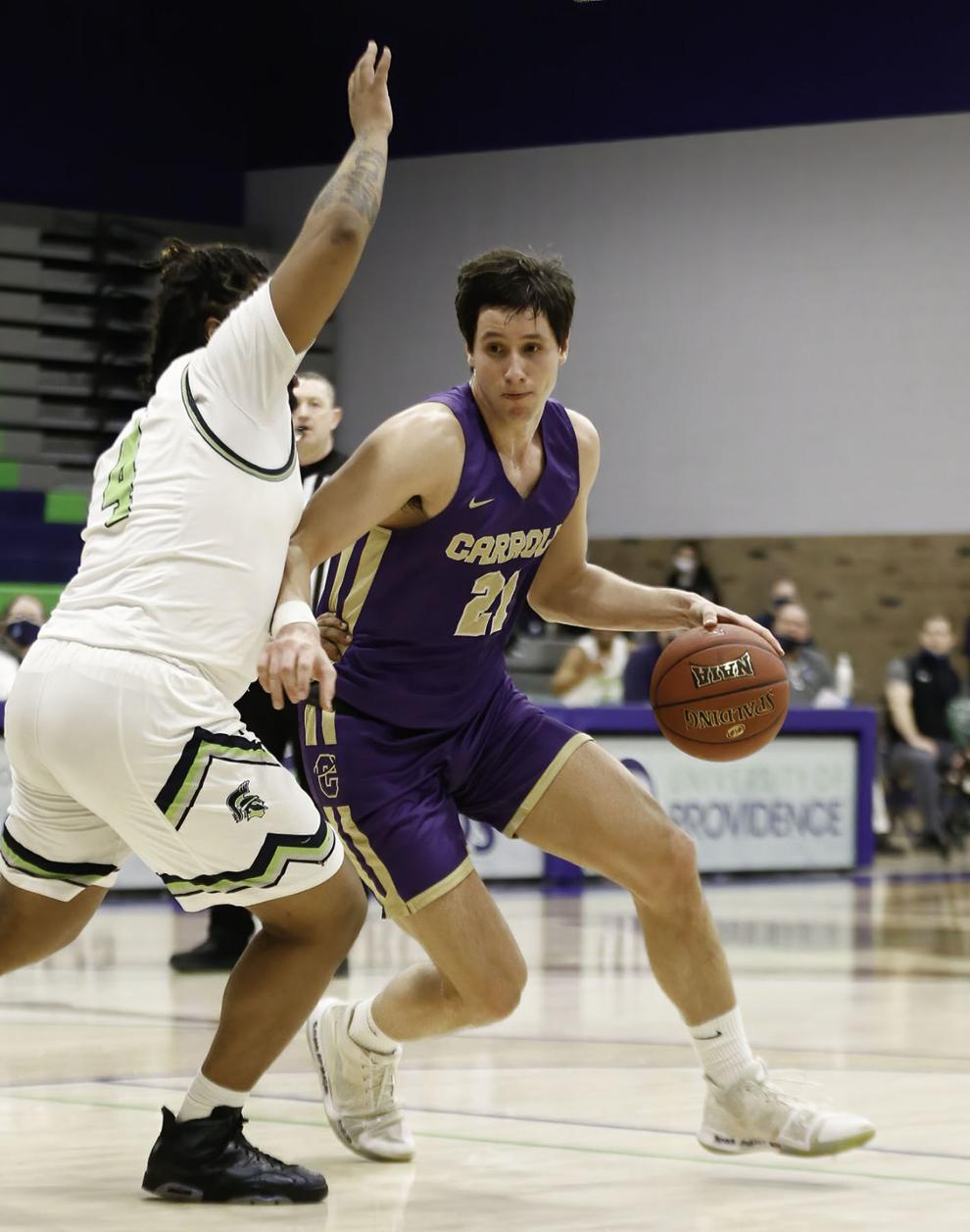 Both were all-Americans last season after they each averaged north of 14 points per game and shot at least 47 percent from the field.
"Just to set the tone," Campbell said of his role as a leader. "Setting the expectations for the season. Coming in and working hard everyday. That's kinda what we're about here, getting better everyday, taking it day-by-day. Just getting better. By the end of the year, the days are gonna add up. We seem to peak at the end of the year every year, so I think it's just coming in with a great attitude and working hard everyday...
"Just be a great teammate. Be the best leader I can be, be a great teammate. Go out there and play as hard as I can everyday. That's really what I work on. That's my main goal."
Players like Brendan Temple, Ifeanyi Okeke and Jonny Hillman are all entering their junior seasons after playing big-time minutes for the Saints a year ago. Okeke played in all but one game last season, but started just six of them, earning co-sixth man of the year honors after averaging 7.3 points and 4.7 rebounds per game. Paulson confirmed he will start in the early-going this year.
Carroll's third-leading scorer, Dennis Flowers III, transferred in the off-season, leaving a guard spot to fill. The Saints have plenty of options for that position, including Hillman, Gui Pedra and freshman Andrew Cook, to name a few. Paulson said that while a couple positions are solidified heading into this week, some are not, and could change weekly until he and the coaching staff find a rotation that works well.
Having two seniors, especially the caliber of Campbell and Sljivancanin, takes a lot of pressure off the coaching staff knowing they have two all-stars to lead the team on both ends of the court.
"When you've got Shamrock, you're always a lot calmer than when you don't have him," Paulson said. "He's steady at the point guard and then Jovan is going to be one of the best players in the country for our level. We're excited. The younger guys are good, also. Excited about the team, of course, we should be."
With so many returners comes an increased level of chemistry. The veterans on Carroll's roster have played many games together, and have spent even more time on practice courts with one another.
"We're all really close," Campbell said. "We all play really well together. Jovan, Murat, Ifeanyi, they're all great passers out of the post. We're all unselfish, we know we're gonna find each other. The more we play together, we're gonna be in the right spots. I think our chemistry level is pretty high, so just excited for the season."
The eight newcomers to the roster are trying to build some of that same chemistry. A handful of those freshmen will likely challenge for playing time this season, and one or two may even start in the early-going. Garrett Long, a freshman from Washington, said that with so much experience on the roster, he is just trying to soak up as much as possible and learn from a tight-knit group that has accomplished a lot.
"[They're] just always talking with us. It doesn't seem like there's too much of a stigma, everyone fits in well together," Long said. "Just trying to learn as much as I can from the older guys. They've been through it all. They've been in the nationals and all that. Just trying to take bits and pieces [from that]."
Having advanced to the Frontier Conference tournament championship game three-straight seasons under Paulson, a year-end goal has to be to break through and finally bring home the trophy. The Saints likely are not thinking about that too much right now, but the same formula Carroll used to get there last season will be the same one it uses this time around, too.
Carroll finished top-10 in both scoring defense and rebound defense last season. Despite averaging just 72 points per game, the Saints won 20 contests, in part, by holding opponents to under 66 points per contest. Against the top offense in the country, Carroll held William Penn to just 62 points in the round of 16 in Kansas City last season.
About seven months removed from that game, Carroll is set to enter another season with defense as one of its biggest strengths.
"I just think defensively we're gonna cause you problems, if our guys play hard, which I know they will," Paulson said. "I think defensively is going to be our strength. We're just gonna be hard to score on if we wanna be."
The Carroll men will tip off their 2021-22 season-opener on Friday at home against Yellowstone Christian College at 7 p.m.