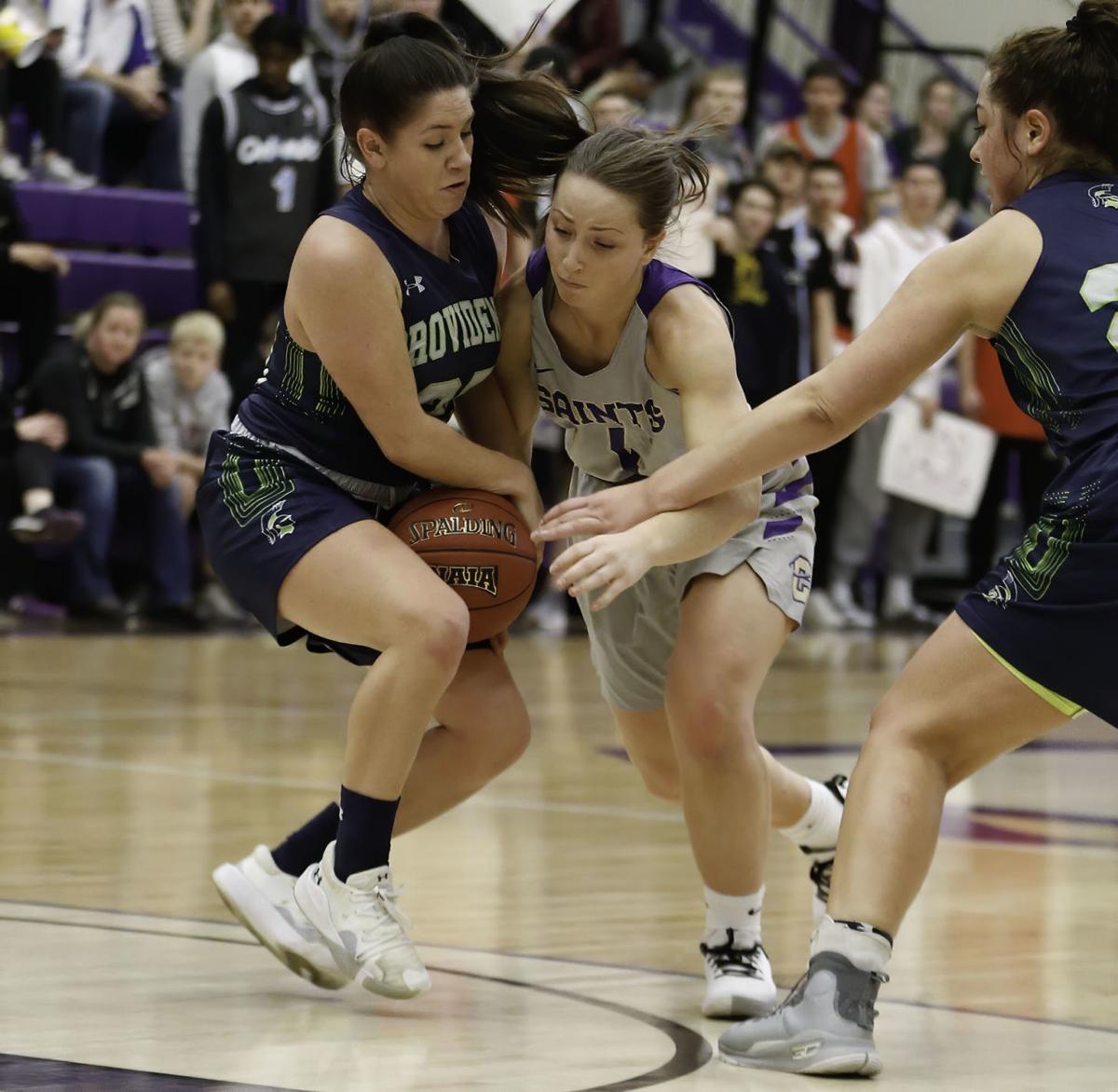 HELENA — University of Providence women's basketball coach Bill Himmelberg had a message for his team on Saturday night.
"We haven't played our best basketball yet," he said.
But his team came pretty close during the semifinals of the Frontier Conference Tournament, by upsetting top-ranked Carroll College 73-66 at the PE Center. 
The win saw the Argos' battle back from a 15-point halftime deficit and claim their first win in Helena since 2015.
"We are peaking at the right time," Himmelberg said. "Now we have to continue to do that. We have always had the talent on this team but everyone is playing for each other right now."
For Carroll, the Saints now will sit back and wait to see if they will make the NAIA National Tournament as an at-large seed.
"I don't ever like to think we need to take a loss to lean something but I think we need to step up in the tough times," Carroll coach Rachelle Sayers said. "We crumble a little bit under pressure."
The Argos' faced the task of running the gauntlet of road games, after finishing the regular season in fifth place, but it sure didn't look intimidated to start.
Providence's methodical style of basketball of feeding all-conference post Parker Esary paid off.
Carroll would score whether it was a shot inside by Christine Denny or Emerald Toth, but Esary and the Argos answered back. 
But at the midway point of the first quarter, Providence's determination gave them the lead when grad transfer Bailey Cartwright's three-point play put them ahead 13-12.
Another shot inside by Cartwright, ended the quarter with Providence ahead 17-16.
"Their posts are a lot bigger and aggressive," said Denny, who finished with 21 points in the losing effort.
Carroll decided to speed up the tempo during the second quarter and slowly started to create some distance.
Danielle Wagner hit a shot inside and Sienna Swannack raced down the court to score on a layup to go ahead 24-19 in the opening minutes.
Then the 3-pointers started to fall.
Denny hit once followed by a shot in the corner from Kamden Hilborn to go ahead by double-digits with less than five minutes remaining in the half.
Another 3-pointer by Hilborn looked like the Saints were going to waltz to the Frontier Championship game as they held onto a 45-30 lead.
But in Providence's locker room Esary knew this was a position the Argos have been familiar with.
"We have been down this way
before," Esary said. "There was no way we could have gone home without a win. We wanted to show the conference our place and there was no giving up."
And Esary was going to do it her way.
A shot down low cut the deficit down to 12 points.
An up and under move brought the deficit within single digits.
While all of her 27 points were scored within feet of the basket, she joked she could hit a 3-pointer if she wanted to.
"I've made four this season," she joked.
But the outside shots were left to Emilee Maldonado and Reed Hazard.
Hazard's tied the game and the Argos held all the momentum.
"We let them get too many paint touches, we let Maldonado run the show and we gave up too many offensive rebounds," Sayers said. "Those were the things we really talked about."
Providence brought it's lead up to 70-66 with 45 seconds left and after a pair of 3-pointers missed by Denny, Carroll watched Providence continue its Cinderella run.
But will the Argos make the NAIA National Tournament?
They snuck in last season as a No. 8 seed nearly knocking off No. 1 Campbellsville, but nothing is guaranteed without that automatic tournament berth granted to the Frontier Conference Tournament Champion.
So, Providence will now continue their road trip down to Lewiston, Idaho to face Lewis-Clark State who upset Montana Western.
"Playing at their place is pretty hard and they have some good shooters," said Esary, who also grabbed her 10th rebound in the final minute to score the double-double. "We have to make sure we play great defensively."
No matter what happens in Tuesday's Championship game, Himmelberg knows what time of the year it is.
"Anything can happen come March," Himmelberg said. "Especially when we are peaking at the right time."
Ryan Kuhn covers Carroll College athletics and high school sports for the Independent Record and 406mtsports.com. Follow him on Twitter at @rskuhn
Be the first to know
Get local news delivered to your inbox!