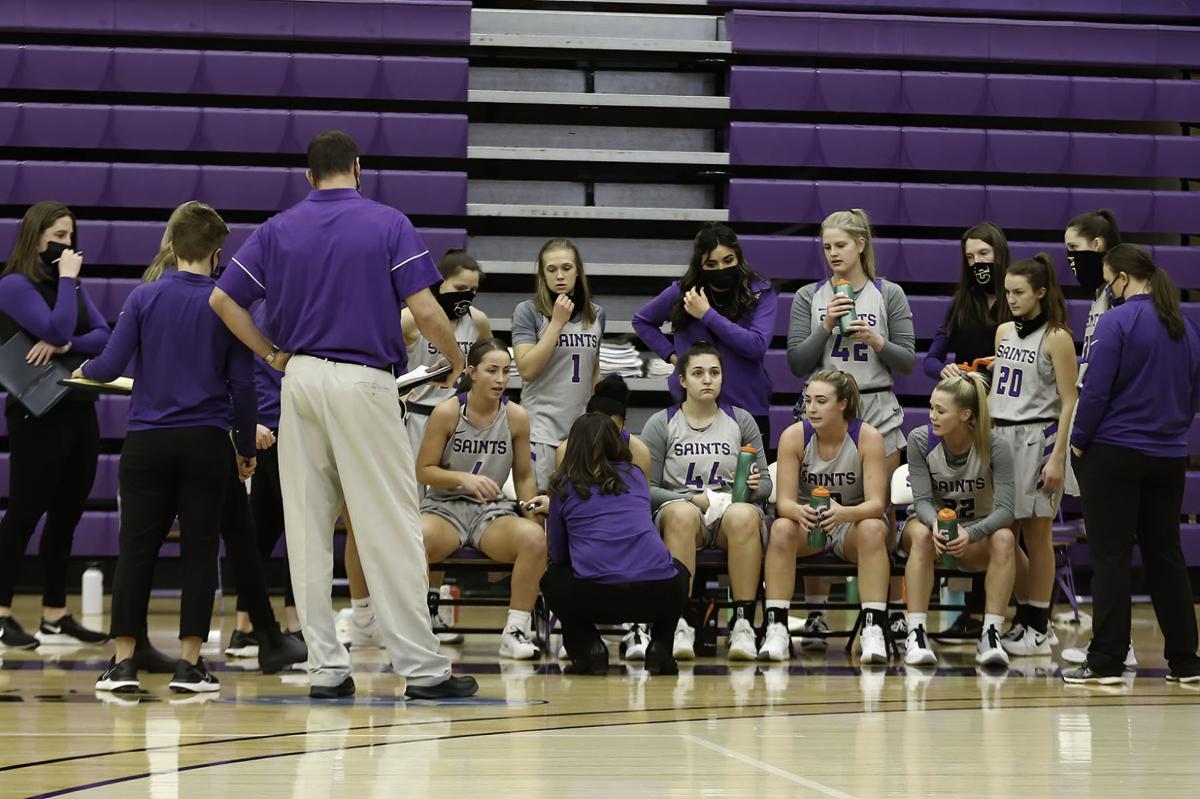 HELENA — Carroll's women's basketball team leads the Frontier Conference in scoring offense at just over 71.5 points per game. The Saints shoot 44.8 percent from the field as a team and nearly 35 percent from 3-point range, numbers that both rank inside the top-25 nationally.
Danielle Wagner, Jamie Pickens and Christine Denny all average double figures per game, but what makes Carroll so hard to stop offensively is the multitude of players that can step up at different times and make an impact.
"Everybody knows and our opponents are consistently aware of where Dani Wagner is, where Jamie Pickens is, where Sienna Swannack is, where Christine Denny is, those are the players they're really trying to shut down," Saints head coach Rachelle Sayers said. "When you have other players that can come in and give those guys breaks and continue to give us points and rebounds and keep the flow of the game going in the direction it was going when our starters went out, it's tremendous."
This season, a total of eight players have scored at least 10 points in a game for the Saints. Nine have pulled down five or more rebounds and six players have dished out at least four assists in a contest.
Seven Saints currently average better than four points per game and that many have played in all 21 games during the 2020-21 season.
"You could put any of the starting five starting probably anywhere in our conference, and the girls that come off the bench as our backup positions, anywhere in the conference as well," senior Danielle Wagner said. "I don't think [Sayers] ever lacks any trust in any of the girls who are out on the floor at any time, which is a huge thing for her. I just think for every single one of us, we know that we can trust every player, and that's really helpful."
On any given night, it is hard to predict where production will come from outside of three or four players. In Carrroll's last game against Montana Western, Jaidyn Lyman contributed 10 points, three rebounds and two assists off the bench. Sienna Swannack, who scored one point the game before, shot 3-for-6 from 3-point range on her way to 11 points, seven rebounds and three assists.
With offensive performances like that ready to come off the bench, Sayers is able to give her players breaks and not push them too hard. Yes, Wagner has experienced her fair share of 40-minute games, but she averages just 34.2 minutes per game this season as one of only two Saints to play more than 30 minutes per contest.
"I look at the box score of some of the teams we play -- these kids are playing 39, 40 minutes night in and night out," Sayers said. "This is a grind, the season is long, we've played 21 games and hopefully we get to play another six or eight. If we can limit the minutes a little bit of some of these players, I think they're going to continue to be able to perform and stay fresh."
Making sure those players who give the starters a break are prepared to play at a high level is a bit of a tightrope to walk. Those role players do not necessarily get as many reps in practice as the first team, but the coaching staff makes sure every player is equipped with the knowledge of opponent tendencies through film sessions and breakdowns throughout the week ahead of game day.
That ensures players know what they're supposed to do when they get in the game despite them having a few less practice reps in their back pocket.
"Maybe they don't get as many reps, but mentally they know what they're supposed to do," Sayers said. "Again, it comes down to knowing that their coaches and their teammates trust them and they're able to go in there and do what needs to get done."
Sayers recognizes that it takes a certain maturity level for a player to accept their role as a bench player. It is not a glamorous title, but the Saints view those individuals as just as important as players who lead the team in scoring or rebounding.
For a lot of players around the country who find themselves in that role, they may be inclined to transfer to a different situation that offers them more playing time. Carroll, however, has a group of individuals who would prefer to stick it out and continue playing an important role through efforts on the scout team, bringing energy on the bench or contributing minutes off the bench.
"We celebrate those players that come in and give us great minutes and play that role for us, because a lot of kids really don't want to play that role...That's a real credit to the character of the players on this team," Sayers said. "As experienced as we are, as mature as we are, these players have stuck it out and fulfilled their role and accepted their role, and because of that we've been really successful."
Without those players, Sayers said her team would not be 19-2 this season and if the old saying "you're only as strong as your weakest link" is true, then her team is pretty strong because she believes some of those players coming off the bench could be impactful starters at other programs around the league.
"Our team goes so deep into our bench," Swannack said. "Every single player can step on that floor and have an impact on the game. I think compared to most teams in the NAIA, we have a lot more weapons than anybody else. I think that's probably gonna take us further than most teams that might have a skilled top-five, but not what we have."
Those weapons have propelled the Saints to the No. 1 seed in the upcoming conference tournament and to the No. 6 ranking in the latest NAIA poll. Carroll is positioned to make a run at both a league championship and national title this season, but without depth, none of those rankings would have been possible and it would be harder for the Saints to face the rigors of nationals.
That depth, however, makes everyone within the program, from coaches to players, feel a little more comfortable as they know the Saints' roster goes eight, nine or 10 players deep at times.
"I think it's bigtime, especially with back-to-back games and the tournament coming up, playing at different times of the day, times that we're not used to," Wagner said of the depth. "It's going to be really helpful to be able to potentially take some of our starters out and put in those back-ups that are just as good as the starters. I think that's going to be huge for coach and I know that makes her feel pretty good knowing that she can have anyone in there."
Carroll will play again on Saturday against MSU-Northern in the Frontier semifinals.