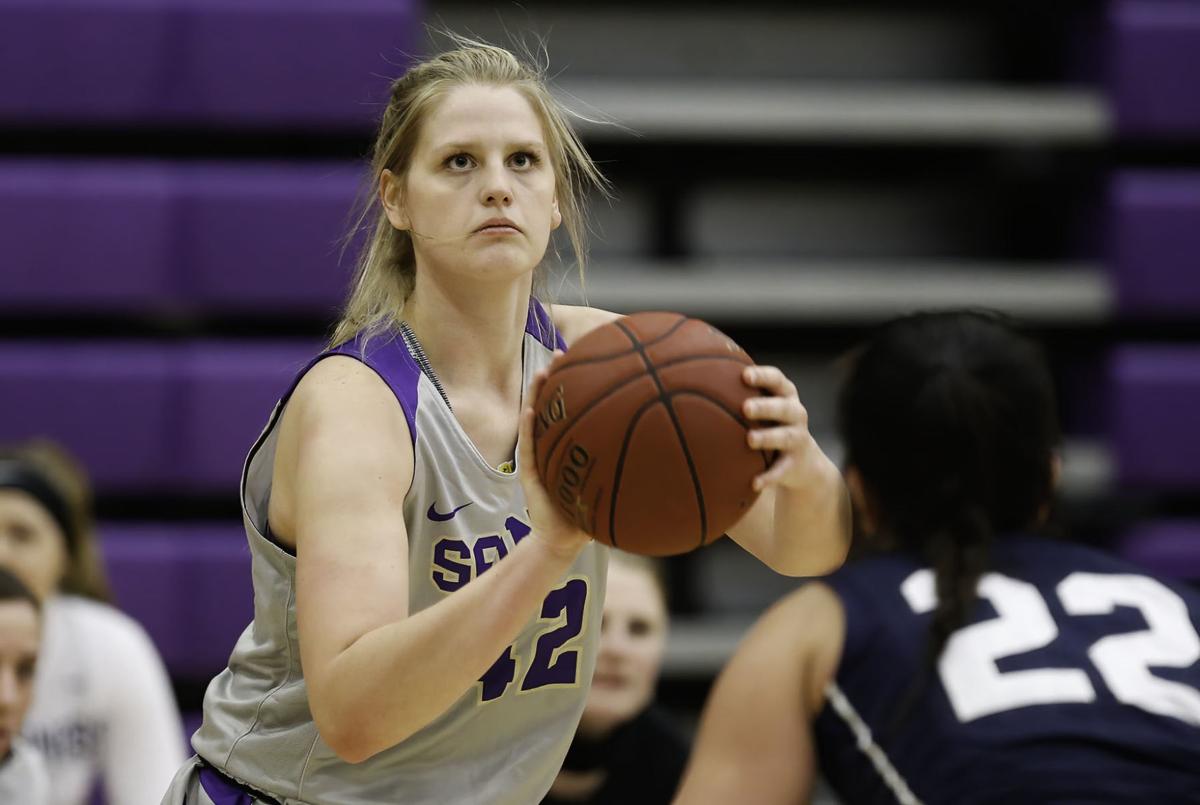 HELENA — Sophomore Jamie Pickens notched a season-high 24 points on the way to her first double-double of the 2020-2021 campaign in a 76-67 Carroll win over Montana State-Northern on Saturday.
"I thought she played with a real sense of purpose tonight," Saints head coach Rachelle Sayers said of Pickens. "I thought she was really aggressive. I think she's been thinking too much and playing a little bit too passive, trying to find her way within this team. I thought tonight everything kind of clicked."
The Saints improve to 16-2 on the season and 10-1 in Frontier Conference action with the victory, while Northern drops to 4-10 overall and 3-7 in league play.
Due to COVID-19 complications, Saturday's contest was the first time these two programs had played in a game since Jan. 24. While Carroll took much of the time away from competitive action to work on themselves, there was undoubtedly some rust to knock off for the Saints.
As that rust was being cleared away, Northern captured an early 10-3 advantage. Leading 10-5 with 4:56 left in the first quarter, however, the Skylights could not do much as the Saints scored 39 of the next 59 points to grab a 44-30 lead at halftime.
"I thought [Northern] came out and hit some big shots and got their heads up," Sayers said. "It took us a minute to get some to go. I thought the biggest thing was we picked the tempo up a little bit...We wanted to keep the ball moving, we wanted to get up and down the floor. It was important for us to get some stops so we could get up and down the floor and get into our transition game. I thought once we got into our transition game, we were able to really get going."
In a game where Carroll scored nearly 58 percent of its points in the paint, it seemed like Northern could not find an answer for Pickens. With 14 of her 24 points at intermission, Pickens had already knocked down two 3-pointers and pulled off a handful of nifty post moves against the Skylight defense.
"I think it really started with some extra time that [Pickens] put in this week watching some film, and putting some extra time into her game and really talking through a lot of the scenarios and what we want her to do," Sayers said. "I thought tonight she just stopped thinking and really went out and was aggressive and it worked out for her."
The second half was more of the same for Carroll as it used transition run outs to stretch its advantage to 22 points mid-way through the third quarter. Playing quarterback on some of those transition opportunities, Pickens finished the game with four assists as she shot 9-for-16 from the field and 2-for-3 from 3-point range.
As a team, the Saints racked up 21 assists on 29 made field goals, 11 of which were dished out by Carroll's point guards in senior Jaidyn Lyman and junior Kamden Hilborn.
"I think our ability to share the basketball has been something that has really propelled this team in a lot of ways," Sayers said. "Twenty-one assists on 29 field goals is pretty amazing. Our point guards together [had] 11 assists and one turnover. Those are two kids that understand what needs to happen and really controlled the tempo and controlled the game for us."
Carroll shot 51.8 percent from the field in the win, including a 54.8 percent effort on 2-point field goals alone. Seniors Danielle Wagner and Christine Denny joined Pickens in double figures with 16 and 13 points, respectively. All told, that trio accounted for 19 of Carroll's 29 made baskets on Saturday and nearly 70 percent of its points.
While Northern was able to make it a ball game with a 13-1 run to end the third quarter, the Skylights could never make the final push to even things up.
Still, Northern finished the game shooting north of 42 percent from the field as freshman L'Tia Lawrence dropped in a game-high 25 points on 7-for-11 shooting.
Seniors Tiara Gilham and Sydney Hovde chipped in 14 and 11 points, respectively, in the loss.
Now, 3-0 against Northern this season, Carroll will look for the regular season sweep on Sunday inside the PE Center. Tip off is scheduled for noon.