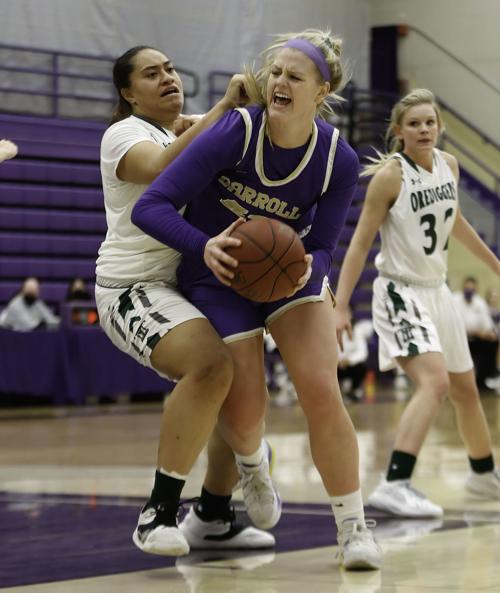 Making the jump from high school to collegiate sports and transferring to a new program can be two of the toughest things a student-athlete does in their careers.
Over the last two-plus years, Carroll sophomore Jamie Pickens has done both of those things, going from a two-time Gatorade Montana Girls Basketball Player-of-the-Year at Helena High to playing for a Division I program at Montana to starting for Rachelle Sayers and the Saints.
"At first it was just me kind of finding my place and trying to fit in with the team," Pickens said. "I think my teammates have done a really good job of [bringing] me in with them and getting into the flow of offense and stuff. So as a coaching staff, they've done a really good job helping me with that."
Pickens is Carroll's second-leading scorer at 12.8 points per game and is fresh off winning women's Frontier Conference Player-of-the-Week honors for the third time this season. While she was a contributor as a freshman for the Lady Griz, Pickens' game has seemingly jumped a level of late, rivaling her high school days when she averaged a double-double as a senior.
Over her last four games, Pickens has surpassed double digit points in each, culminating in back-to-back double-doubles against Montana State-Northern last weekend. Her 24 points on Saturday established a new career-high and continued to show her coaching staff the strides she has taken to regain some previously lost confidence in herself.
"Confidence. Confidence in her abilities, which is something that she's been working on all season long," Carroll assistant coach J.D. Solomon said. "Whenever you transfer from one program to another, or even when you move from high school to college, there's a transition period."
Solomon, who is a former All-American at Carroll under coach Gary Turcott, is primarily responsible for developing post players under Sayers and teaching them the tricks of the trade that made him a three-time All-Conference selection and landed him in the Carroll Hall of Fame.
"He's helped me a ton, I give a lot of credit to him," Pickens said of Solomon. "He installs confidence in you while still making sure you're doing the right things. It's the little things for him. Practicing each rep like you're in the game and finishing and going up strong. It's just the little things that he likes to perfect, so that's really helped me."
Pickens, who scored over 1,200 points during her time at Helena High, grew up attending basketball camps where Solomon was dolling out instruction. That is where their relationship on the court really took hold and where Pickens began to develop the baby hook she so often employs.
While the physical tools have always been present for Pickens, the mental side of the game has sometimes impeded those gifts.
That allowed, at times, a passive brand of play to take over, resulting from over-thinking situations. Even at the high school level Pickens struggled with that battle, but overcame it enough to lead her team to three state titles in four years.
"I think the mental aspect is the biggest thing for her," Pickens' former high school head coach Eric Peterson said. "I think her physical tools are there and I know coach Sayers and coach Solomon work a lot with her on her individual skill development. She's at her best when she's playing confident and not thinking. When she can get out of her own way in the mental aspect and just go out there and play and have fun, that's when she seems to do her best."
Pickens averaged 18 points and 10 rebounds during last weekend's action, and has now notched two 20-plus point games this season. Eleven of her 19 games with Carroll have resulted in 10-plus points, while Pickens has pulled down at least five rebounds in 14 games and dished out four-plus assists four times.
Following some struggles earlier this season, Pickens said she stopped focusing so much on her offensive games, and with the guidance from her coaching staff, turned attention to the things inside her control on the basketball court.
"I was struggling for a little bit and coach sat me down and was like, 'you just need to focus on the little things. If you're having a bad offensive game, go get every single rebound you can,'" Pickens said. "I started thinking like that, and once I started focusing on not just scoring -- focusing on going and getting rebounds -- the points started to pour in. You start to do the little things, then the big things come naturally."
A threat to score points seemingly at will, Pickens is far from a one-dimensional player. Her 38 assists rank fourth on Carroll's roster while her 10 blocks are tied for first. Pickens has also racked up 15 steals and shoots the ball at nearly a 50 percent clip from the field.
That is to say nothing about her 48 offensive rebounds, a number that has helped the Saints out-rebound opponents by 92 boards on the offensive glass. For Solomon, having a post player that can do it all is a rarity.
"A lot of post players are usually pretty good at one thing, that's their go-to," Solomon said. "She's definitely a multi-talented post player, which is a blessing for us to have. Now we gotta continue to find ways to utilize all of her strengths, not just one strength."
Turcott, who coached Pickens' current and former coaches when they played together at Carroll some 20 years ago, sees the 6-foot-2 forward as a complete player. Turcott credits that to Peterson's development of Pickens at the prep level, putting her in different positions on the court to be exposed to a multitude of situations.
"She was obviously bigger and stronger than everybody she played against, but [Peterson] just could've left her down at the post position, but he didn't," Turcott said. "She played some stretch forward and she was away from the basket, she took 3-point shots and she developed a total game."
That shows up in Pickens' 39.1 percent shooting effort from 3-point range this season and in her ability to drive the basketball and execute dribble hand-offs with guards on the perimeter. With Carroll, however, what has taken a leap forward in the eyes of many has been Pickens' back-to-the-basket play.
The book of post moves Picken has relied on this season continues to grow. She has the aforementioned baby hook at her disposal, but can also turn around and drop in an eight-foot jump shot.
When she catches the ball at the high post, Pickens can shoot it, or drive, spin and finish with either her left or right hand. She is so good with her left hand, in fact, that if you did not know any better, you would think she is left handed.
"I don't really think about it when I'm playing, it's just kind of something that happens naturally," Pickens said in regards to using her left hand. "When I'm practicing, I don't practice to one side, you gotta do both the same, so when you're in the game it doesn't really matter what you're going to do."
That adds yet another layer to the tools available to Pickens on the basketball court, making her harder for opponents to stop. Nevertheless, there are things Carroll's coaching staff is actively trying to add to her game.
Some of that includes a different style of playing defense where Pickens fronts the opposing player in the post, but most of it revolves around tweaking and fine-tuning what has already made Pickens a very successful basketball player.
At the end of the day, it is easy to forget that Pickens is just a sophomore. In a year hampered by COVID-19, coaches have not been able to work on things like skill development as much as they would like with any of their players.
Still, Pickens has made great strides with the individual instruction she has received while also working through the mental stressors that come with a new team.
"We came into the season with such high expectations that sometimes she was, I think, struggling with confidence because she wasn't at that level of expectation right out of the gate….She's had to really learn some patience without losing confidence in that," Solomon said. "That's been a challenge for her to overcome, but she has, and hopefully we're trending in the right direction."
Pickens is averaging 15.3 points and 7.8 rebounds over her last four games. As a team, Carroll has won six consecutive games and 10 of its last 11 and currently sits at 17-2 on the season as the No. 6th-ranked team in the NAIA.
At the center of all that has been Pickens, who, just like the team around her, is getting better every time she takes the court.
While the ceiling for this year's team may be a conference title and a deep run in the postseason, with at least two years of eligibility remaining after this one, Pickens' ceiling is too lofty to see right now.
"I don't really see a ceiling," Solomon said. "She can expand her game to new heights that I don't know if a lot of other players can actually achieve. It comes down to confidence, hard work, time and a little bit of patience...With her tools, talent and passion for the game, I just don't see any limitation there at all."