HELENA — Heading into the second of two open weeks for Frontier Conference teams, Rocky Mountain College is still holding onto a one-game advantage over Montana Western and College of Idaho in the standings. Both the Bulldogs and Yotes won to keep pace with a Battlin' Bears team that cranked out another 30-point performance, their fifth in six games.
Eastern Oregon dropped its third-straight game on Saturday, this time to Rocky Mountain, locking the Mountaineers in a three-way tie with Carroll and Southern Oregon for fourth place in the conference. Both Montana Tech and Montana State Northern lost again this week, keeping the Orediggers and Lights at the bottom of the league totem pole.
Dual-threat quarterbacks
Four times this season, a Frontier quarterback has passed for at least 100 yards and rushed for the same. Rocky Mountain College quarterback Nate Dick has accomplished that feat twice, including last Saturday against Eastern Oregon (224 pass yards, 123 rush yards).
Western signal-caller Jon Jund and College of Idaho's Jack Rice are the only other quarterbacks in the league to pull that off. Rice passed for 103 yards and rushed for another 106 earlier in the season against Rocky Mountain, while Jund passed for 164 and rushed for 101 yards on Saturday against Southern Oregon.
Both Dick and Jund have thrown for over 1,500 yards in conference play this season. Jund is nearing 2,000 passing yards for the year with an extra non-conference game under his belt. The two quarterbacks have each thrown 13 touchdowns against Frontier teams through six games and average better than 250 passing yards per contest.
The pair has combined for nine rushing touchdowns, with Dick (438 yards) holding the edge over Jund (227) in total yards on the ground.
Field flipper
Montana Tech punter Andrew Almos has established himself as one of the best punters, not only in the Frontier, but in the NAIA. With four more punts for 195 yards against C of I on Saturday, the freshman has now punted for more than 1,000 total yards on the season, one of less than 40 punters in the NAIA to accomplish that so far this season.
Of his 22 punts, Almos has pinned teams inside their own 20-yard line 14 times, a number that is tied for fifth in the nation. He is one of just 23 punters in the NAIA to have a punt travel at least 66 yards and his 45.7 yards per boot ranks second in the country.
Almos played high school football under Mark Samson at Great Falls High where he was all-state and all-conference as both a quarterback and punter.
Frontier Conference in the polls
With a 17-point road win over Eastern Oregon, Rocky Mountain moved up four spots to No. 19 in the latest NAIA top-25 coaches poll released on Monday. At 5-1 and atop the conference, the Battlin' Bears are the Frontier's highest-ranked team, with Montana Western following closely behind at No. 21.
College of Idaho entered the top-25 this week after a come-from-behind against Montana Tech. The Yotes, now 4-2 on the season, are ranked No. 25, giving the Frontier three teams among the top-25 in the nation.
Conference Players of the Week
Offense: Quarterback Nate Dick, Rocky Mountain College
Defense: Defensive end Keagan McCoy, College of Idaho*
Special Teams: Kicker/punter Riley Garrett, Rocky Mountain College
*McCoy also earned NAIA National Player of the Week honors for his performance.
Week 7 top performers
Rocky Mountain College quarterback Nate Dick: 14-for-26 passing, 224 yards, 4 TDs -- 123 rush yards
Montana Western quarterback Jon Jund: 16-for-28 passing, 164 yards, 2 TDs -- 101 rush yards, 1 TD
College of Idaho quarterback Ryan Hibbs: 18-for-36 passing, 221 yards, 2 TDs, 2 INTs
Carroll running back Duncan Kraft: 155 rush yards, 1 TD
College of Idaho running back Nick Calzaretta: 64 rush yards, 1 TD -- 2 receptions, 25 yards, 1 TD
Montana Western wide receiver Nate Simkins: 8 receptions, 64 yards, 2 TDs
Rocky Mountain College wide receiver Lucas Overton: 2 receptions, 76 yards, 2 TDs
Southern Oregon wide receiver Bryce Goggin: 5 receptions, 99 yards
Rocky Mountain College wide receiver Trae Henry: 3 receptions, 63 yards, 1 TD
Montana Tech wide receiver Trevor Hoffman: 7 receptions, 93 yards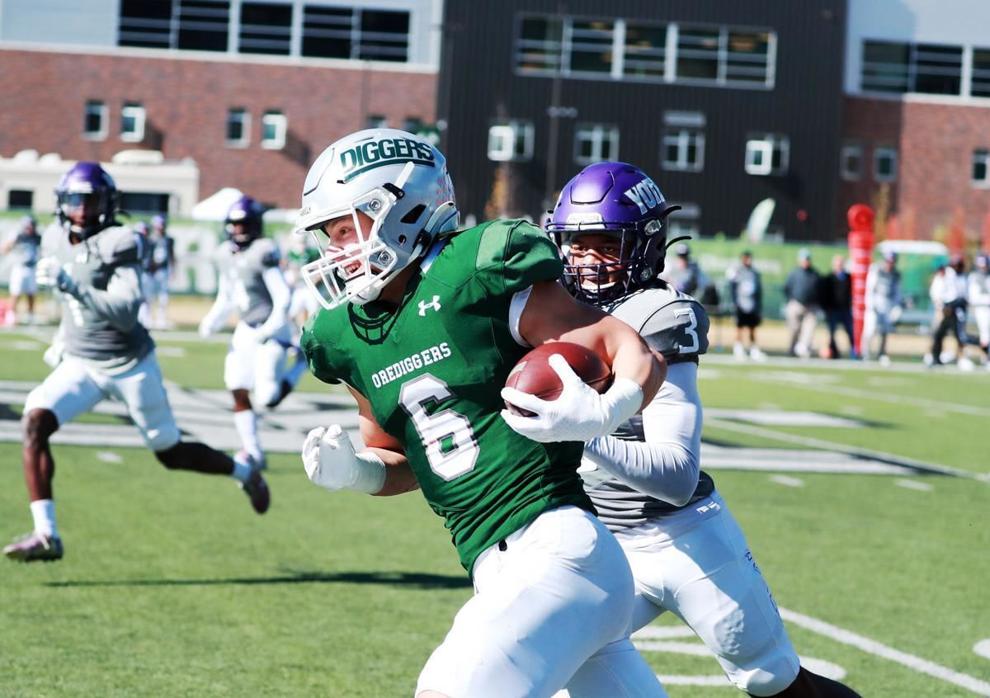 Montana State Northern linebacker Dylan Wampler: 12 tackles, 1 TFL
College of Idaho linebacker Dylan Martinez: 11 tackles, 1 sack, 1.5 TFL
College of Idaho defensive lineman Keagan McCoy: 5 tackles, 1 sack, 1 TFL, 1 fumble recovery (40-yard TD return)
Southern Oregon linebacker Bryce Kasch: 9 tackles, 0.5 sack, 0.5 TFL
Southern Oregon defensive back Stokes Botelho: 9 tackles, 2 TFL
Carroll linebacker Rex Irby: 8 tackles, 0.5 sack, 2 TFL, 1 INT
Montana Tech defensive back Naoki Harmer: 6 tackles, 2 pass break-ups, 1 INT (25-yard TD)
Montana Western defensive back Braden Swank: 7 tackles, 4 pass break-ups
Montana Western defensive lineman Tanner Harrell: 7 tackles, 2 TFL
Montana Tech linebacker Blake Allred: 9 tackles
Montana Tech linebacker Cole Wyant: 9 tackles
Rocky Mountain College kicker/punter Riley Garrett: 2-for-3 FG, 4-for-4 on extra point, 10 points -- 2 punts, 59 yards, 29.5 average, long 41, 1 punt inside 20-yard line
Montana Western wide receiver Trey Mounts: 2 kick off returns, 65 yards, 32.5 average, long 38 -- 3 punt returns, 86 yards, 28.7 average, long 31
Montana Tech punter Andrew Almos: 4 punts, 195 yards, 48.8 average, long 66, 3 punts inside 20-yard line
Montana Western punter Joseph Lema: 3 punts, 133 yards, 44.3 average, long 53, 2 punts inside 20-yard line
Eastern Oregon wide receiver Isaiah Thomas: 4 punt returns, 98 yards, 24.5 average, long 62 -- 1 kick off return, 25 yards
Southern Oregon wide receiver Shane McLaughlin: 5 kick off returns, 90 yards, 18 average, long 27
Rocky Mountain College punter Wyatt Brusven: 4 punts, 160 yards, 40 average, long 43, 1 punt inside 20-yard line
Montana Western kicker John Mears: 1-for-1 FG, 5-for-5 extra point, 8 points
Week 9 predictions
**No week eight conference games. Montana State Northern plays Simon Fraser University in Havre.
College of Idaho vs. Montana Western: Bulldogs 35, Yotes 21
This is a game for sole possession of second place in the Frontier. Both teams enter at 4-2, chasing a one-loss Rocky Mountain team. Western has to go on the road for this match-up, but the Bulldogs will bring with them the best scoring offense in the league (36 points per game), a unit that averages over 450 yards per contest behind quarterback Jon Jund.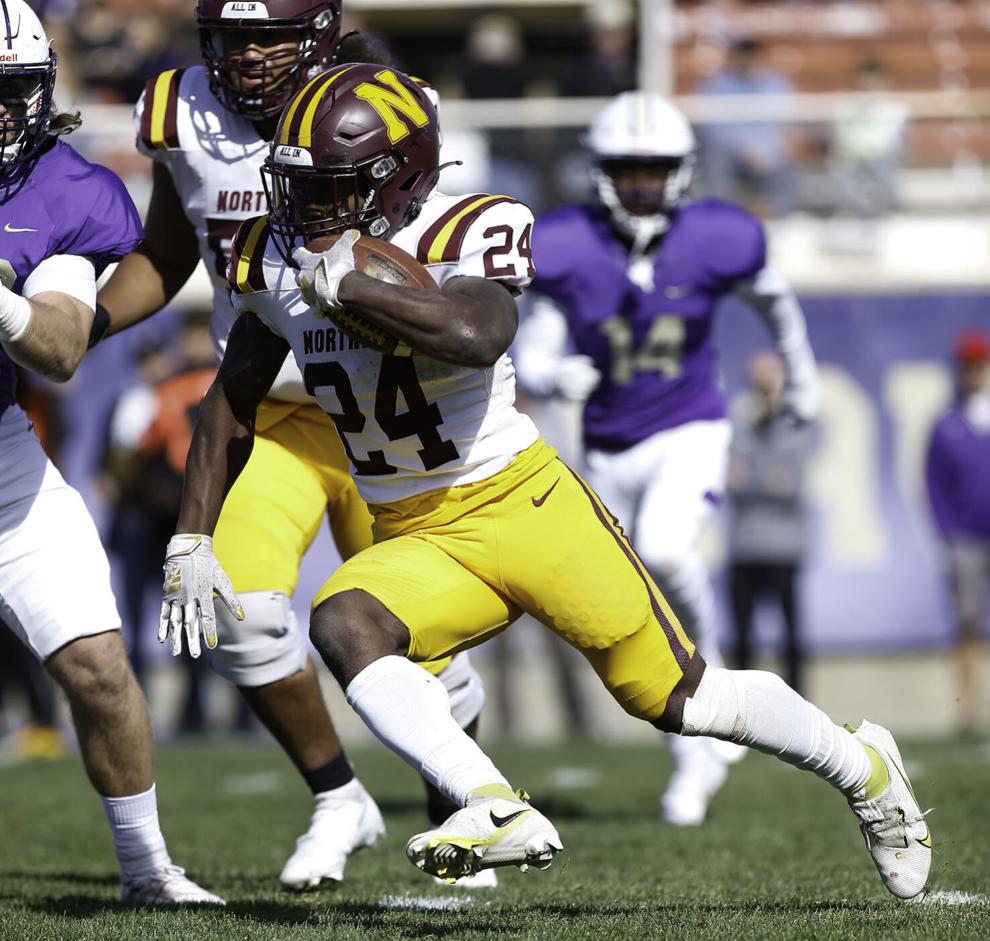 Montana State Northern vs. Eastern Oregon: Mountaineers 28, Lights 13
After starting the season 3-0, Eastern Oregon is back to .500 after three-straight losses. In their last four games, the Mountaineers are averaging just 9.3 points per game and have looked like a shell of the team that scored 26 and 35 points in the season's first two contests.
The Lights have not won a league match-up in about five years, so this looks like a good opportunity for Eastern Oregon to get back on track.
Rocky Mountain College vs. Carroll: Battlin' Bears 24, Saints 14
The Battlin' Bears are rolling right now. Quarterback Nate Dick threw another four touchdowns on Saturday, giving him 13 in six games. As good as Rocky Mountain's offense has been (415.8 yards per game), its defense has been porous, allowing over 400 yards of offense and 27.5 points per game to opponents.
That is good news for a Carroll team that will be coming off a season-high 34 points scored against Northern, and one that is looking to win its third-straight contest after starting the season 1-3.
Southern Oregon vs. Montana Tech: Raiders 21, Orediggers 17
Tech gave up a late lead against C of I on Saturday, dropping the Orediggers to 2-4. Southern Oregon was beaten soundly by Western in Dillon and is still searching for its first road win of the campaign. At home or at neutral sites in the state of Oregon, however, the Raiders are 3-0 this season, a trend that should give them an edge against a Tech team that has largely struggled through six games this season.