HELENA — As far as first games go, you could not ask for much more from Carroll's men's basketball team. Seven different Saints broke into double digits, including all five starters and Carroll rolled to a 117-40 victory over Yellowstone Christian College to kick-start the 2021-22 season.
"Great preparation and great start by us," Carroll senior Jovan Sljivancanin said. "Set the tone early. Didn't underestimate anyone. We just came out hard and we won the game early on and just kept it like that."
Carroll took a 16-0 lead before Yellowstone Christian got on the board, and by the 8:49 mark in the first half, the Saints had built a 30-point advantage.
"Defensively we've still got a lot of work to do, but it was just fun to play a game and see all the ball movement on the offensive side...I thought we made our free throws. Just sharing the ball, that was good. We had 22 assists," Saints head coach Kurt Paulson said.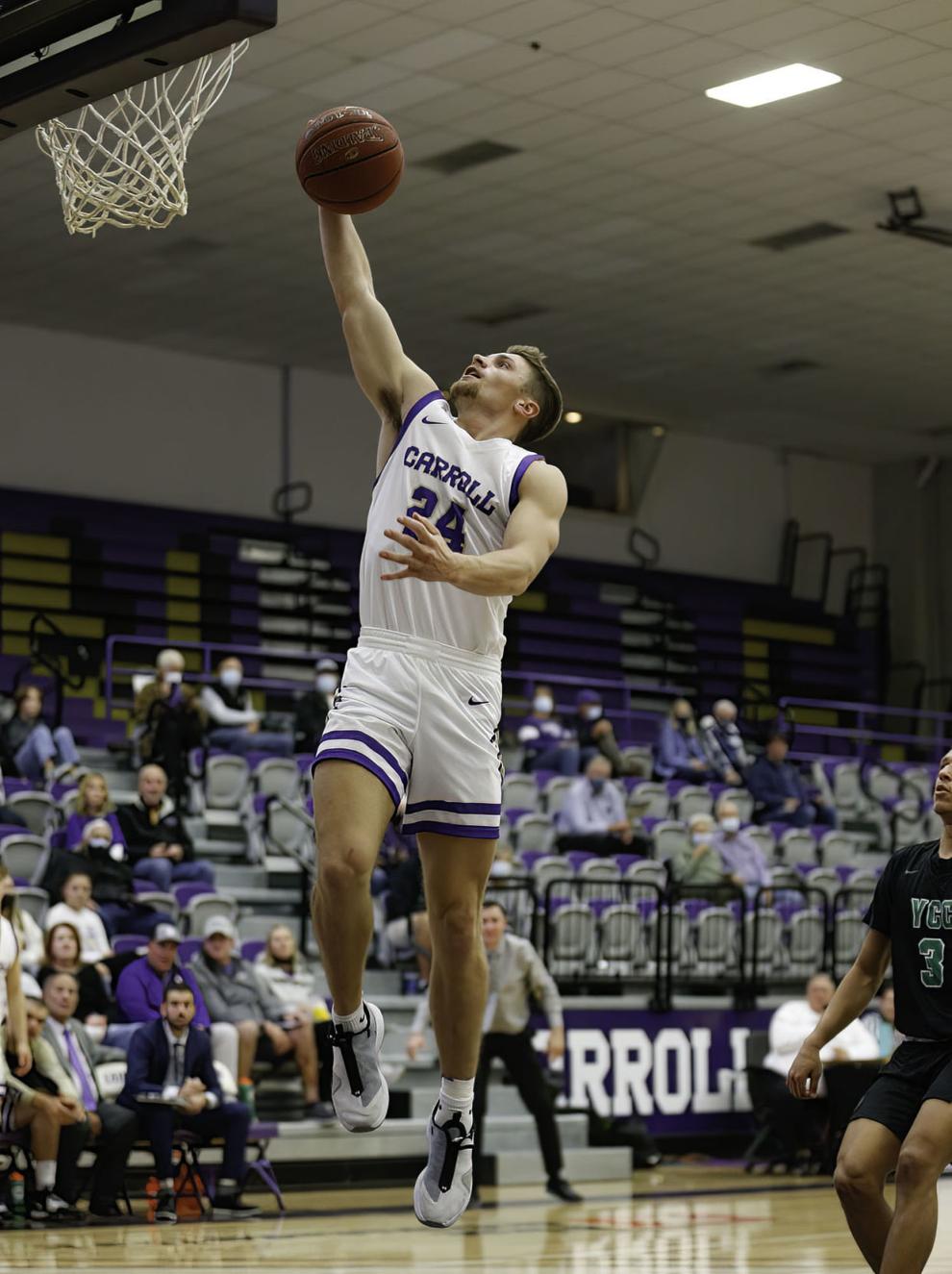 The Saints totaled nearly as many made field goals (38) as their opponent had total points (40) as Carroll shot 56.7 percent from the field, including 50 percent (11-for-22) from 3-point range.
Senior Shamrock Campbell drained five of those triples and went 9-for-13 from the field in 31 minutes. He also paced the team with five assists.
"If we've got guys driving to the rim and [Campbell] kinda relocates to the top and they find him, he usually makes them," Paulson said. "We gotta get guys driving downhill and finding Shamrock on the kick out."
Sljivancanin picked up his first double-double of the season and the 33rd for his career with 17 points and 18 rebounds. The senior pulled down seven offensive boards in the victory, including numerous on one possession in the second half. He also dished out three assists and racked up four steals.
"I didn't expect that big of a double-double," Sljivancanin said. "I know where the ball is gonna go after I shoot it. Everybody thinks I'm going to make it and I just go for [the ball]. Just gotta keep it rolling, all of us. We all had a good game, everybody played great."
Five Saints dished out at least three assists on Friday night. Freshman Andrew Cook and Jonny Hillman each had four off the bench for Carroll. Hillman also picked up five of Carroll's 11 steals, and chipped in 11 points and six rebounds.
For a program that was among the best passing teams in the country last season, Carroll started out strong in that department Friday, doubling its assists over turnovers.
"We have a lot of returners and we know each other," Sljivancanin said. "We know who's good at what and we play together. We have great chemistry, all of us, so we just try to move the ball, feed the post, cut off each other, and play hard for each other. I really think it's going to be a great season for us. This was just a great start to show everybody that we're ready to go this year."
Cook, Garrett Long and Lowell Chan all scored their first career collegiate points in the win. Long went 6-for-6 from the field for 13 points. Gui Pedra finished the night 3-for-3 from 3-point range, totaling 15 points and junior Ifeanyi Okeke netted 11 points.
Carroll shot 37 free throws, connecting on 30 of them and was plus-35 on the boards. The Saints scored 42 points in the paint and racked up 27 points off turnovers.
"The guys were having fun and sharing it and playing hard," Paulson said. "It's only going to get tougher as we keep going, so we gotta keep getting better."
Carroll's next game that counts is scheduled for next Saturday, at home, against SAGU American Indian College. Tip off is scheduled for 5 p.m.